PROVO — With COVID-19 vaccination rollouts amping up across the country and restrictions easing, companies are considering future strategies when it comes to the post-pandemic work life: Will widespread remote work continue past the pandemic or will it fade away as cases decrease?
That's the question businesses are hoping to answer, and according to a new study, employees want to be part of the conversation rather than left in the dark.
"From hybrid work environments to online delivery and curbside pickups, employees and customers have more options than ever," said Julia Anas, chief people officer for Qualtrics.
The Provo-based tech company surveyed 4,000 employees living in the United States, United Kingdom, Ireland, Australia and New Zealand and found that the majority of respondents want the flexibility they've seen in work life starting in 2020 to continue after the COVID-19 pandemic ends.
Communication is key, the report found. For employees working at companies where plans were made clear and were announced, they were three times more likely to feel connected to their work community. Employees working at companies who stayed proactive and announced post-pandemic plans, they are 88% more likely to say their overall well-being has improved compared to employees working at places where plans have not been discussed.
Those who reported an improved well-being over the course of the pandemic were 65% more likely to stay with their current job long term, compared to those who said their well-being had declined over the last year.
The pandemic has drastically changed the way of life, not just for work but even grocery store trips — everything has needed to adapt. Now, many are asking what goes away with COVID-19? The answer won't be the same across the board, according to Anas.
"Right now, every company is undergoing an experience transformation," Anas explained. "There is no one-size-fits-all approach."
Of those looking for a new job, 80% said they value the opportunity of being flexible and being able to work from anywhere. As of March, 21% of America's workforce worked from home because of the pandemic, according to the U.S. Bureau of Labor of Statistics.
More than half of respondents said they would be more likely to stay at their companies if a long-term remote working policy was implemented. About 10% said they would likely quit their jobs if forced to return to the office full time with no hybrid options.
Productivity has increased for most employees working from home at 51%, while only 15% believe their productivity has decreased. A total of 55% of managers agree they've seen an increase in productivity in their teams while 16% report it has gone down.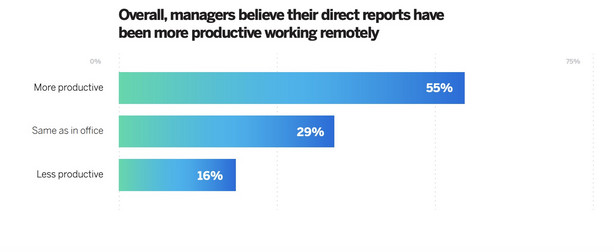 The overwhelming majority of respondents, 73%, said they wanted a hybrid in-office and remote working schedule where they could work a few days a week at home. Another 27% said they wanted to return to the office full time, whereas only 7% said they wanted to work fully from home permanently.
Those numbers have changed drastically since last July when people were more than twice as likely to prefer remote working rather than in-office working.
"As companies work to rewrite their playbooks, those who take the time to understand and act on how people think and feel will be empowered to make the right decisions, at the right time, in the right way, and as a result will deliver differentiated experiences," Anas said.
×
Related Stories