SALT LAKE CITY — In the end, the top Utah-born golfer of the PGA Tour season didn't contend for the coveted green jacket Sunday afternoon, but he did have plenty of "Masters moments."
As Hideki Matsuyama was rarely challenged Sunday in becoming the first-ever Japanese national to win the coveted green jacket, carding 1-over-par 73 to finish with a one shot lead. Salt Lake City's own Tony Finau hung around for as long as he could before fading to an even-par 72 Sunday at Augusta National to finish tied for 10th.
The Rose Park native finished with a four-day total of 3-under-par 285, tied with Cameron Smith, who like Finau earned the third top-10 finish at the Masters of his career.
It's Finau's best finish at the Masters since he finished 11-under and tied for fifth in 2019, his second trip to Augusta. That finish earned him nearly $404,000 without a green jacket, a bit more than the $299,000 he earned this weekend for the 45th top-10 finish of his PGA Tour career.
"It was a grind out there, for sure. That was one of the better 72s I can remember," Finau told reporters after Sunday's round. "Any 50-50 drive I had, I ended in a bad position with a pitch-out or a tough drive to the green. I probably should've shot 76 today, but I turned that into 72 and at the moment, I'm quite happy for my finish.
"Another top 10, I'll take it."
2021 Masters
PGA Tour rookie Will Zalatoris finished second with 9-under 209, finishing under par in every round of his Masters debut. Xander Schauffele was tied for third with Jordan Spieth at 7-under, followed by Jon Rahm and Mark Leishman at 6-under, and two-day leader Justin Rose alone in seventh.
"I've wanted to be on this stage for basically my entire life," said Zalatoris, who finished one shot off a playoff at the Korn Ferry Tour's Utah Championship last June. "Like anything, I got to this moment and decided, why not do some damage?"
A five-time winner on the PGA Tour, Matsuyama is the first Japanese man to win one of golf's majors, taking control with a sparkling 65 on Saturday and never looking back after an hour-long weather delay.
"I'm really happy," Matsuyama told CBS through interpreter Bob Turner, a Salt Lake City resident who served a two-year mission for The Church of Jesus Christ of Latter-day Saints in Japan and has worked with Matsuyama since 2013. "My nerves really didn't start on the second nine; it was right from the start today, and right to the very last putt.
"Hopefully I'll be a pioneer in this, and many other Japanese will follow. I'm happy to open the floodgates, and hope many more will follow me."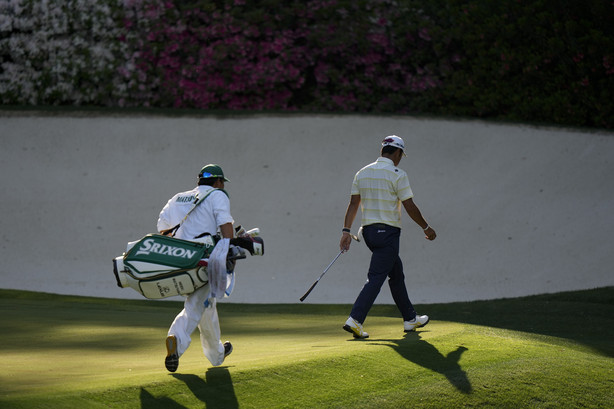 Matsuyama, who was five shots ahead of the field at the turn, saw his biggest threat from another American. Schauffele posted four consecutive birdies on the back nine to pull as close as two strokes at 10-under through 15, taking advantage of a rare miscue by Matsuyama with a bogey on the par-5 15th.
But a double-bogey six on the par-3 16th hole ended Schauffele's bid for the green jacket and helped clinch Matsuyama's walk to Butler cabin for the second time in his career and first since he earned low amateur honors in 2011.
Finau, who recently moved his family to Arizona, fell out of contention during the famed Amen Corner at Augusta National, the iconic three-hole run of the 11th, 12th and 13th holes. The Utah native carded a 66 Friday between disappointing rounds of 74 Thursday and 73 Saturday in his fourth Masters appearance.
Finau was 1-over on the front nine, with a bogey on the par-3, 240-yard fourth hole. But he had one of the most impressive shots of the day to help save par on the par-4 seventh.
The long-limbed 6-foot-4 ball striker hit his approach shot from under a tree that clipped off the edge of the bunker, dropped onto the far side of the green — and followed the line of the slope to inside of a foot.
Finau gave the shot a thumbs up as the limited gallery of patrons applauded the shot and he made his way up the fairway to finish out the tap-in par.
From underneath the trees to inches. Tony Finau saves par on No. 7 at #themasters. pic.twitter.com/Z5q3PXu5bI

— The Masters (@TheMasters) April 11, 2021
A fast start by PGA Tour rookie Zalatoris combined with Matsuyama's bogey on the first hole combined to trim the Japanese national's lead as low as one stroke to open the final round.
But Matsuyama nearly holed out from a shortside bunker on the par-5 No. 2 to within four feet to grab a birdie and a two-shot lead again on the next hole.
Finau sped through Amen Corner with back-to-back bogeys on the 11th and 12th holes, a disappointing run that dropped him just outside the top 10 with six to play. He pulled one back with a birdie on the par-5, 510-yard 13th hole, but was already strokes behind Matsuyama and well out of contention.
The Rose Park native mounted a late charge with three birdies down the stretch, including draining a 45-yard approach shot on the par-4 14th hole. His six-foot birdie putt on the par-3 16th then helped him get back to 3-under — and even-par on the day — to push him back just inside the top 10.
He added a bogey on No. 17 before a birdie on the par-4, 465-yard 18th hole to finish at 3-under and tied for ninth.
Chip in on No. 14. Tony Finau uses the slopes to get back to two under par. #themasterspic.twitter.com/ZKQstlgzq1

— The Masters (@TheMasters) April 11, 2021
Finau's quest for his first major title continues, even as the No. 13-ranked golfer in the World Golf Rankings continues to power his way up the leaderboard. He currently ranks 10th in the FedEx Cup with a 69.8 scoring average and six top-10 finishes in 2021.
The breakthrough didn't come Sunday. But Finau hopes it's soon.
"I hope I just need to continue to be patient," he said. "A lot of these tournaments keep reminding me how good I am in these moments, and I have what it takes. There's no quit in me; it's just how I am.
"I'll keep trying to persevere, and just get after the next one."
Finau hoped that breakthrough would come at the Masters — and maybe it will. He finished tied for 10th in his first outing at Augusta in 2018, and has never finished outside the top 40 — with his worst performance coming in a 1-under, tied-for-38 finish at last year's event moved to November due to the COVID-19 pandemic.
If there's a place for a breakthrough, it's Georgia.
"I have great memories here. Any time I come to Augusta Nationals, I have great memories, great vibes," Finau said. "When I come down Magnolia Lane, it doesn't matter in what state my game is. This golf course brings the best out of me. Maybe it's just my sweet spot, and I hope to continue that type of play here."
×
Photos
Related Stories