SALT LAKE CITY — Three police officers who shot and killed a man after he pointed a gun at them were legally justified in doing so, even though the man never fired a shot, the Salt Lake County District Attorney's Office announced Friday.
At least one officer said she believed that Matthew C. Knowlden, 22, actually fired his weapon at her, even though an investigation by the district attorney's office found he could not have fired at them. A report found that "the safety was on — which also locked the slide — there was no round in the chamber, and the seven-round magazine was at full capacity with seven cartridges."
What District Attorney Sim Gill's report concluded was that it was, in fact, another officer next to the officer who believed she was being shot at, who fired his weapon at almost the same time Knowlden used both hands to point his gun at police. Other officers who were present also stated that Knowlden appeared to be trying to pull the trigger on his gun, according to the report. Because of that, Gill said it would be reasonable for the officer to perceive she was being shot at.
Unified police detective Chelsea Winslow, Unified police officer Jeffery Nelson and West Valley police detective Alan Belcher were determined to be justified in shooting him, firing 31 rounds.
On Sept. 18, officers from multiple agencies were looking for Joseph J. Schultz, 24, of West Valley City, who was wanted in connection with at least one armed robbery and a drive-by shooting, according to police. Schultz had also fled from officers the day before, had multiple felony warrants out for his arrest, and had threatened to "go out with a bang" if police tried to arrest him, the district attorney's report states.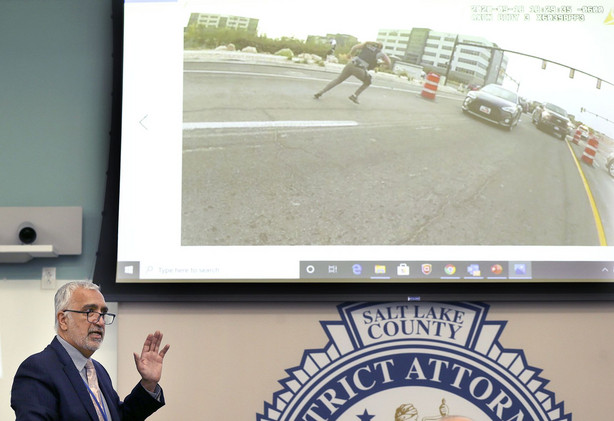 After spotting the vehicle Schultz was believed to be driving at a motel, officers were able to successfully spike all four of his tires as he drove away. But Schultz continued to drive, and during the ensuing chase, the car fled on 7200 South — going an estimated 20 mph — and drove on the wrong side of the road in a construction zone in an attempt to get away, according to the report.
"The disabled Ford Edge eventually came to a stop in the intersection of 7200 South and Bingham Junction Boulevard (900 West) and officers immediately began arriving on scene."
The car came to a stop in an area congested with traffic and numerous people nearby at businesses and shops.
Four people got out of the car and ran. Schultz — the driver — and two women were captured without incident. Knowlden, who was in the front passenger seat, ran on the sidewalk along 7200 South.
Nelson drew his gun and ran after Knowlden, who was holding a handgun in his right hand, the report says.
"Officer Nelson said he ordered Mr. Knowlden to drop the gun but Mr. Knowlden raised it and pointed it north in the direction of where other officers would be arriving and civilians," according to the report.
---
I was in fear for my life and the life and safety of the other officers and civilians as he was pointing his firearm in the direction of the civilians and where I believed the officers would be.
–Jeffery Nelson, Unified police officer
---
"I was in fear for my life and the life and safety of the other officers and civilians as he was pointing his firearm in the direction of the civilians and where I believed the officers would be. I then fired my firearm and continued to fire until he fell to the ground. I then gave him commands not to move," Nelson said in a written statement he provided to the investigators.
In body camera video released Friday, Nelson is seen running directly behind Knowlden. Winslow is ahead of Nelson, and running across 7200 South perpendicular to Knowlden with her Taser drawn to intercept him. Belcher is behind Winslow and a little further up the road.
In body camera video, Winslow is seen running toward Knowlden until she sees the gun in his hands. Once she sees Knowlden's gun, Winslow immediately changes direction and attempts to run for cover behind a nearby police car. As she's running for cover, Knowlden appears to lift his gun, holding it with both hands, and point it at Winslow. Almost simultaneously, Belcher fires his weapon at Knowlden.
Winslow said she "felt bullets pass by the left upper side of her body" as she was running, according to the report. But she believed the shots were coming from Knowlden.
"As he emerged from behind a concrete sign, I saw a metallic object in his right hand which he pointed at me and then started firing. I both heard the gunshots and felt the concussive pressure of the bullets passing to the left side of my upper body," she said in a written statement.
Winslow dropped her Taser and returned fire with her gun.
Related:
Likewise, Belcher told investigators "he saw Mr. Knowlden point a handgun at detective Winslow and pull the trigger," the report states, prompting him to also return fire.
"Believing that Mr. Knowlden was attempting to kill detective Winslow, that he would then attempt to kill me, and fearing for the safety of the public and responding officers, I drew my department firearm and fired my weapon at Mr. Knowlden," he said, also providing a prepared statement.
Gill said Knowlden pointing a gun at Winslow and Blecher firing his weapon at Knowlden happened almost simultaneously.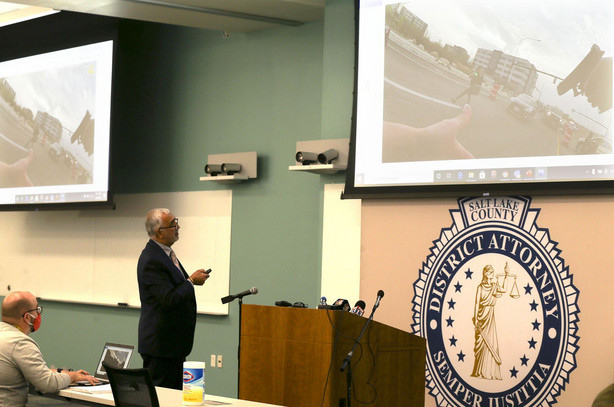 All three officers declined to be directly interviewed by the district attorney's office.
Knowlden continued to run with the gun in his hand, but after several steps he fell to the ground and eventually died from his gunshot injuries.
A total of 28 shell casings were collected from the scene. The investigation found that Nelson fired 17 rounds, Belcher and Winslow each fired seven rounds. An autopsy determined Knowlden was shot five times, according to the report.
But while it was determined that Knowlden never fired a shot, Gill said the officers were justified in using deadly force.
"While the evidence does not support a finding that Mr. Knowlden successfully fired shots at detective Winslow, it is probable that detective Winslow first heard shots fired by officer Nelson who was apparently not seen by her but positioned to her front right at a distance near the disabled vehicle and that she felt the motion of the bullets fired by detective Belcher who was positioned almost directly behind her on her left side," the report concludes.
"Despite detective Winslow being factually incorrect about Mr. Knowlden successfully firing at her, her statements regarding Mr. Knowlden's flight from police, coupled with the presence of a handgun and his apparent use of it, give rise to a reasonable inference that detective Winslow had a legitimate concern for the safety of herself, as well as others."
Gill said his conclusion is based on the totality of the circumstances and not from the written statements of the officers alone.
×
Photos
Related Stories