Estimated read time: 5-6 minutes
This archived news story is available only for your personal, non-commercial use. Information in the story may be outdated or superseded by additional information. Reading or replaying the story in its archived form does not constitute a republication of the story.
Editor's note: This story is a part of a series for general conference week.
SALT LAKE CITY — Different Christian denominations across Utah have broken bread together to meet the needs of communities as food insecurity has risen during the COVID-19 pandemic.
According to the Utah Food Bank, 511,000 Utahns are at risk of missing a meal, and 1 in 5 Utah kids are unsure of where their next meal will come from. The number has increased since the onset of the pandemic, with the need for food help in the past year increasing by about 165,000 people, the Utah Food Bank said.
Feeding America points to two factors that increase food insecurity: unemployment and poverty rates, both issues that were escalated by the pandemic. Unemployment insurance claims reached nearly 7 million the week of Mar. 28, 2020, a record high. The unemployment rate nationally rose to 14.7%, displaying the highest rate and monthly increase since 1948.
The religious community across Utah took note of the need and began to work together to address it.
"Jesus is really good at bringing people together from all sorts of different backgrounds," said Pastor Nate Ray of The Front Church.
"I think we see it with his disciples, you have a tax collector who has sold out to the Roman governing authorities, and you have a zealot, who thinks we should kill all the Roman governing authorities, and you have them both as disciples of Jesus, learning a different way forward," said Ray. "And so Jesus has always seemed to be really good at bringing people together from different traditions from different ways of thinking."
The Front Church, a nondenominational Christian church, is a new church settling in the Salt Lake Valley. The church's grand opening has been delayed by the COVID-19 pandemic but found another way to introduce itself to the community.
The church has been a distributor in the USDA Farmers to Families Program. The program was created in response to the pandemic and consists of the USDA's Agricultural Marketing Service partnering with national, regional, and local distributors to purchase up to $6 billion in dairy, meat, and fresh produce products from farmers to transport to food banks, community and faith-based organizations, and other nonprofits across America.
The food is boxed into family-sized boxes and contains a gallon of milk, produce, meat and cheese. The food can be picked up with no requirements or identification needed.
The Front Church has held three distribution events so far, giving away 40,000 pounds of food each time.
Ray said that 40% of the volunteers come from The Front Church and the rest of the volunteers comes from other religious communities or are individuals driven to help. Other church leaders also picked up food to help serve their members. Ray pointed to a bishop from a ward within The Church of Jesus Christ of Latter-day Saints who picked up 30 boxes of food for families within his congregation.
"The need has been really, really visible," said Ray.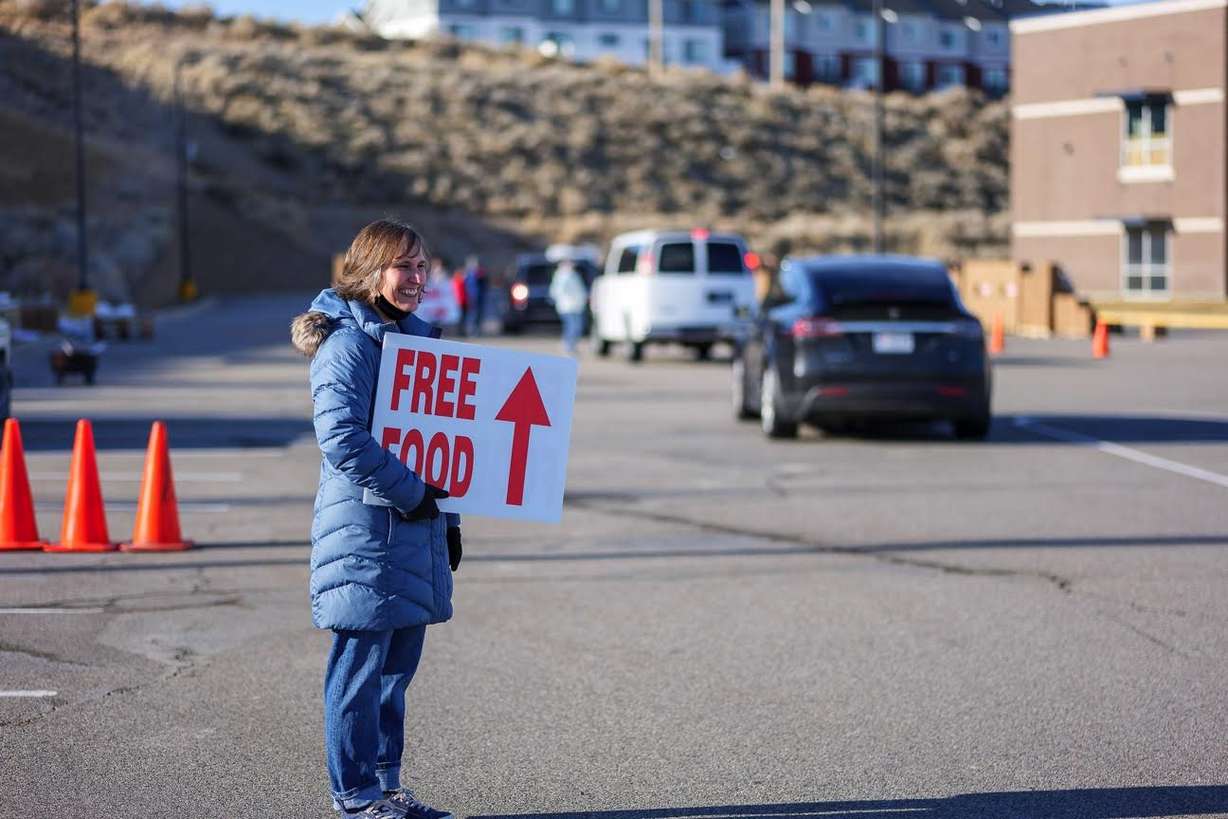 The USDA Farmers to Families Program has been one helpful resource in fighting food insecurity in Utah. Another solution can be found in The Church of Jesus Christ of Latter-day Saints' bishop storehouses. According to the church, it maintains 15 farms, five canneries, 110 food distribution centers and five processing plants that specialize in meat, milk, bread, grain and pasta.
The storehouses help provide assistance to Latter-day Saints in need but also help provide for local community partners. According to a release by the church, in 2020 it sent "over 800 truckloads of food to 380 food banks, homeless shelters, and charitable agencies throughout the U.S. Collectively, these trucks supplied over 26 million meals to those in need."
One of those local community partners is the Catholic Community Center, housed in Salt Lake City. Randy Chappell, the director of basic needs at the Catholic Community Center, said around 90% of the food they receive is donated by Latter-day Saints. Chappell said the church provides a grant to the Catholic Community Center that allows them to order items from the bishop's storehouses.
The food the Catholic Community Center receives is then prepared into meals that are delivered to families, individuals, schools or individuals facing homelessness.
"The LDS church and the Catholic Community services has a great partnership in what they do, in providing help for needy," Chappell said.
Due to COVID-19 and precautionary measures, the center can't serve hot meals anymore and rely on making pre-made food bags to distribute. The family or individual shows a valid food card and then receives four pre-made food bags. The center also provides food through grocery rescue and donated food.
Grocery rescue is food that a store can't sell within the next couple of days. The store contacts the center to pick it up and distribute it to those in need. In addition to grocery rescue and the pre-made food bag deliveries, the center also delivers food donated by the Utah Food Bank to those in need.
Recently, the Utah Food Bank held its first annual Feed Utah Food Drive. The food drive drew thousands of participants across the state, with over 900,000 pounds of food being donated. According to Utah Food Bank Communications Director Heidi Cannella, the total amount donated will take several weeks to count but they expect to exceed a possible record-setting one million pounds.
Ray said that although the pandemic has brought suffering to many, it has also provided opportunities for the community to serve one another.
"A lot of people really want to help, and I think this year has been a hard year," Ray said. "Even in the midst of heartache and suffering, people are looking to not just go inward, but to look to serve outward, and I think that's healing balm for our hurting hearts."
×
Photos
Related stories
Most recent Religion stories