SALT LAKE CITY — Utah Valley women's basketball made its NCAA Tournament debut Sunday night in the all-San Antonio area tournament, a milestone among milestones in the Wolverines' 13-year NCAA Division I career.
Only 32 to go to catch their crosscourt opponent, Stanford and Hall of Fame coach Tara VanDerveer.
Kiana Williams had 20 points, including six 3-pointers, and Cameron Brink added 10 points and five rebounds as No. 1 Stanford built up a big lead early, and rolled to a 87-44 win over tournament newcomer Utah Valley on the campus of Incarnate Word in San Antonio.
Lacie Hull added 12 points and four rebounds off the bench for Stanford, which went 12-deep in their tournament debut.
The Cardinal (26-2) have advanced to the NCAA women's basketball tournament in every year it's been held since 1982, and pushed their streak of winning in the first round to 21 consecutive seasons.
The history on both sides of the court was evident early, with Stanford extending one of the most historic brands in women's college basketball. Utah Valley, meanwhile, is just getting started.
"They're the No. 1 seed for a reason, and have had all the success they've had for a reason," UVU coach Dan Neilson said. "As far as my group, I couldn't be more proud. Dealing with COVID like everyone did and getting here to the tournament is a massive accomplishment for us. It's all about making progress and getting better, and I thought we did that this year.
"It was a positive experience for us to come here and compete against one of the best teams, not just in the country, but also in the world; that team could probably beat a lot of pro teams there."
Shoutout to our fans who made it down to the Alamodome! https://t.co/h2sfMpdzZD#GoUVU#UVU#ncaaWpic.twitter.com/Tl8r5S8TbG

— UVU Women's Basketball (@UVUwbb) March 22, 2021
When Stanford first initiated the NCAA Tournament run in 1988, UVU was one year into its transition from "Utah Technical College at Provo" to "Utah Valley Community College." That was five years before the Wolverines awarded their first four-year degree.
Josie Williams had 18 points, five rebounds and a blocked shot to lead Utah Valley (13-7), which qualified for the tournament as the runner-up from the Western Athletic Conference after WAC regular-season and tournament champion California Baptist was ineligible during the third season of its four-year transition to Division I.
Maria Carvalho added 6 points, eight rebounds and four assists, and Texas native Nehaa Sohail had 5 points for the Wolverines.
But if anyone looked like they belonged on the same court as Stanford's standouts and All-Americans, it was Williams. The former Roy High standout went from flirting with the transfer portal to the cornerstone of Neilson's system two years ago — and the first-time head coach is grateful he re-recruiting her back to Orem.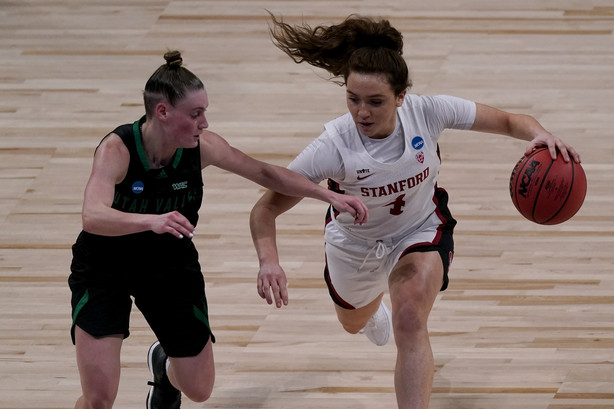 "Josie's an integral part of everything that we do, from day one in keeping her here," Neilson said of his All-WAC first-team honoree. "Tonight was just a credit to her and the work she's put in since she got here. She was a good player when she got here, but she's improved by leaps and bounds.
"I think she should leave here tonight knowing she can get better, but she can play with the best. She's a huge part of what we do, and I love coaching her. She's a great leader, and I'm excited to have her for a couple more years."
The Cardinal raced out to an 11-1 lead just three minutes into the game, and did what top seeds are supposed to do: never looked back. Kiana Williams, an AP All-American honorable mention, put on a show in the first half. Moments before receiving a t-shirt from the crowd that read "She's coming home" with the Stanford 'S' logo, Williams, who prepped at Karen Wagner High School just nine miles from the site of the first-round matchup, helped stretch Stanford's lead to 20-3 midway through the first quarter with a 3-pointer. The Cardinal knocked down 7-of-11 from 3-point range against Utah Valley's zone defense en route to a 29-9 lead after the first quarter, and Williams added her third three of the game on the first possession of the second quarter to lift the Pac-12 giants to a 32-9 advantage.
Utah Valley didn't help itself, either. The Wolverines had nine turnovers in the first 12 minutes — six of them forced — and shot just 7 of 27 from the field as VanDerveer began pulling her starters in the second quarter.
But to be on the same court as the Cardinal — and to prove that she could compete — was a dream for UVU's Williams, who admitted she nearly left two years ago before pulling her name out of the transfer portal.
"It's one of the best decisions I made in my life to stay here," said Williams, with tears in her eyes. "I get emotional; these coaches are the reason I came back to UVU. I'm so grateful for each of them.
"I could not be more grateful that I get to play for them. I am 100% happy that I stayed here, and I wouldn't change anything."
Josie Williams with the 💪 move. https://t.co/h2sfMpdzZD#GoUVU#UVU#ncaaWpic.twitter.com/hqMnbzvdcM

— UVU Women's Basketball (@UVUwbb) March 22, 2021
Stanford led 53-20 at the half, tied for their largest halftime lead of the year. Williams, the West Haven native, had 7 points at the break to lead Utah Valley, which was outrebounded 19-15 before halftime before falling to a 39-31 deficit on the glass.
This year wasn't a complete wash, either. Picked to win the WAC in the preseason coaches' poll, the Wolverines finished second to a record-setting and undefeated California Baptist. They established themselves as a contender in the WAC, and redeemed themselves from a year ago with a win in the WAC Tournament in Las Vegas.
Utah Valley finished the year with a 13-7 overall record, but started the season with just one victory against a Division I team. The Wolverines had 10 nonconference games canceled due to COVID-19, but rebounded with a 10-4 record in WAC play.
In short, they got better, and the experience will carry a team that may not lose any players next year with the extra season of eligibility granted by the NCAA. Indeed, even in a "normal" year, the Wolverines only had one senior on their roster. That experience will also prove vital when the WAC expands by four teams next year and adds Abilene Christian, Stephen F. Austin, Lamar and Sam Houston State to the current western assortment that stretches from Phoenix to Seattle.
"That's what we talked about in the locker room," Neilson said. "This shouldn't be the mountain top; this is a jumping off point for our program. We didn't have the best finishes in the WAC, and now have had back-to-back second-place finishes.
"I think all of those things add up to building a culture and building a program. Our expectation is to improve and to be back here on a consistent basis. I think our team can look back at that for next year … and hopefully those things add up for us over the next several years, being more competitive and hopefully winning a game at this point."
×
Related Stories