LAS VEGAS — It's been one year since everything changed, both locally, nationally and globally, as a result of the COVID-19 pandemic.
For most Americans, it's been the longest of years, as they've dealt with mask protocols and social distancing — to say nothing of the viral pandemic that has claimed more than 500,000 lives.
While a game of basketball may seem trivial by comparison, the year has been an eternity for the Utah Valley women's basketball team. One year ago, the Wolverines took their highest-ever seed into the Western Athletic Conference Tournament in Las Vegas, a No. 2 seed with high expectations from the outside and higher expectations from the inside.
UVU was here to win it, they whispered amongst themselves.
And they didn't; far from it. The Wolverines lost to Seattle 61-48 a year ago, the year the sports world eventually came to a stop, and the year of Utah Valley's re-emergence from the bottom of the league to a true title contender.
So, yes, it's been a long year. But the long year was finally over Wednesday.
Maria Carvalho had 15 points and four rebounds, and Madison Grange came off the bench to add 13 points on 4-of-5 shooting as Utah Valley pulled away from Chicago State, 61-43, to open the quarterfinals of the Western Athletic Conference Tournament on Wednesday at Orleans Arena in Las Vegas.
Chicago State outrebounded the second-seeded Wolverines 33-31 and forced 21 turnovers, including 11 steals.
But for Utah Valley, it was a win — and that's something they can take away from Wednesday night. The Wolverines won't be stepping back on the bus for the long ride back to Orem, like they were a year ago after that stunning loss to Seattle and before the longest year that included the shutdowns, masks and social distancing due to the COVID-19 pandemic.
"We don't spend much time on negativity," Utah Valley coach Dan Nielson said. "The turnovers and rebounds, we'll work on it and move on. But the thing for us is our expectations and what we hold ourselves accountable.
"To get to 13-5 and more wins than all of last year, finishing second in the conference. We're playing pretty well. There are always things to work on, but the name of the game is winning basketball games. I'm really proud of our group for coming as far as we've come since last year."
The Wolverines (13-5) are not getting on bus to make the long trek north on I-15 back to Orem after just one game. For that, they can thank Carvalho, who shot 6-of-14 with two 3-pointers in 32 minutes, and Grange, the former Skyline High star who shot 4-of-5 with three triples, two rebounds and three assists.
"She really set the tone today," Nielson said of Carvalho. "I thought she was aggressive, and building that lead early really helped set the tone."
Utah Valley jumped out to a fast start, shooting 57% from the field in the first quarter and led by Carvalho's 10 points to take a 21-8 lead early. And the fast start proved critical.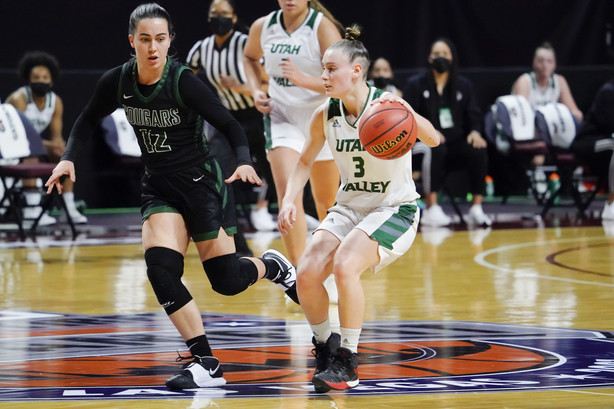 Chicago State held the Wolverines scoreless for more than six minutes in the second quarter to pull within 24-14 with a 6-0 spurt. But UVU recovered to hold the Cougars scoreless from the field in the final 3:43 of the quarter to take a 30-18 halftime lead on Megan Jensen's bucket inside.
The Cougars caught fire during the third quarter, scoring on six-straight possessions en route to a 15-4 run that pulled Chicago State within 49-38. But Grange drained a 3-pointer seconds later, and the Wolverines pulled away for good.
Utah Valley didn't just make the trip to Las Vegas to be one-and-done, like they have so many years.
"We're here to play, and we're here to win," Carvalho said. "We're trying to get as many wins as we can, and to get a ring. Today wasn't our best game, but we got the win, and that's the most important thing."
The Wolverines are two wins away from the program's first NCAA Tournament bid, starting with Friday's semifinal against Grand Canyon (3 p.m. MT, ESPN+). The Lopes toppled UT Rio Grande Valley 67-54 in Wednesday's late semifinal. If top-seeded California Baptist emerges out of the other semifinal, the league's regular-season runner-up will clinch the autobid because the Lancers are still an NCAA transitional team in their third season since moving up from Division II.
From losing in the first round a year ago — a loss Carvalho called "the worst thing ever" — to winning Wednesday night in front of a handful of fans allowed into Orleans Arena by local health officials and the conference, the turnaround continued for the Wolverines.
"I love to play with a lot of people watching; it gives me energy and motivation," Carvalho said. "To have some people watching our games, makes me so happy."
She'll get at least one more game in front of those fans, too.
×
Related Stories