LAS VEGAS — Utah Valley women's basketball team saw its dreams of a Western Athletic Conference Tournament championship end Friday afternoon at Orleans Arena.
But the Wolverines' NCAA Tournament hopes aren't over.
Confused? Let's explain.
Tiarra Brown had 15 points, five rebounds and three assists, and WAC freshman of the year Katie Scott added 18 points and six rebounds to lead Grand Canyon to a 57-54 win over Utah Valley.
Josie Williams poured in 16 points, 11 rebounds and two blocks for the Wolverines, and Shay Fano added 11 points, seven rebounds and two assists. Maria Carvalho scored all 8 of her points in the second half to go along with five rebounds and three assists.
"I was proud of the girls for the way they fought," UVU coach Dan Nielson said. "Being down 10 with three minutes to go, I think it's a hard lesson to learn — but that's where you have to stay locked in for as close to 40 minutes as possible.
"If we did in the last three minutes sooner, we could've had that urgency. Games like this are going to come down to a few plays like that. It's a hard loss, it's going to be painful, but hopefully it's one we can learn from."
The Wolverines (13-6) held Scott to 2 points on 1-of-4 shooting early, but the Lopes (18-6) took their first lead by holding UVU scoreless for the final 4:27 of the half during a 7-0 run. Utah Valley committed 11 turnovers in the first half, including one with 24 seconds on the clock en route to a 23-19 halftime deficit.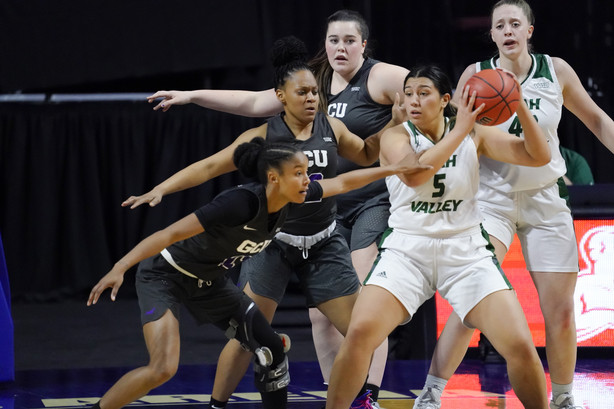 Utah Valley scored 24 of its first 33 points in the paint, mostly through Williams and Megan Jensen, with Fano contributing 9 points in the first three quarters.
Williams picked up her third foul with 1:26 left in the third, and the two teams were tied at 36-36 after three quarters. But the former Roy High standout stayed in the game, rallying the team from a 55-45 deficit with just over three minutes remaining to have a chance at a game-tying 3-pointer that could've forced overtime.
"Josie's been really big all year," Nielsen said. "It was a good matchup with their bigs, and Josie was awesome. She rebounded really well, and that was key.
"She's a huge part of what we do, anchoring what we do. I thought Shay Fano and Megan Jensen also had great games. I was happy for them, though I would've liked to have more shots go in, obviously."
The Lopes scored 21 points off 25 turnovers, and Utah Valley trailed 55-45 on Scott's and-one play with 3:26 to go. But the second-seeded Wolverines didn't panic. Nehaa Sohail hit a triple, and Fano pulled Utah Valley back within three 55-52 with 43 seconds remaining.
The Wolverines had one final shot to force overtime. But with the clock running down on the final 18 seconds, Utah Valley could only muster Williams' last-second deep 3-pointer that fell well short of sending the Wolverines to the title game.
"As much as this hurts, we're on the right track," Nielsen said. "We feel like we made some real progress from Year 1 to Year 2, and another second-place finish.
"People might think we're crazy, but the goal is still a championship. That's why we do this, and why we're excited to build on this core in the coming years."
Now, they'll wait.
The Wolverines might be the biggest California Baptist fans in the world Saturday afternoon, too.
If the Lancers win the tournament, the Wolverines will advance to the NCAA women's basketball tournament courtesy of their No. 2 seed. With a 10-4 finish in the regular season's conference play, Utah Valley clinched the league's regular-season runner up — and because CBU is in its third season of the NCAA's mandatory four-year transitional period from Division II, the Lancers will be ineligible for the NCAA Tournament.
So if California Baptist wins Saturday, the Wolverines will make their tournament debut — ESPN's Charlie Creme projects Utah Valley as a No. 16 seed in the San Antonio-based tournament. If GCU wins, they'll make their own history in the NCAA Tournament.
"Obviously it's not a conventional way to go to the tournament, but it's the rules that were decided," Nielsen said. "It's an experience I'd love for my girls to have.
"If we're lucky enough to get that chance, we'll take it. If not, it is what it is."
Cal Baptist has already accepted a bid to the WNIT, but after the Lancers' 79-54 win over New Mexico State earlier Friday, they're motivated to win a championship.
"We're right in the middle of it, and obviously it's a big step to set a bar for us," said CBU coach Jarrod Olson after his team improved to 23-0. "But I think every team in the WAC is trying to win the conference regular season, and then the tournament.
"I'm pretty excited that we've gotten this far. We've had a great season, and hopefully we can continue to play well tomorrow. We've got a tough game, but we're just happy we're here and hopefully we're ready to take advantage of it."
The Lopes earned the No. 3 seed in the tournament due to its 8-4 record in conference games. GCU had two games against Chicago State canceled due to the COVID-19 pandemic, and did not make them up, which left Utah Valley with more games — and more winning percentage points — to clinch the No. 2 seed.
The Lopes and Wolverines split the regular-season series played in Orem, first with Utah Valley's 63-51 win on Friday, Feb. 12 before GCU followed with a 72-62 win one night later.
The rubber match went the Lopes' way Friday.
But they aren't done yet. There's still one shot at history.
"It's on video somewhere that this team is going to mke history. Our destiny is in our own hands," GCU coach Mollie Miller said. "We've got a chip on our shoulder being the No. 3 seed, but we want to go in and win this AQ the right way.
"We know we've got to win this game to make it to the Big Dance, and that's going to fuel us. One more to go."
Western Athletic Conference Tournament Championship
Saturday, March 13
No. 1 California Baptist vs. No. 3 Grand Canyon
Tipoff: 3 p.m. MT
TV: ESPN+
×
Photos
Related Stories