HIGHLAND — Kena Ika picked a great time to drop her best performance of the season.
The 5-foot-4 sophomore poured in a season-high 19 points to help Lone Peak hold off a late charge and down Syracuse 59-46 in a Class 6A state girls basketball quarterfinal Tuesday night.
The Knights advanced to face top-seeded Herriman in a state semifinal Thursday at Salt Lake Community College.
Kailey Woolston added 11 points for Lone Peak, including four consecutive free throws down the stretch to help the Knights hold off a late charge. Cherish Ferrell added 9 points for Lone Peak, and Maile Hunt and Teuila Nawahine had 7 apiece.
"I'm just ready to make it to the semifinals and championship," Ika said. "We were coming together as a team, saying how much we wanted to make it back to SLCC for our seniors and for our team."
Baylee Sanders led Syracuse with 13 points, including a 3-pointer with 4:10 left that pulled the Titans within five, 51-46. Ambra Hacker scored 11, but the visitors could get no closer.
Every time Syracuse tried to make a run, Ika was there to stop them — all 5 feet, 4 inches of her.
"She just took to her heart what we asked of her, and then stepped up big time," Lone Peak coach Nancy Warner said of her sophomore point guard, who had three 3-pointers. "She really took it to heart, and set the tone for us."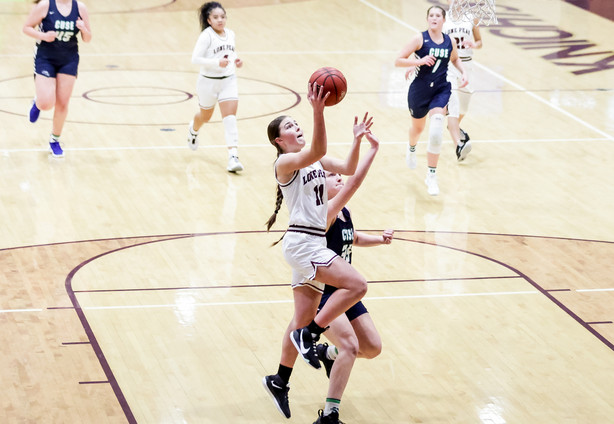 Ika had 10 points in the first quarter, including 7 points in the first four minutes to lead a 13-4 run out from the whistle capped by Nawahine's layup with just over two minutes remaining.
Ika's 3-pointer with 1:25 left gave the Knights a double-digit lead 17-6 with en route to a 22-8 first-quarter lead.
Even when she wasn't scoring, like in the second quarter, Ika found a way to make the right play. Her drive to the rim opened up a teammate for a kick out, like she did when she dished to Tanuvasa for an easy jumper to score two of her 9 first-half points.
It's the kind of play Warner has told Ika to find more often. On Tuesday night, in the biggest stage yet of the season, she did.
"She needs to do that more," Warner said with a laugh. "We've been working on that, because she sure gets leverage on people and we want her to get those opportunities more.
"It really helps us, and I'm glad that she saw those tonight."
Kena Ika picked a great time to have her best game of the year, scoring a season-high 21 points to send @LPHSKnights to the @UHSAAinfo 6A state semifinals. #kslprepshttps://t.co/Wa59lfXzrTpic.twitter.com/BDiDDvv7n0

— KSL.com Sports (@KSLcomSports) March 3, 2021
Herriman 53, Westlake 50
At Herriman, the Mustangs built up a 24-21 halftime edge and clung to the finish line.
Jill Lungren and Susan Fano each scored 13 points to lead Westlake, and Kaylee Headrick added 10 points and three assists for the Thunder.
Bingham 45, Pleasant Grove 40
At Bingham, Vani Key had 15 points to help the Miners hold off the Vikings in a 6A quarterfinal.
Nane Lokutui added 12 points for Bingham, which will face second-seeded Fremont in Thursday's semifinals at 3:45 p.m. MT.
Eva Ongoongotau led Pleasant Grove with 18 points, including a pair of 3-pointers.
Fremont 49, Skyridge 39
At Fremont, Emma Calvert poured in 16 points and the Silverwolves used a 12-2 second quarter to pull away from the Falcons.
Maggie Mendelson added 10 points for Fremont, and Ashley Oliver scored 9 points with 3 3-pointers for the Silverwolves.
Taylor Arnell led Skyridge with 15 points.
6A boys basketball quarterfinals
Davis 62, Pleasant Grove 51
At Pleasant Grove, Colby Sims fired seven 3-pointers en route to 25 points and three rebounds as the Darts pulled away from the Vikings and into the Thursday's state semifinals.
Henry Ihrig added 14 points, four rebounds and two steals for the Darts, who will face Corner Canyon at 8 p.m. MT Thursday.
Isaac Vaha and McCaden Adams each scored 11 to lead Pleasant Grove, which got 10 points from Dylan Jones.
Corner Canyon 56, Skyridge 53
At Corner Canyon, Trace Ross led four players in double figures as the Chargers edged the Falcons and advanced to face the Darts.
Peyton Called added 13 points for Corner Canyon, Carter Welling chipped in 12 points and six rebounds, and Tate Staley supplied 11 points and four boards for the Chargers.
American Fork 55, Bingham 54
At American Fork, Jason Kohler's buzzer-beater pushed the Cavemen past the Miners for a semifinal berth Thursday at 6 p.m. MT against Westlake.
Westlake 53, Lone Peak 47
At Westlake, Kaleb Furey scored 16 points to help the top-seeded Thunder hold off the Knights.
Keilan Torkornoo added 11 points for Westlake, which built up a 31-19 halftime lead before using a 12-5 run through the fourth quarter to pull away for good.
Ethan Copeland had 15 points and seven rebounds for the Knights, and Aaron Edwards added 14 points, two rebounds and six steals as Lone Peak outscored the Thunder 23-10 in the third.
×
Related Stories