This archived news story is available only for your personal, non-commercial use. Information in the story may be outdated or superseded by additional information. Reading or replaying the story in its archived form does not constitute a republication of the story.
TAYLORSVILLE — East senior Margarita Satini remembers the days when the Leopards' girls basketball program was an afterthought.
"Oh-for-20" was the way head coach Olosaa Solovi phrased the state of the program back then.
So when the 5-foot-8 point guard had a rare off night, going 0-for-9 from the field with just one assist in a 57-48 semifinal win over Wasatch, she didn't want her high school career to end on that kind of note.
Satini more than made up for it one night later.
Satini scored 21 points, including four 3-pointers, as the Leopards' floor general finished her high school career on the opposite end of the spectrum, holding off Corner Canyon 72-65 Saturday night at Salt Lake Community College to clinch back-to-back state titles for the first time in program history.
"She's never really had a bad game, and we expected her to come out and let the ball go. Whatever happens, we'll live with it. But just let it go. I'm proud of her," Solovi said.
"I'm really going to miss that floor general. She means a lot to our program, as one of the last few girls that was here when we were going 0-20. She stuck it through with everybody, and I'm really proud of my Rita."
TFW you win back-to-back 🏆 🏆

(cc: @EastHighSLC) pic.twitter.com/NqSdX6xuF4

— KSL.com Sports (@KSLcomSports) February 24, 2019
Once an afterthought in Utah high school girls basketball, the Leopards (23-4) have the makings of a dynasty.
"It means everything, especially with these girls," said Satini, who was forced to watch the final few minutes from the bench after fouling out while trying to stop a fastbreak by Chargers star Kemery Martin. "This is such a special team; these are my sisters out here. Winning it back-to-back just means more."
Lealani Falatea added 18 points, six rebounds and two steals for East, and sister Deserae Falatea supplied 15 points and eight rebounds for a Leopards team that fought for 32 minutes to fend off Corner Canyon and its pair of Division I-bound stars Martin and Jaeden Vaifanua.
Vaifanua had a game-high 32 points and 14 rebounds, willing her team back into a game that the Chargers (21-6) trailed by double-digits in the second half. Martin, who has signed with Utah, finished with 23 points, seven rebounds, four assists and two steals.
But the 6-foot-2 Wyoming signee was nearly unstoppable in the paint, converting 10-of-20 makes and helping Corner Canyon to a 24-18 advantage in the post. After falling behind as much as 47-37 in the second half, Vaifanua spearheaded a furious late charge, scoring seven-straight points in the fourth as Corner Canyon trimmed the deficit as low as four when Martin forced Satini out of the game with a steal that saw the senior guard called on the other end of the court for halting momentum.
"It was a great game. Kemery Martin is a baller," Satini said. "I don't know what to say more than that. But my teammates on my side will always put the hammer down and find whoever is in front of us."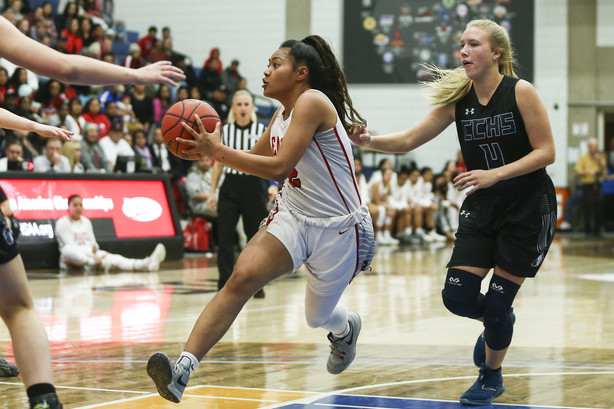 But the Chargers could get no closer, as Rae Falatea converted all four of her free-throw attempts to help the Leopards hold on to their place in history.
"This was the hardest thing that we've ever done," Solovi said. "But I learned a lot from (football coach Brandon Matich), and my assistants really helped me out this year. They stepped up and helped get our girls ready for this back-to-back."
The rebuild was complete, even as East went from being a hunter-type team to the hunted in a matter of one year.
No longer the team without a title, the Leopards took every team's best shot — even falling four times all season, to out-of-state competition and to 6A Copper Hills.
But they bounced back every time — and Saturday night, they celebrated with the ultimate win: a state championship in back-to-back seasons.
"I started at Alta, and East was always an aggressive team, but not a top team," said Rae Falatea, who has signed with CSU Northridge. "Last year, no one thought we could do it and we did it.
"This year, no one thought we could do it again — and we did it again. It's a great feeling to be able to prove everybody wrong."
Class 5A Tournament MVP*
Deserae Falatea, East
All-Tournament Team*
Deserae Falatea, East
Precious Faamausili, East
Kemery Martin, Corner Canyon
Jaiden Vaifanua, Corner Canyon
Tori Dorius, Wasatch
Marisa Bowman, Skyridge
*as selected by the media
Academic state champion
Springville (GPA 3.895)
×
Photos
Related Stories