This archived news story is available only for your personal, non-commercial use. Information in the story may be outdated or superseded by additional information. Reading or replaying the story in its archived form does not constitute a republication of the story.
TAYLORSVILLE — Give plenty of credit to Wasatch's girls basketball team in 2018-19.
After sneaking into the playoffs as what many may consider to be an under-seeded No. 3 team in Region 8, the Wasps made the most of their tourney berth.
Wasatch stunned Timpview in the opening round, 52-47 before rallying to top Box Elder 55-54 in some late-game dramatics prior to Friday's semifinal against East.
So just how good are the Wasps?
They led the defending Class 5A champs by as much as seven in the first half, including a 27-24 edge at halftime.
"It wasn't a fluke that they beat Timpview and Box Elder. They are tough," East coach Olosaa Solovi said. "They do a great job over there."
So how good are the Leopards, then?
Well, they never gave up — even when they got down.
Lani Falatea had a game-high 15 points, nine rebounds and five steals, and sister Rae Falatea added 14 points, nine rebounds, five steals and three blocks, as the Leopards rallied to overwhelm Wasatch, 57-48, in a Class 5A state semifinal Friday at Salt Lake Community College.
It wasn't just the Falatea sisters who got it done for the Leopards (22-4), though. East played just six players, but Blanche Pritchard came off the bench to pour in 14 points, including a pair of 3-pointers as the Wasps attempted to get back into the game in the second half.
Precious Faamausili added eight points, 10 rebounds, three assists and three blocks, and Lina Tausinga supplied six points, four rebounds and two steals.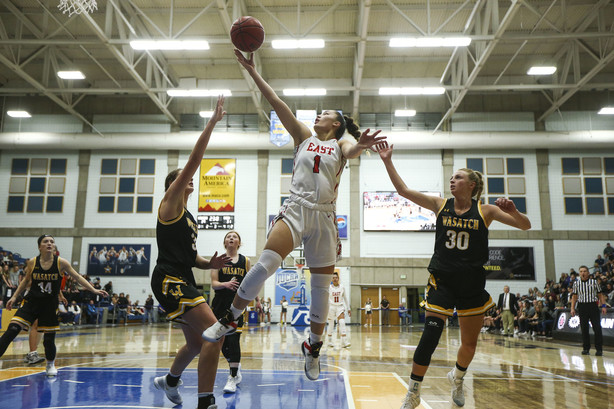 "We know what Margarita Satini and the Falatea sisters are going to do," Solovi said. "But today, I was really impressed with those other three."
After years as an afterthought in girls basketball, the Leopards advanced to their second-straight state championship game, where they will face Corner Canyon or Skyridge at 6:30 p.m. Saturday at SLCC.
Kymbee Baird had 11 points and two steals to lead Wasatch, and MacKenzie McBride chipped in 10 points, four rebounds and three assists.
The Wasps (18-8) jumped all over East in the first half, leading by as much as seven, 21-14 with 3:57 left in the half. Faith Fitzgerald, the 5-foot-2 point guard, gave the Wasps the advantage with an and-one play that helped Wasatch cling to a 27-24 edge at the break.
"I really tip my hat to Wasatch," Solovi said. "The style of play they play really forced us in the halfcourt.
"To me, the other three were big. We know what the star players are going to do. But those three really came through for us today."
But Falatea didn't let the defending 5A state champs stay down for long.
The 5-foot-8 sophomore who played a key role in the Leopards' first state title a year ago paced a 17-4 run in the third quarter to help East regain control. Falatea capped the spurt with back-to-back steals that finished with a flush on the other end, and the Leopards took a 39-31 lead into the final period.
But Wasatch didn't go away, either.
Kymbee Baird drained an effortless three from the left elbow to pull Wasatch within five, 51-46, with about three minutes left. But the Wasps could get no closer, and Falatea helped iced the game from the free-throw line in the final minute.
"It's no secret what we are going to do. We're going to do what we do and if they beat us, then we tip our hat to the better team," Solovi said. "I think any time you start going away from who you are, you get a loss — especially in a tournament like this."
×
Photos
Related Stories