This archived news story is available only for your personal, non-commercial use. Information in the story may be outdated or superseded by additional information. Reading or replaying the story in its archived form does not constitute a republication of the story.
TAYLORSVILLE — A lot of players, especially teenage girl basketball players, might eschew the pressure and nerves of a crucial play in a tight game at the state tournament.
But Bingham point guard Ameleya Angilau isn't like most players.
Angilau learned when she was a freshman, thanks to her coaches, that pressure is a privilege.
And she lived up to her privilege Friday afternoon.
Angilau scored 13 points with six assists, and teammate Maggie McCord scored a game-high 17 points with five rebounds and two steals to help Bingham dethrone top-ranked Fremont, 46-42 in a Class 6A state semifinal at Bruin Arena at Salt Lake Community College.
"I've just taken that with me throughout my whole high school career," said Angilau, who went 4-of-7 from the free-throw line. "I like it; I want them to foul me, and I want the privilege to be able to help win for my team."
Madison Jones chipped in 6 points and five rebounds for the Miners (17-7), who avenged a 51-48 overtime loss to the Silver Wolves on Dec. 6 — not to mention a loss to the same team in last year's state final.
This time, the Miners outscored Fremont 23-18 after the second half, while holding budding star post Emma Calvert to just one field goal after the break. And they did it by controlling the offensive glass.
"She is such a tough rebounder, and such a presence inside," Bingham coach Charron Mason said. "We just tried to limit her from getting offensive boards; that was the biggest thing."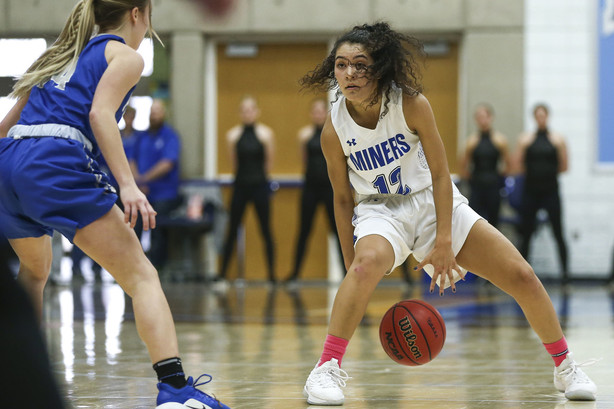 Calvert finished with a team-high 13 points and 12 rebounds for Fremont (21-2) — but just five of those boards came on the offensive glass. Freshman standout Timea Gardiner contributed 13 points and nine rebounds for the Silver Wolves — but had just one offensive board.
Fremont got the upperhand early, holding the Miners to one field goal en route to an 18-2 lead on Haylee Doxey's make inside with just over two minutes left in the first quarter.
Once Bingham got its bearings back, Angilau cut inside to pull the Miners within three, 17-14 just over two minutes into the second quarter.
But the Miners never led in the first half, and trailed 24-23 at the break.
Bingham took its first lead of the game when McCord hit back-to-back shots out of the break, surging to a 27-24 advantage that forced Dalebout to call a timeout just under two minutes into the quarter.
No team led by more than four for the remainder of the quarter. Townsend drained a three with a minute left in the third, but McCord gave the Miners a 38-37 lead after three quarters.
"Maggie is just clutch," Mason said. "That girl never stops. She just goes and goes."
DOWN GOES NO. 1: Bingham (@homeoftheminers) stuns top-ranked @FremontGBB to advance to tomorrow's 6A state final. #kslprepspic.twitter.com/F2purn8VmT

— KSL.com Sports (@KSLcomSports) February 22, 2019
Both teams suddenly went scoreless from the field for more than five minutes in the fourth quarter. Angilau opened the scoring on a jumper at the 2:41 mark of the final period, giving the Miners a 40-37 edge.
The junior point guard then helped close out the game from the free-throw line, sealing the win with makes on three-straight trips to the stripe to send the Miners to back-to-back state finals.
Bingham will face the winner of Copper Hills in Saturday's championship. Tipoff is scheduled for 4 p.m. MST at Salt Lake Community College.
The game will be streamed at live.ksl.com.
×
Photos
Related Stories