Estimated read time: 6-7 minutes
This archived news story is available only for your personal, non-commercial use. Information in the story may be outdated or superseded by additional information. Reading or replaying the story in its archived form does not constitute a republication of the story.
PROVO — Mark Schlereth knows a thing or two about quarterbacks.
The three-time Super Bowl champion and two-time Pro Bowl offensive lineman has worked with plenty in his day.
So when the 55-year-old retired NFL veteran from Alaska says he's a fan of former BYU quarterback Zach Wilson, people tend to listen.
And Schlereth? Well, he's definitely a fan — of the signal caller he believes may be the best pick in this year's draft.
"I'm not so sure that I wouldn't take Zach Wilson over Trevor Lawrence," said Schlereth, who now co-hosts a daily radio show on 104.3 The Fan in Denver, who also jokes that there's not much else to do than watch pre-draft highlights when it's "18-below" in the middle of winter. "His live arm, compact throwing mechanics, unbelievable feet in the pocket. Just the balance, the quickness, the foot energy becomes ball velocity; I watched a bunch of clips, and they're just clips. But all of his throws — deep throws — covered.
"They were BYU receivers, too. Down the sideline, 35 yards, in a milk carton. His athleticism and footwork left me really impressed."
We've officially reached the silly season of the 2021 NFL pre-draft, a time when everyone this side of former Clemson star Lawrence hasn't taken a Pro Day or reported to the all-virtual NFL Combine. But everyone has a take.
Fiery as they may be, Schlereth's comments caught a few people by surprise this week — and drivetime "shock talk" aside, Wilson's stock is soaring.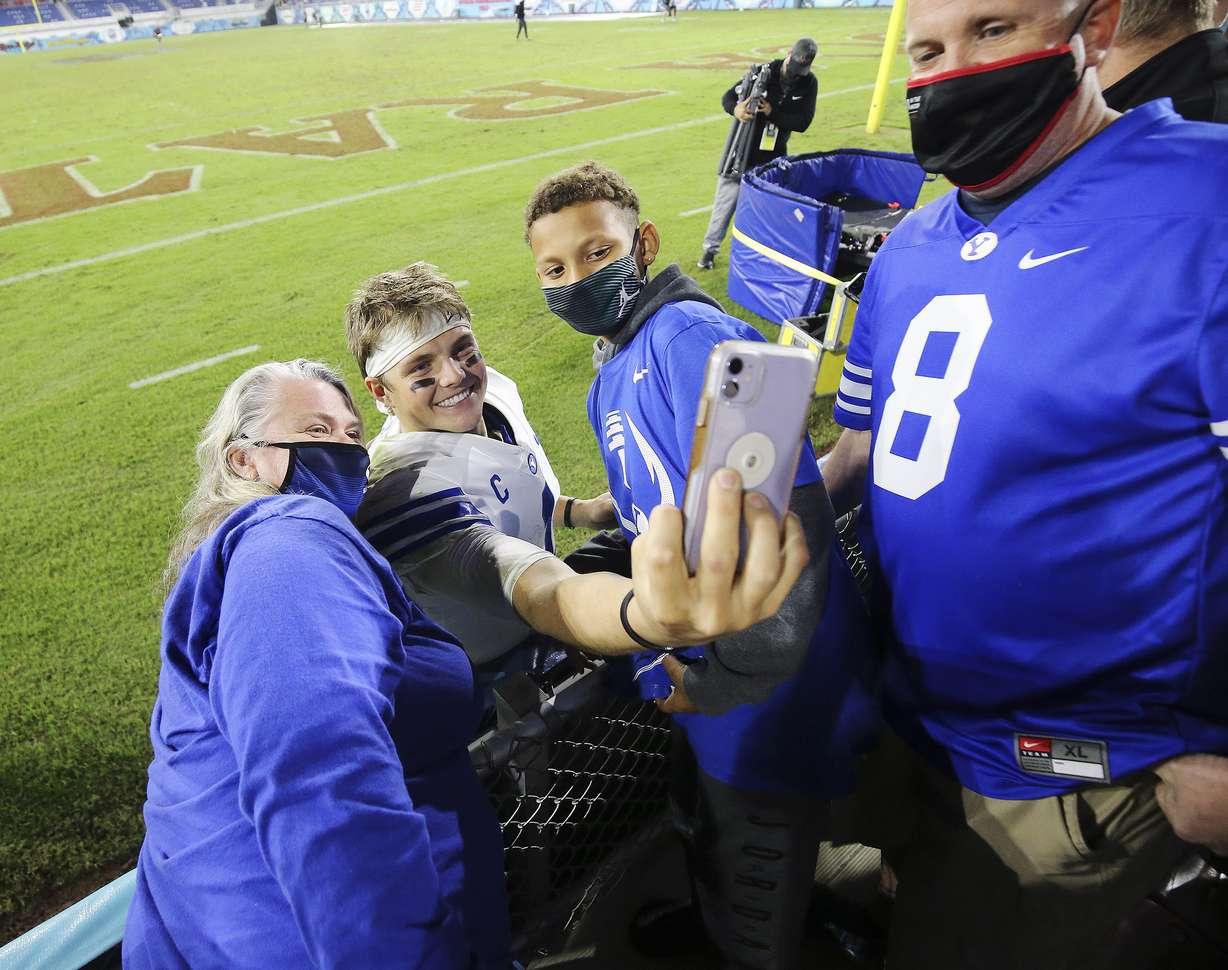 That's because the former Super Bowl champion isn't the only one who is high on the one-time Corner Canyon standout. ESPN's Mel Kiper Jr. started the pre-draft train by calling Wilson a surefire first-round pick, capable of a top-five selection, and his colleague Todd McShay kept it going.
McShay has Wilson as the second-best quarterback on his big board. Trailing only Lawrence, Wilson is currently projected to go to the New York Jets with the No. 2 overall pick, according to McShay.
The only problem? The Jets currently have the quarterback of the present and the future — or so they once believed — in ex-USC star Sam Darnold. Sure, New York is in the position it's in after going 2-14 in 2020. But ...
"If Darnold is traded, Wilson should be the pick," McShay wrote. "And if New York keeps Darnold, I think a team — perhaps Carolina — will jump on the chance to move up to take Wilson here."
But is it time to move on from Darnold already? And if so, is Wilson — not another standout college quarterback like Ohio State's Justin Field or fast-rising Trey Lance from North Dakota State, for instance — the next-best option?
For his part, Fields led the Buckeyes to the College Football Playoff in 2020, threw for 385 yards and six touchdowns in a 49-28 win over then-No. 2 Clemson, and finished the season with 2,100 yards and 22 touchdowns and just six interceptions. It also proved to be a step back from his 2019 campaign, when Fields threw for 3,273 yards and 41 touchdowns with just three interceptions.
Does Wilson's breakout 2020 season make him a better pro prospect?
For right now, McShay believes so. And he isn't the only one at ESPN.
"I've been expressing my loyalty for Justin Fields the last few years, saying how great of a football player he can be," said ESPN's Ryan Clark in debating McShay's mock draft that featured four consecutive quarterbacks at the top — what would be an NFL Draft record. "But when you watch Zach Wilson, he is different; he moves different. He doesn't extend plays like Trey Lance and Justin Fields might do, but he can move in a way to distance himself into spaces that he can throw the ball.
"All those things he does to make plays downfield, he does that. When you see a guy like Zach Wilson, you don't pass on him — especially in this age where they don't break the bank, that's a guy for four years that you want to see what he looks like."
That "difference," as Clark sees it, is Wilson's athleticism, according to the Corner Canyon product's head coach the past three years.
Wilson isn't just capable of making big plays with his arm, as he did as a junior in throwing for 3,692 yards and 33 touchdowns with just three touchdowns while leading the Cougars to an 11-1 record and a ranking that soared as high as No. 8 in the Associated Press Top 25 before finishing at No. 11.
He's also pretty athletic, too, BYU coach Kalani Sitake said during an interview Wednesday with the NFL Network.
"I think a lot of people don't realize the type of athlete that he is," Sitake said of Wilson, who also ran for 254 yards and 10 touchdowns. "He was a point guard in high school basketball, he's got an amazing vertical (leap), he's got a lot of burst and twitch, he can play a lot of different positions and he just happens to sling the ball really well. That's why he's playing quarterback."
Wilson's quarterbacking style has often been described as "Mahomesian" in nature, though not necessarily in describing the same talent as the NFL champion Chiefs quarterback Patrick Mahomes. Swash-buckling and improvisational in nature, Wilson simply has an aura about him that makes watching him play football fun to an outside observer.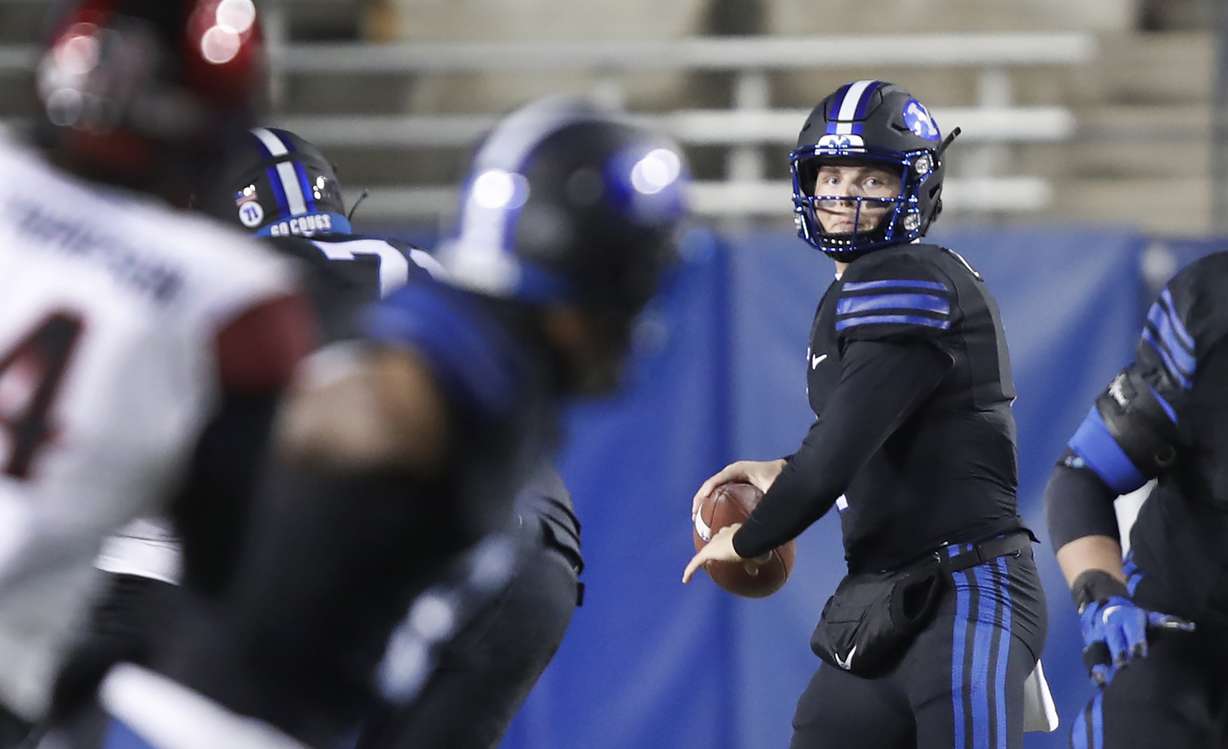 That's where the comparisons to Mahomes stand.
Even his coach, who doesn't like to make comparisons of his or any other current college player, understands that.
"I think Zach's a different type of player, but he can do a lot of things on the football field and he can do a lot of things in a lot of different sports," Sitake said. "I mean, he can try anything and he'll be good at it. Once he gets his mind set to it, the guy has an amazing work ethic and I think he's going to be just fine in the NFL."
Wilson's creativity played a big role in leading the Cougars in 2020, as did his chemistry and connection with fellow NFL draft prospects Dax Milne and an offensive line that featured fellow early entrant Brady Christensen, among others.
But it all came back to Wilson, who finished eighth in the Heisman Trophy balloting in 2020, the highest spot for a BYU player since Ty Detmer. Skill, talent, athleticism; whatever it is, Wilson simply had the "it" factor," Sitake said.
"He's just got 'it.' Leadership ability, also the ability to work hard and put everything together," Sitake said, "and then he's got this moxie on the field that is hard to teach, and I think when you put that all together, it was my job and (QB coach Aaron) Roderick's job as quarterbacks coach to allow him to be himself and to be the best version of himself.
"We saw that a lot of times this year and a lot of times in his career here at BYU and looking forward to seeing him do it on Sundays."
×
Related stories
Most recent BYU Cougars stories