Estimated read time: 4-5 minutes
This archived news story is available only for your personal, non-commercial use. Information in the story may be outdated or superseded by additional information. Reading or replaying the story in its archived form does not constitute a republication of the story.
MIDVALE — Gov. Spencer Cox is urging Utahns working on their taxes to donate even a small amount for homeless services now helping many who are especially vulnerable during the pandemic.
Cox joined advocates for the homeless Tuesday in asking Utahns to indicate on their state tax forms that they would like to contribute to a fund supporting shelters and other service providers around the state.
"It doesn't matter how small," Cox said at the Road Home's Midvale Family Center. "That number will be multiplied in powerful ways."
The coronavirus pandemic has cut wages and child care options, dealing another blow to low-income families already struggling to cover soaring rent along the Wasatch Front.
Tax donations to the Pamela Atkinson Homeless Trust Fund can help cover services they may now be seeking out, like soup kitchen meals, temporary shelter and case management helping them find stable housing, advocates said Tuesday.
When the pandemic hit, coordinators adapted quickly, expanding contracts to house people with health risks in hotels, holding job training sessions online and setting in place strict cleaning protocols, said Road Home Executive Director Michelle Flynn.
The early months of the pandemic, when experts knew little about how COVID-19 spreads, presented difficulties, Flynn said.
Many who'd been sleeping outside didn't report symptoms to the men's resource center in South Salt Lake because they were so accustomed to feeling poorly, Flynn said, but some later tested positive. So the shelter came up with a more comprehensive list of questions to screen them for the coronavirus.
The family shelter in Midvale, for its part, weathered an early spring COVID-19 outbreak and public discord about which hotels families should be placed in as part of an effort to free up room at the shelter.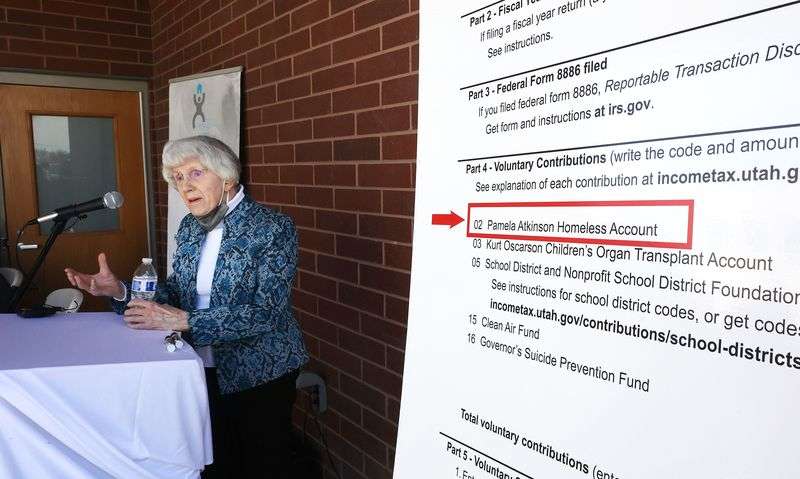 It managed to serve 243 families from July to December, Flynn said, while another 43 got into other types of temporary housing through a partnership with Utah Community Action.
"Despite the pandemic challenges and the critical lack of affordable housing that we have in our community, in the past six months we have also helped 107 families move from homelessness into housing," Flynn said.
Pamela Atkinson, a longtime and influential voice for Utah's homeless, told reporters that "our homeless friends have really suffered through this."
More than $20 million in federal rent relief money has helped Utahns stay in their homes, but others have been evicted during the pandemic, Atkinson noted. Advocates have identified more families sleeping in their cars, and have helped connect them to more stable housing, she said.
"You can't have children being tucked into bed in a car," Atkinson said. "That's not right."
She encouraged donations as small as just $3 to the fund that typically nets about $70,000 each year.
Atkinson donated Pampers and a hamper containing other items to the shelter on Tuesday, while Cox carried socks, a teddy bear, blankets and white trash bags full of clothes.
The governor spent time in the shelter and said he spoke with the mother of a 5-year-old girl with autism who's participating in an early childhood intervention program the shelter helped to arrange.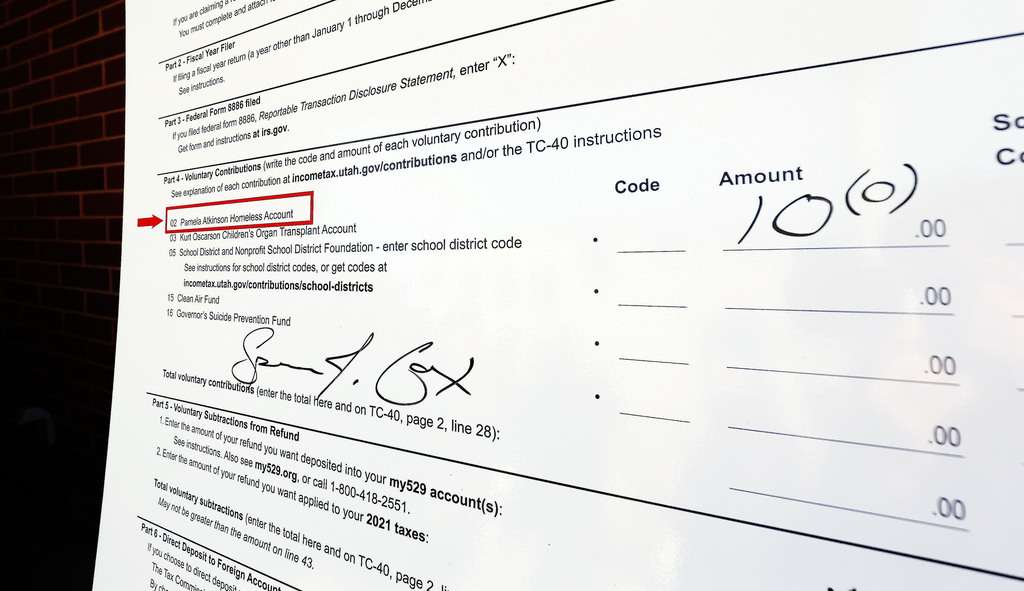 "That's what we're talking about, is a single mom who's struggling right now, trying to make ends meet, and figure things out," the governor said. Donations would help many in similar situations, he added.
Journalists weren't permitted to accompany Cox inside the shelter Tuesday.
Cox called the shelter "the model for the rest of the state. We so often have cities, localities that are fearful or scared to have facilities like this, and yet we've proven that this can be a blessing to a community."
Flynn, with the Road Home, noted that even as the economy recovers from the pandemic, it could be some time before many of Utah's most vulnerable can get back on their feet.
"People who are living in poverty are usually on the tail end of a recovery, of a recession of any kind, and it takes them longer to sort of get out of that," Flynn said. "So I think that's something that could be affecting the homeless system in the years ahead."
There's also an option to give online to the fund at jobs.utah.gov/htf.
×
Photos
Related stories
Most recent Politics stories