ORLANDO, Fla. — Sen. Mike Lee praised the Bill of Rights and former Rep. Jason Chaffetz called for tighter election security Friday at the 2021 Conservative Political Action Conference, an annual gathering of Republicans from across the country that will be headlined this year by former President Donald Trump.
Lee and Chaffetz were two of the three Utahns on the docket for the weekend, as Rep. Burgess Owens will appear Saturday.
Notably absent from this year's conference is Utah's Sen. Mitt Romney, who has been persona non grata with its organizers, the American Conservative Union, since his vote to convict Trump during his first impeachment trial in 2020. The CPAC speaker list was full of staunch Trump supporters — and, possibly, some 2024 Republican hopefuls — like Texas Sen. Ted Cruz, Florida Rep. Matt Gaetz, Missouri Sen. Josh Hawley, Florida Gov. Ron DeSantis and freshman Reps. Lauren Boebert of Colorado and Madison Cawthorn of North Carolina.
'I am not Mitt Romney'
Chaffetz, the former congressman turned Fox News contributor, didn't waste any time differentiating himself from Utah's junior senator.
"My name is Jason Chaffetz, I'm from Utah and I am not Mitt Romney," Chaffetz said to applause. "If you're looking for Pierre Delecto, you need to go down the hall, go left, and then just keep going left until — well, just keep going left. That's where you'll find him." Pierre Delecto was the username of a Twitter account Romney once used to monitor and engage in political discussions.
During his speech, Chaffetz attacked HR1, the "For the People Act," and implied it would open the door to election fraud. Many Democrats support HR1 and argue it would remove barriers to voting by creating automatic voter registration, expanding early voting and making it easier to vote absentee, among other items.
Chaffetz said there were "deep-seated, legitimate concerns" about the 2020 election, which Trump and many Republicans believe was stolen despite scant evidence of widespread voter fraud. But he encouraged CPAC attendees not to "fall into the trap" of centralizing elections power in the federal government, rather than counties and states.
Chaffetz said conservatives should "advocate in every state and every county."
"My name is Jason Chaffetz, I'm from Utah and I am not Mitt Romney" @jasoninthehouse. 🙏🏻 #PierreDelecto#CPAC2021#AmericaUnCanceledpic.twitter.com/tJZShHPRp5

— CPAC 2021 (@CPAC) February 26, 2021
"Having the integrity of the ballot, making sure we demand that only legal, lawful votes be allowed and that we verify that, that we authenticate the vote," he said. "We can lead the charge, as conservatives, on voter access, while also authenticating the vote using things like blockchain and other types of smart ways to think through this, to make sure that ballot integrity is there."
Chaffetz also praised Trump as "one of the best presidents to ever serve our nation."
"I think an honest assessment would say, I wasn't quite sure he was going to be the most conservative president," Chaffetz said. "But his four years in office proved that he was the most conservative president."
He praised Trump's record and ended his speech by encouraging attendees to earnestly make the case for conservative policies to friends and neighbors who disagree. "I think if you do that in an honest and sincere way — not to berate somebody, not to make them feel stupid, but to actually reach out, break bread, and explain to them why you believe what you believe."
'Faith in government means tyranny'
Lee is well known for his strict interpretation of the Constitution, and he used the document earlier Friday to advocate for fewer coronavirus restrictions and a smaller government. He said the Bill of Rights, the famous first 10 amendments to the Constitution, proves the founders wanted the government to be small and restrained.
"The Left, of course, does hate the Bill of Rights," Lee said. "Why? Well, because the Bill of Rights talks about things that the government can't do. And that, to them, is like blasphemy."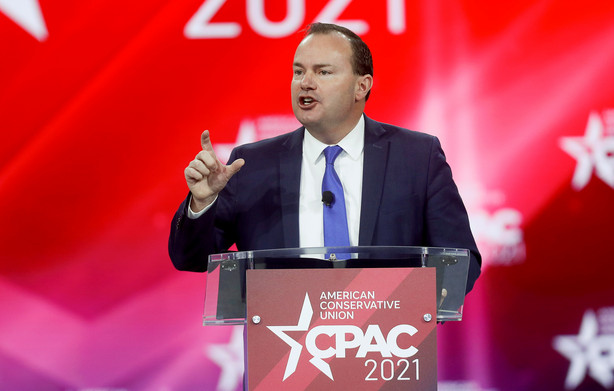 Lee said all Americans should rally around skepticism — "skepticism in government, and faith in the people." He described government as "the official, collective use of force."
"It's just coercive force," Lee said. "So faith in government means tyranny. You can't have faith in government without promoting tyranny. And faith in people means freedom."
Lee said the "least-known, least-appreciated, least-celebrated" First Amendment freedom is the right to assemble, but might be the right on which all others "depend." He accused Democrats of exploiting the COVID-19 pandemic to restrict assembly. "We've been prevented from gathering in our churches, in our schools, and in our workplaces," he said, and are "suffering the consequences."
Lee bashed California Gov. Gavin Newsom for his coronavirus restrictions, to applause from the crowd.
"On the flip side, I'm so grateful to my friend, Gov. Ron DeSantis, for keeping Florida open," Lee said. DeSantis' light touch on restrictions has made him a recent rising star in the GOP, while Newsom is battling attempts to recall him from his post.
Despite voting to accept the election results on Jan. 6 against his wishes, Lee has remained in Trump's good graces, voting to acquit him at his second impeachment trial and even attending a fundraiser at his Mar-a-Lago resort last weekend. His CPAC remarks did not mention the former president.
Lee is up for reelection in 2022, should he run.
×
Related Stories