Estimated read time: 5-6 minutes
This archived news story is available only for your personal, non-commercial use. Information in the story may be outdated or superseded by additional information. Reading or replaying the story in its archived form does not constitute a republication of the story.
SALT LAKE CITY — Utah GOP Sen. Mitt Romney on Saturday voted to convict former President Donald Trump of inciting an insurrection at the U.S. Capitol on Jan. 6.
As expected, Mike Lee, Utah's senior senator, voted to acquit.
Romney was one of seven Republicans who crossed the aisle and voted to convict the former president at the end of a five-day impeachment trial. Trump was ultimately acquitted on a 57-43 vote. Conviction in the Senate requires a two-thirds majority, or 67 votes.
It is the second time Trump has been acquitted in an impeachment trial. Romney was the only Republican senator who voted to convict Trump during the first trial in 2020.
"President Trump is guilty of the charge made by the House of Representatives," Romney said in a statement released following his vote.
He said Trump "attempted to corrupt the election by pressuring the secretary of state of Georgia to falsify the election results in his state," and incited "the insurrection against Congress" during the counting of electoral votes.
"He did this despite the obvious and well-known threats of violence that day," Romney said. "President Trump also violated his oath of office by failing to protect the Capitol, the vice president and others in the Capitol. Each and every one of these conclusions compels me to support conviction."
Lee, who voted to acquit the former president, interrupted the impeachment trial a second time on Saturday after his name was again brought up involving evidence citing him.
Rep. David Cicilline, D-R.I., a House impeachment manager, was providing his final arguments and said, "There's been some confusion to the phone call I referenced with Sen. Lee." He said that when Vice President Mike Pence was being evacuated from the Capitol on Jan. 6, Trump had "called the senator to ask about delaying the certification ... and that call was interrupted."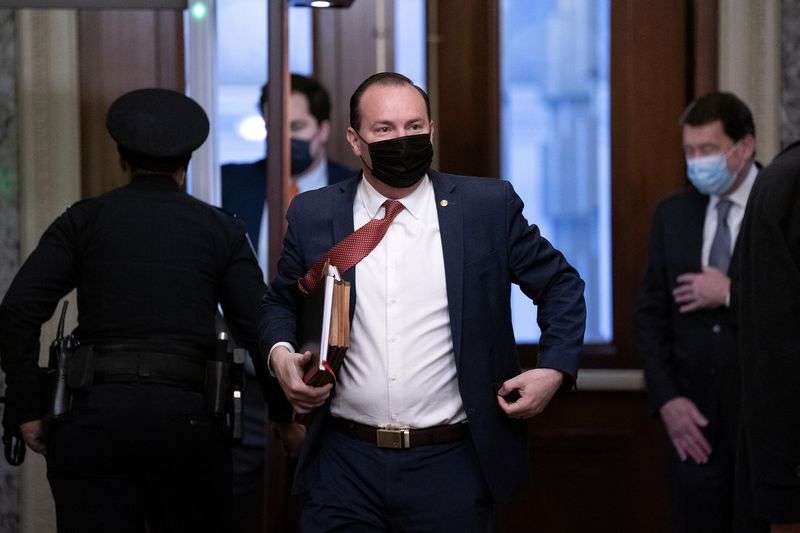 Following Cicilline's remarks, Lee stood to object and was told debate was not in order.
"Debate is not in order because this is not debate. He said something that is not true," Lee said.
While the siege was taking place on Jan. 6, the Deseret News first reported that Lee received a misdialed phone call at the U.S. Capitol from Trump that was intended for Sen. Tommy Tuberville, R-Ala. Lee found Tuberville and handed his phone to the senator and said Tuberville and Trump spoke for five to 10 minutes.
Lee, who stood nearby, eventually asked for his phone back because he was being evacuated. Lee said he later asked Tuberville about that conversation and said he got the impression that Trump didn't know about the chaos going on in the Senate chamber. Lee never said that Trump had asked Tuberville about delaying the certification.
Lee first objected Wednesday and again Saturday to the description by impeachment managers of that phone call between Trump and Tuberville, saying the managers mischaracterized his account of their conversation.
Lee and the senators were reminded Saturday that no new evidence could be introduced at the time of closing arguments.
In a statement Saturday, Lee said House managers failed to prove the Senate should impeach Trump and also failed to prove that Trump was responsible for inciting an insurrection.
"No one can condone the horrific violence that occurred on Jan. 6, 2021 — or President Trump's words, actions and omissions that day. I certainly do not," he said. "But, the fact is that the word 'incitement' has a very specific meaning in the law, and Donald Trump's words and actions on Jan. 6, 2021, fell short of that standard."
Lee said the House rushed the trial without an investigation and carried through even after Trump left office, which he said "would be an unprecedented and constitutionally dubious step." The allegations, Lee added, were based on "hearsay, erroneous media reports and political rhetoric rather than evidence."
Related
"Faced with the weak presentation of a deficient case demanding unprecedented constitutional action against a private citizen, acquittal was the only option I could deem consistent with the law, the facts and the Constitution," Lee said in the statement.
Contrarily, Senate Majority Leader Sen. Chuck Schumer, D-N.Y., said the seven Republicans, including Romney, who voted to convict and impeach Trump were "true patriots."
"This has been yet another phase of the greatest witch hunt in the history of our country," a statement from Trump said. "No president has ever gone through anything like it, and it continues because our opponents cannot forget the almost 75 million people, the highest number ever for a sitting president, who voted for us just a few short months ago."
After the vote, Senate Minority Leader Mitch McConnell, R-Ky., who voted to acquit Trump, said the attack on the Capitol was due to a "disgraceful dereliction of duty" on the part of Trump, who is "responsible for provoking the events of the day."
Sen. Ron Johnson, R-Wis., and Romney had a conversation that got a little heated after Romney voted to allow witnesses, according to news reports in Politico, which reported that "voices were definitely raised" and "the two went back and forth."
Johnson was among the majority of GOP senators who believed the trial was only making the problem bigger.
The seven Republicans who voted to convict the former president are Sen. Richard Burr of North Carolina; Sen. Bill Cassidy, Louisiana; Sen. Susan Collins of Maine, Sen Lisa Murkowski of Alaska; Sen Ben Sasse of Nebraska; Sen Pat Toomey of Pennsylvania; and Romney.
Correction: An earlier version incorrectly stated Senate Minority Leader Mitch McConnell, R-Ky., voted to convict. He voted to acquit.
×
Related stories
Most recent Politics stories