PROVO — Matt Haarms has experienced plenty of ups during his lone season with the BYU men's basketball team.
But the Purdue graduate transfer's favorite game didn't involve his career-high 23 points against Portland, career-best eight rebounds in a critical win over Pacific, or going for 21 with a season-high five blocks in last week's win at Loyola Marymount.
No, Haarms' favorite win was on the road, when he collected 8 points, two rebounds and four blocks in a 67-64 win at Utah State.
Due to coronavirus restrictions, the Cougars' Dec. 5 win over their in-state rivals came in front of around 1,600 fans inside the Dee Glenn Smith Spectrum — and Haarms heard every single one of them.
Until this week, when BYU (17-5, 8-3 WCC) announced a limited number of fans will be on hand in the Marriott Center.
"They said it was 2,000, but it felt like 4,000. And they all hated our guts," Haarms said. "We had so much in the gym, and I can't wait to see what all these people are bringing to the Marriott enter for our last two games."
Thanks to a plan approved by state, county and local health officials, BYU will (finally) host a limited number of fans during the Cougars' final pair of reshuffled home games against San Francisco and Saint Mary's.
Prior to Thursday night, the largest crowd the Cougars faced was against Gonzaga, which drew less than 500 fans. Most of BYU's games have been played in front of a handful of family members, close friends, former players and athletic department officials totaling between 100-200.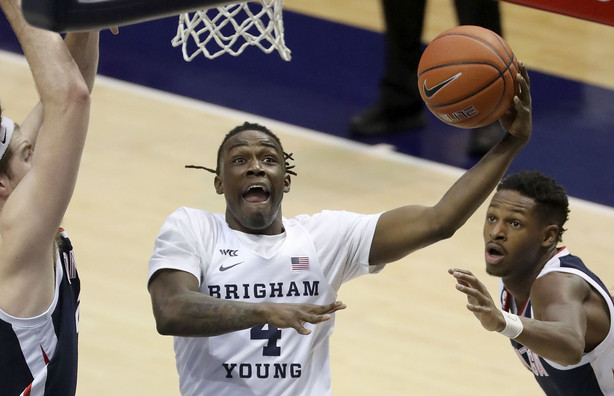 A limited number of tickets reserved for students, season ticket holders and boosters will be made available Wednesday morning at 10 a.m. MT on byutickets.com, the first mainstream possibility for fans to see a team ranked in the top-30 in the NCAA's NET rankings.
And it couldn't come a moment too soon, with the Cougars looking to sweep the Gaels and Dons for the first time under second-year coach Mark Pope — a pair of wins that could dramatically boost their postseason fortunes.
"We are losing our minds at the prospect of getting to play in front of fans in the stands this week," Pope said. "It's not going to be everybody, but it's going to be some people, and that is a massive step in a positive direction. We're so grateful to our administration, medical staff and all others involved for finding a way to do this safely.
"We can't wait to share a little bit of Marriott Center magic with the fans this week."
The Cougars will open up the lower bowl for seating, with fans spaced at least 10 feet between separate parties and masks required for all in attendance. A small section will also be reserved for the band and cheerleaders, and spectators will be required to enter through one of four doors at the corner of the concourse closest to their allotted tickets.
To limit exposure, BYU officials are also requesting that only one member of each party peruses the concession stand.
It's not much, and it took until the final game of the year.
But with one final home weekend to send out BYU's three seniors of Haarms, Alex Barcello and Brandon Averette, the Cougars are grateful for the rare opportunity.
"I grew up going to BYU games, and playing for BYU this year hasn't been the same," said BYU freshman Caleb Lohner, whose father Matt played at BYU from 1991-96. "I know it's only 2,000 people, but from what we played with all year, it's going to feel really full. I'm super pumped, and everyone is excited."
And while it may be the last chance Haarms will have to play at home — the graduate student has already said he won't return for another year allowed by the NCAA — the Amsterdam native will always be grateful for his year at BYU.
He can't wait to thank the fans — or at least a limited number of them — one final time.
"I've really felt the support, especially on campus. I've had a lot of people shout at me from 10 feet away, 'hey, you're Matt Haarms,'" Haarms said. "It's been awesome to see all that support.
"Of course, I wish it was a 'normal' experience. But it's been special; this is a year I'm going to look back on as being really special. And that's why I'm committed to going as deep as possible in the postseason."
On the Air
San Francisco (10-11, 4-7 WCC) at BYU (17-5, 8-3 WCC)
Thursday, Feb. 25
Tipoff: 7 p.m. MT
TV: CBS Sports Network
Radio: BYU Radio, KSL Radio
Series: BYU leads, 20-9
×
Related Stories