Estimated read time: 4-5 minutes
This archived news story is available only for your personal, non-commercial use. Information in the story may be outdated or superseded by additional information. Reading or replaying the story in its archived form does not constitute a republication of the story.
SALT LAKE CITY — Air quality dangers outdoors can still present raised levels of poor air quality indoors, according to a recent study led by researchers at the University of Utah.
The report, published in Science of the Total Environment on Feb. 12, found that air pollution, especially smoke from wildfires or fireworks, has the ability to creep into indoor spaces and produce poor air quality inside buildings. It even has the ability to produce air quality levels that are unhealthy for sensitive groups during the worst inversion days.
The study began when a team of researchers set up air quality monitors at the Unified State Laboratories in Taylorsville in 2018. The monitors were placed on the building's rooftop, inside an office, and inside an air handling room. The year produced all sorts of poor air quality days that allowed the team to review the effects of particulate matter that accumulates during inversions, as well as smoke from fireworks and from wildfires, both inside and outside of the building.
After calculating the data, they found wildfire smoke posed the biggest threat to indoor air quality. Researchers found that indoor air pollution rose to about 78% of the outside pollution.
Poor air quality from inversion wasn't nearly as bad but still posed risks that were about 30% of the levels registered outside of the building at the time. Fireworks smoke levels, while only temporary, registered levels that ranged between inversion and wildlife smoke levels.
Daniel Mendoza, a research assistant professor in the U.'s Department of Atmospheric Sciences and one of the study's co-authors, said wildfire smoke likely posed the largest threats to indoor air quality because it has a different particle structure than particulate matter that lingers in the air during inversions.
"We see those particles travel straight through the system because there's no specific filtration that blocks out these particles," he said in a news release Monday. "Smoke particles can also be smaller in size; that's why they're so dangerous for us."
The smoke from fireworks also alarmed researchers because of how quickly the poor air quality seeped indoors. For instance, the indoor monitors picked up smoke from a small, private fireworks display in August 2018 that raised indoor air quality levels to "orange" for a few minutes.
"The pattern was consistent with the other firework example but reflected the smaller scale of this firework event," researchers stated in the paper.
The Fourth of July holiday that year raised levels to 29% of the air quality outdoors that evening. Most notably, levels reached "purple," or "very unhealthy levels," outdoors that evening. It took until 8 a.m. on July 5 for air quality levels to return to normal.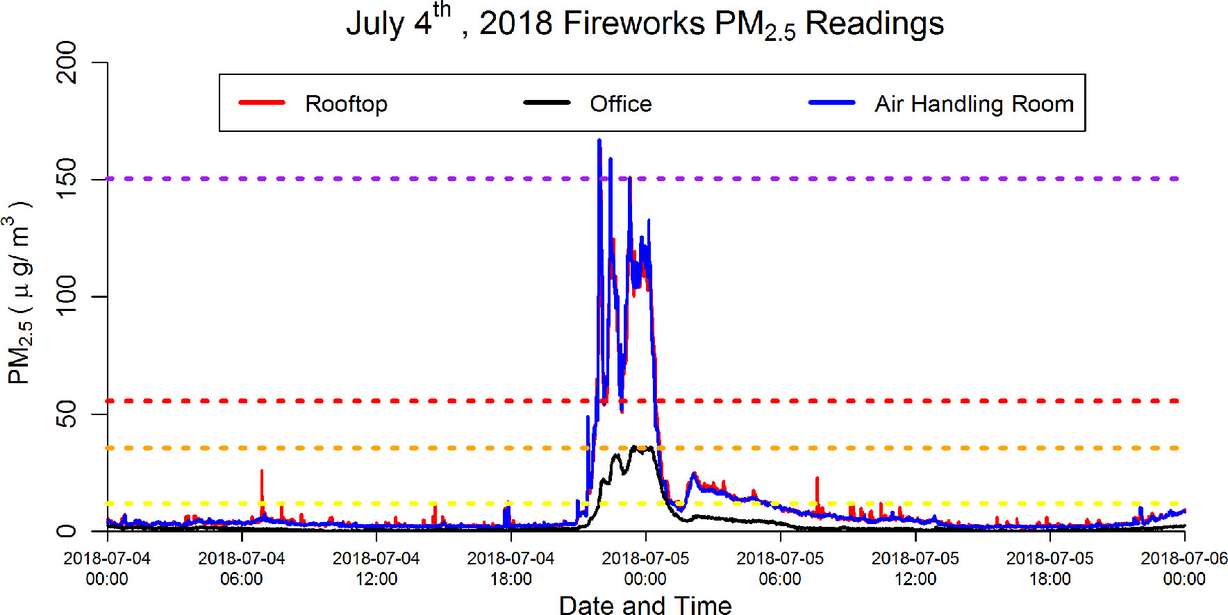 Inversion was the other major air quality question. On Dec. 8, 2018, researchers got their first "red," or "unhealthy," inversion day. They registered that air quality raised to levels that would be considered "yellow," or "unhealthy for sensitive groups," indoors.
Over a three-day span beginning that day, researchers found that indoor levels remained in the yellow range even when air quality levels outside had fallen back down to orange.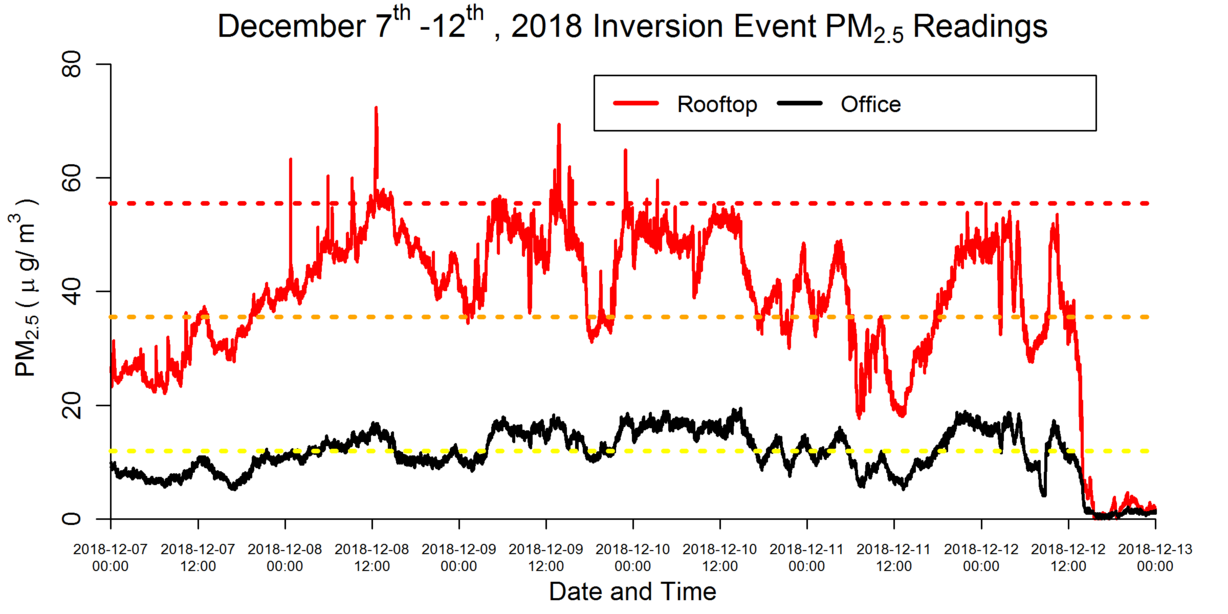 "Although the indoor pollutant concentration is generally about one-third as high as the outdoor pollutant concentration, there is a possibility that longer events could generate larger indoor pollutant buildups," the researchers wrote.
Air quality has become a key issue in Utah, especially in the 21st century. There's a bipartisan caucus in the Utah Legislature that focuses on producing bills that could tackle the problem.
The caucus released a list of 22 legislative pieces tied to the issue earlier this month. One is SB15, which passed through the Senate unanimously last week and was viewed favorably through the House Natural Resources, Agriculture and Environment Committee on Monday. It would create more telework days for state employees during Utah's worst air quality days.
This recently published study was the latest venture by Mendoza and several other Utah researchers looking into the miscellaneous unknowns of poor air quality, or its effects, in Utah. For example, he was the lead investigator of the university's program using Utah Transit Authority's TRAX light rail trains to observe air quality figures across Salt Lake County.
The research published earlier this month followed another University of Utah-led research paper published last September, which found the poorer air quality in Salt Lake County led to lower academic proficiency among third graders studied.
In a news release, Mendoza said the team would like to venture more into what poor air quality outdoors could mean for individual homes, which might add into several other possible air quality variables like cooking, vacuuming or just dirt dragged. Circumstances such as these were not accounted for in the recently published study.
Sarah Boll, assistant director of the Utah Division of Facilities Construction, and one of the study's co-authors added that she believed there was "a lot of opportunity" to help reduce pollutants inside both commercial and residential buildings.
"To me, that is the great part of this work," Boll said, "with more research, it can point the way to protecting people indoors."
×
Related stories
Most recent News stories