SALT LAKE CITY — Once again, the back-to-back snapped the Wolverines.
One night after earning a 69-66 road win at perennial Western Athletic Conference power New Mexico State, Utah Valley allowed 13 points off 14 turnovers in falling to the Aggies 67-60 Saturday night at Eastwood High School in El Paso, Texas.
Jabari Rice led all scorers with 20 points and five rebounds for New Mexico State, and Evan Gilyard added 16 points for the Aggies.
J.J. Overton had 16 points and four rebounds for Utah Valley, Evan Cole added 9 points and three rebounds, and Fardaws Aimaq supplied 15 rebounds.
"J.J. Overton, on a hobbled ankle, battled and fought and worked," UVU coach Mark Madsen told ESPN 960 radio. "He came up with some big steals and offensive rebounds.
"I was just proud of how our guys battled and fought."
UVU hasn't swept a conference opponent since Jan. 8-9 against California Baptist, losing on the back end to newcomers Tarleton State and Dixie State, in addition to New Mexico State. The Wolverines also had games canceled on the second night against Seattle U. and a two-game set with Chicago State after the Cougars canceled the season early.
"The physicality was the same. There were a few minor adjustments on both sides," Madsen said. "But as a whole, it was a similar, physical, battle-worthy and intense game. New Mexico State just made the plays when it counted. We made too many turnovers down the stretch … and had too many unforced turnovers."
The back-to-back scheduling was implemented by the Western Athletic Conference to help mitigate travel due to the pandemic. But the experience, which has proven difficult for first-year NBA players to adjust, has become even more troublesome for the college athletes on eight WAC teams still playing in 2021.
Apart from Grand Canyon, which lost its first WAC game Saturday, the back-to-back hasn't been kind to most teams in the league. Dixie and Tarleton split this weekend, as did GCU and Cal Baptist, and Seattle and New Mexico State a week ago.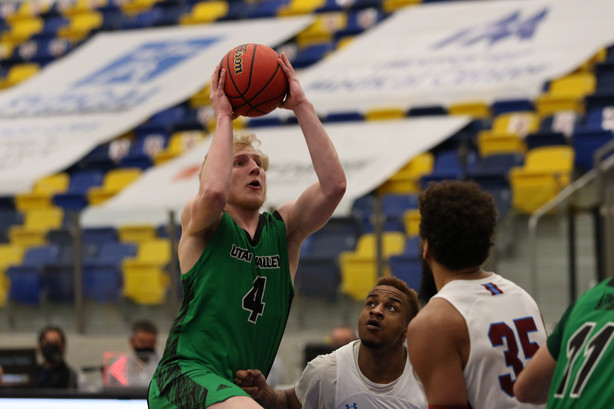 No WAC team not named GCU has swept a weekend series in nearly two months.
Saturday night was a chance to break a skid, even if it wasn't a a run of consecutive losses.
Instead, it was more of the same for Utah Valley.
UVU trailed by as much as nine in the first half en route to New Mexico State's 30-24 halftime advantage. The Wolverines trimmed the deficit inside of one possession through most of the second half, until a 6-0 spurt capped by Overton's jumper with 7:46 remaining gave the visitors a 50-48 lead.
Throwing different defenses at each other — from the Wolverines' 2-3 zone to 3-2 reverse zone to finding themselves flummoxed by Chris Jans' use of a box-and-one — the game was, in many ways, more important for New Mexico State than UVU.
The Aggies responded by retaking the lead themselves. But Cole and Overton kept the Wolverines in the game.
At one point, the grad transfer from Georgia Tech played his own personal game of H-O-R-S-E with NMSU's Johnny McCants.
The Aggies are a perennial power in the WAC, but have uncharacteristically slipped to seventh in the league. It's not that New Mexico State doesn't have talent; playing a series of all road games has simply led to an uncharacteristic 5-6 record, including a 2-5 mark in WAC play.
Due to COVID-19 restrictions by the state of New Mexico, the Aggies haven't played a home game in Las Cruces. Vagabonds searching for a home court, New Mexico State lived out of a hotel room in Phoenix for a while, and finally found Eastwood High School in El Paso, Texas, in time for Friday and Saturday night's home finale.
Both teams made adjustments from Friday to Saturday, but New Mexico State coach Chris Jans told the WAC Digital Network that the changes weren't drastic.
"Our ball screen defense was much better," Jans said. "That's on me, as much as it is on them. We didn't prepare for it.
"We didn't change anything from Friday to Saturday night. … We just stepped up and made a few bigger shots. We certainly rallied the troops, and they were much better tonight."
Trey Woodbury, who had 15 points and the go-ahead three in Friday night's victory, was held to 7 points on 2 of 11 shooting, including 1 of 8 from 3-point range, just 24 hours later.
The UNLV transfer tied the game with a pair of free throws with about two minutes left. But Donnie Tillman gave the lead right back to New Mexico State on the other end, and the Aggies forced back-to-back turnovers in the final minute to hold on.
New Mexico State ended the game on a 7-0 run, holding UVU without a field goal over the final 2:27.
The good news for Utah Valley is they didn't lose ground in the WAC standings. Grand Canyon dropped its first game of conference play Saturday night, a 65-62 loss to CBU. And with the Lancers ineligible for the postseason, that leaves UVU clinging to the No. 2 seed for the conference tournament in Las Vegas, behind GCU.
The Wolverines finish the home schedule next Friday and Saturday against UT Rio Grande Valley before a pivotal two-game series at GCU March 5-7.
Can UVU solve its back-to-back problem by then?
"We wanted to come in here and sweep," Madsen said. "We did not have a good start tonight, butt we battled, fought and scratched our way back into the game.
"It didn't go our way tonight. But we need to take lessons from this game. We'll come back against a talented and tough UTRGV team at home next week."
×
Photos
Related Links
Related Stories