Estimated read time: 6-7 minutes
This archived news story is available only for your personal, non-commercial use. Information in the story may be outdated or superseded by additional information. Reading or replaying the story in its archived form does not constitute a republication of the story.
OREM — Friday night was not the beginning of a rivalry.
But when Utah Valley took an 87-72 win over Western Athletic Conference newcomer Dixie State in the UCCU Center, it was the inaugural game of the Old Hammer series that celebrates two schools that spent 49 years as junior college rivals and have now made the jump to Division I.
So while the "Old Hammer" isn't particularly old — and is, in fact, so new that the trophy is still being finished — the rivalry series is anything but. The series goes back to junior college's Region 18, to the formation of the Scenic West Athletic Conference, and to two schools who battled for decades as two of the top two-year programs in the state of Utah.
So why bring it back now?
The Old Hammer isn't a rivalry about the past except in its desire to celebrate it.
For two schools with fairly nascent Division I histories — just 17 years for Utah Valley, which is 16 more than Dixie State — the rivalry will trend toward the future in what the U.S. Census Bureau projects as the fourth fastest-growing state in the union.
In other words, it's a rivalry that makes sense — even in comparing Orem and Utah County to St. George and fast-growing Washington County.
"We've had two weeks to study Dixie State, and rivalries are made of great teams. We are working to become a great team, and Dixie State is a good team," said UVU head coach Mark Madsen, whose team followed up Friday night's win with their second loss in a back-to-back conference series. "Their record may not reflect it at this time, but any coach who studies Dixie State will know how good, how tough and how tenacious they are.
"We're in the same boat: we're a good team, trying to become a great team. And that's what rivalries are made of it. You throw geography on top of it, and the rivalry of St. George with Utah County, and it makes for something special for years to come."
Down eight with five minutes left, Utah Valley tried to mount a comeback to secure the sweep. The Wolverines forced four turnovers and held the Trailblazers scoreless for more than three minutes down the stretch.
UVU made just three field goals in the final three minutes, but got to the foul line to cut the deficit to three, 82-79 with two minutes to go. But the Wolverines could get no closer. Hunter Schofield shot 11-of-16 from the field to score a career-high 31 points with seven rebounds and three assists to lead Dixie State in salvaging the series split with a 93-89 win.
Frank Staine added 19 points and four assists for the Trailblazers (7-10, 3-8 WAC), and Cameron Gooden chipped in 14 points and three rebounds.
Trey Woodbury scored a team-high 26 points for UVU (7-8, 5-2 WAC), and Fardaws Aimaq added 18 points and 24 rebounds. The Vancouver, British Columbia native broke his own school record for most rebounds in a game, the second time he's set a new mark for boards this year.
So the Old Hammer is as much about the past as it is the future.
"One of the things we want to do is always remember our history, and what got us here," UVU athletic director Jared Sumsion told KSL.com. "That goes for both schools.
"We're in this together, and we're going to be battling each other every year. So let's rekindle that old rivalry as well as start something new and fresh. Both of these programs going from junior college to Division I to where we are now is really amazing."
But there's plenty of elements of the present and the past enveloped in the series. The two schools combine for 13 players from the state of Utah on their roster, including UVU's Trey Farrer, who signed with the Wolverines out of Pine View High School by way of Snow College, and Schofield, the senior from Spanish Fork who made his way to Dixie State after two years at Salt Lake Community College.
In years to come, the rivalry will encompass conference games and meets in baseball, cross country, golf, basketball, soccer, softball, track and field, and volleyball. The Wolverines expect to sign a sponsor where a donation will be made to the winning school's scholarship fund beginning in 2021-22, Sumsion said, similar to the "Crosstown Clash" with intra-county foe BYU sponsored by Utah Community Credit Union.
"We are excited to reignite our rivalry with Utah Valley and to initiate the 'Old Hammer Rivalry,'" said Jason Boothe, Dixie State's athletic director. "It will be exciting to battle the Wolverines each year for the right to retain the hammer."
The Old Hammer rivalry dates back to the days of the Scenic West Athletic Conference, where Utah Valley and Dixie competed as junior colleges for nearly half a century. The two schools battled every year for the Region 18 title from 1972 until the Wolverines became the last school to jump from the National Junior College Athletic Association to NCAA Division I in 2003.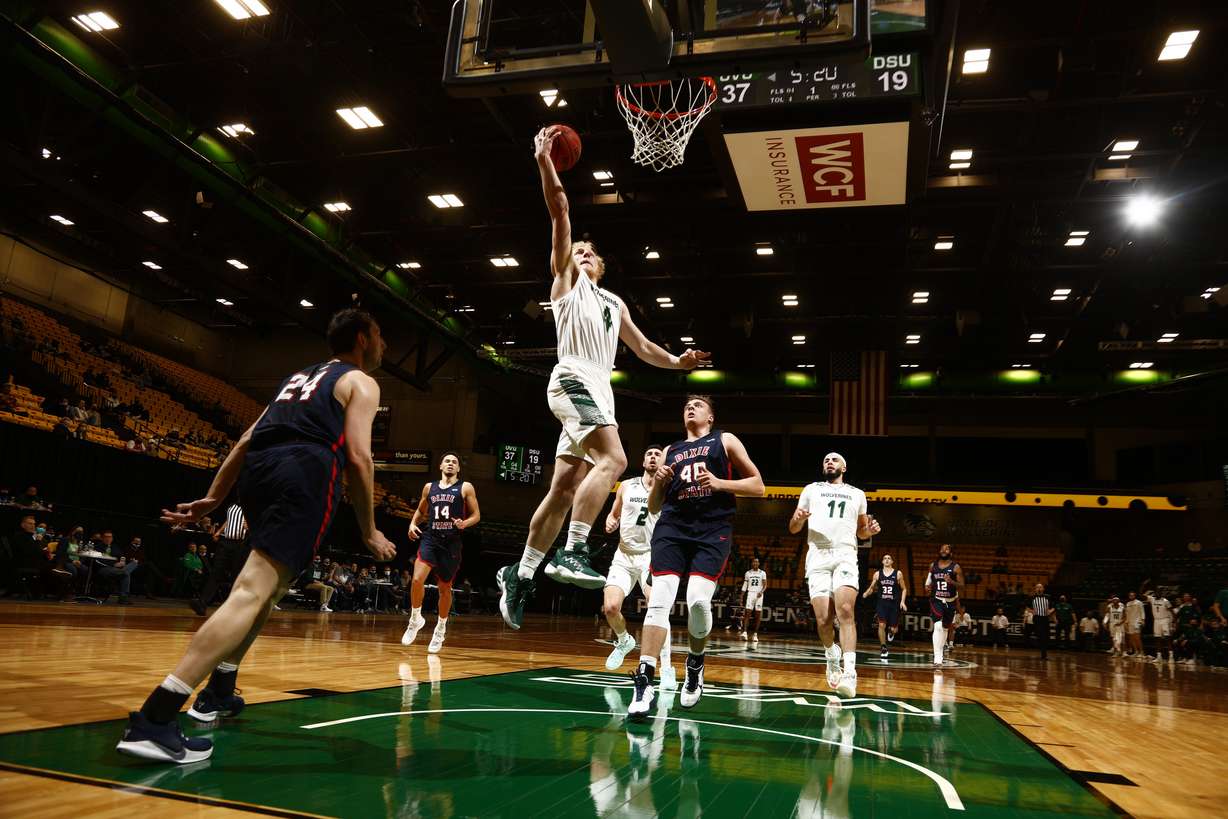 Utah Valley and Dixie were two early members of the Scenic West, when they were adopted into a league that also included Colorado Northwestern, Snow College, College of Southern Idaho, Ricks College, North Idaho and Treasure Valley to form a league based entirely in Utah, Idaho and Colorado. (Salt Lake Community College, founded in 1948, joined the league in 1987).
The conference evolved to add Nevada in 2002, and Dixie left in 2006 when it moved up to NCAA Division II before its transition to Division I beginning in 2020.
Established in 1941, UVU was originally a two-year vocational school whose primary focus was providing wartime production training to help the manufacture of arms and ammunition. Dixie, which resides in one of Utah's first Latter-day Saint pioneer-settled areas in the mid-1800s, offered a similar blend of technical education that drew on the area's pioneering spirit.
Even since the Wolverines made the jump to Division I, the two schools maintained frequent contact. The two schools played each other three times in exhibition games after the Trailblazers jumped to D-II, beginning with the 2006-07 season and adding games in 2017 and 2018 — all UVU wins.
But Friday's game was a first — the first contest as equals since those Scenic West days, and first as intra-conference opponents. So while the rivalry wasn't born Friday, it was certainly rekindled — and both schools hope to fan the flame for years to come.
"We're still young universities in the grand scheme of things," Sumsion said. "But we have hundreds of thousands of alumni in this area, and it's been fun to talk to some of our alums about this series, and they love it, too. It's just one more thing that makes college athletics fun.
"That rivalry piece is, quite frankly, one thing that we've missed out on. We haven't had a regional rival, certainly not in the conference. Now we do, and pretty soon, we'll have two regional rivals (in Southern Utah). So let's make some fun of it and compete."
The Trailblazers, who are ineligible for the postseason in their first year of Division I transition, finish the season with back-to-back conference home series against Tarleton State and New Mexico State. Utah Valley finishes the regular season against New Mexico State, UT Rio Grande Valley and Grand Canyon before the WAC Tournament beginning March 11 in Las Vegas.
×
Related stories
Most recent Sports stories