OREM — Le'Tre Darthard hasn't started a game for Utah Valley's men's basketball team in six games, as the Wolverines have revolved around a lineup of big — Evan Cole, a Georgia Tech transfer averaging 11.7 points and 6.1 rebounds per game — and Fardaws Aimaq, the nation's leading rebounder at 14.8 per contest.
On Friday night at the UCCU Center, the Wolverines were forced to go a bit smaller with Darthard.
Small was big.
Darthard poured in 19 points off the bench, Trey Woodbury added 15 points, five rebounds and seven assists, and Utah Valley canned 10 3-pointers to pull away from WAC newcomers Tarleton State, 73-60, Friday night in the UCCU Center.
J.J. Overton added 18 points, seven rebounds and four assists for the Wolverines (6-6, 4-0 WAC), and Aimaq had 11 points, 14 rebounds and two blocks in just 24 minutes.
But with Aimaq picking up his third foul with just over four minutes left in the half, Darthard went to work to not only keep the Wolverines afloat — but thriving.
The sophomore from Denton, Texas, had 16 points on 6-of-7 shooting before the break, including four 3-pointers that helped the Wolverines take a double digit lead and never look back.
"I knew we needed a little spark. I just had to stay ready, and when my name was called, I did what I did," Darthard said. "Me being at the four spot, I felt like it created a bit of a mismatch.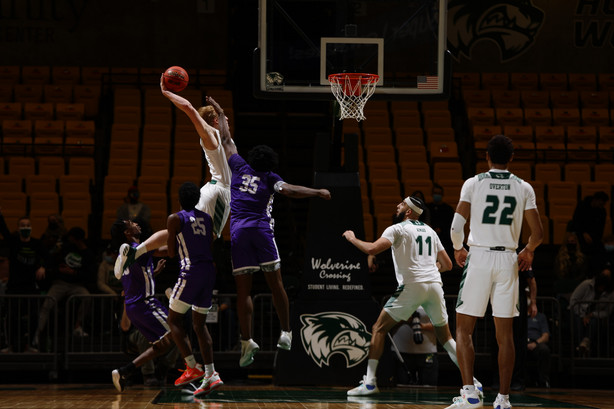 "My man kept popping up, and J.J. and those guys were in the lane," Darthard said. "They just told me to keep shooting, and they just kept falling."
Jonathan Jackson had 18 points and Tahj Small added 16 points and six rebounds to lead Tarleton (3-8, 0-5 WAC), who were outrebounded by UVU 34-18.
Darthard scored 11 of the Wolverines' first 18 points, a necessary reserve role as UVU's bigs of Aimaq and Cole were shorthanded with three and two early fouls, respectively.
But Utah Valley shot 56% from the field in the first half, and BYU transfer Blaze Nield hit the team's sixth 3-pointer to lift the hosts to a 38-28 lead over the Texans.
"I thought Le'Tre was huge, stepping up off the bench," UVU coach Mark Madsen said. "We want to recruit guys here who want to be pros, and professionalism is something that Le'Tre has personified since he stepped foot on campus. He puts in extra work at night, academics, and he's a great teammate."
The other reliable part of UVU's offense was defense. The Wolverines forced four turnovers in 5:23 to keep Tarleton off the board for over four minutes to maintain an advantage around 10 points through the first 10 minutes of the second half. Back-to-back triples by Darthard and Overton capped a 13-2 run that put Utah Valley up 64-45 with 6:25 remaining to help UVU pull away for good.
Despite his foul troubles, Aimaq played most of the second half with only one foul, and finished the game off with a dunk with 18 seconds left that gave the Wolverines their fourth-straight win in WAC play.
"I think it shows their resiliency, their commitment, and their drive," Madsen said. "When you genuinely care about the teammate next to you, you're happy for their success. This team is like that.
"Daws had the three fouls early, but I give Daws a lot of credit for staying disciplined in the second half. We put him back in there and he did a lot of good things."
The win keeps Utah Valley at the top of the WAC standings with Grand Canyon (10-3, 4-0). The Wolverines and Lopes won't face each other until March 5-6 in Phoenix, just days ahead of the WAC Tournament in Las Vegas.
There's a long way to go until that day.
But so far, so good for Madsen's team.
"Our goal, like a lot of teams, is to win the WAC championship and go to the NCAA Tournament," Madsen said. "We talk about it a lot, we work for it a lot. Everybody puts in a lot of time.
"When you're 4-0, it's good, because the work is paying off. But we're not satisfied."
UVU and Tarleton will tip off the second of a two-game series Saturday at 6 p.m. MT in Orem. The game will be streamed live on the WAC Digital Network.
×
Photos
Related Stories