Estimated read time: 5-6 minutes
This archived news story is available only for your personal, non-commercial use. Information in the story may be outdated or superseded by additional information. Reading or replaying the story in its archived form does not constitute a republication of the story.
SARATOGA SPRINGS — Ever since her older brother Jacob became Westlake's first state wrestling champion in school history four years ago, Emmy Finlinson has wanted to earn the same honor for the Thunder girls program.
The Westlake sophomore accomplished that goal Monday afternoon — by less than 20 minutes.
One down, three (and maybe four) more to go.
Finlinson and Westlake teammates Lizzie Shunn, Celeste Detoles and Jamie Barton each won a state title as the Thunder rolled to the first sanctioned Class 6A girls wrestling title in Utah High School Activities Association history, earning 288 points to out-distance second-place Copper Hills at Westlake.
"It's everything I've worked toward all year; my teammates, my coaches, my mom, my brother," Finlinson said. "It just paid off, and it feels so good.
"My brother has helped me so much, staying after practice when I needed it, and going early to the girls' practices. I owe this to him and my mom for helping me accomplish it."
Finlinson wasted little time in the championship bout, rolling Clearfield's Alyx Walker for a pin in 3 minutes, 10 seconds to claim the Thunder's first title.
It was the sophomore's third pin of the marathon day that featured four rounds, though Finlinson combined to wrestle just 1:23 in the quarterfinals and semifinals.
"We knew Copper Hills was big competition, and we needed to get pins and win as fast as we could," Shunn said. "Winning as a team this year was even more important to us than last year."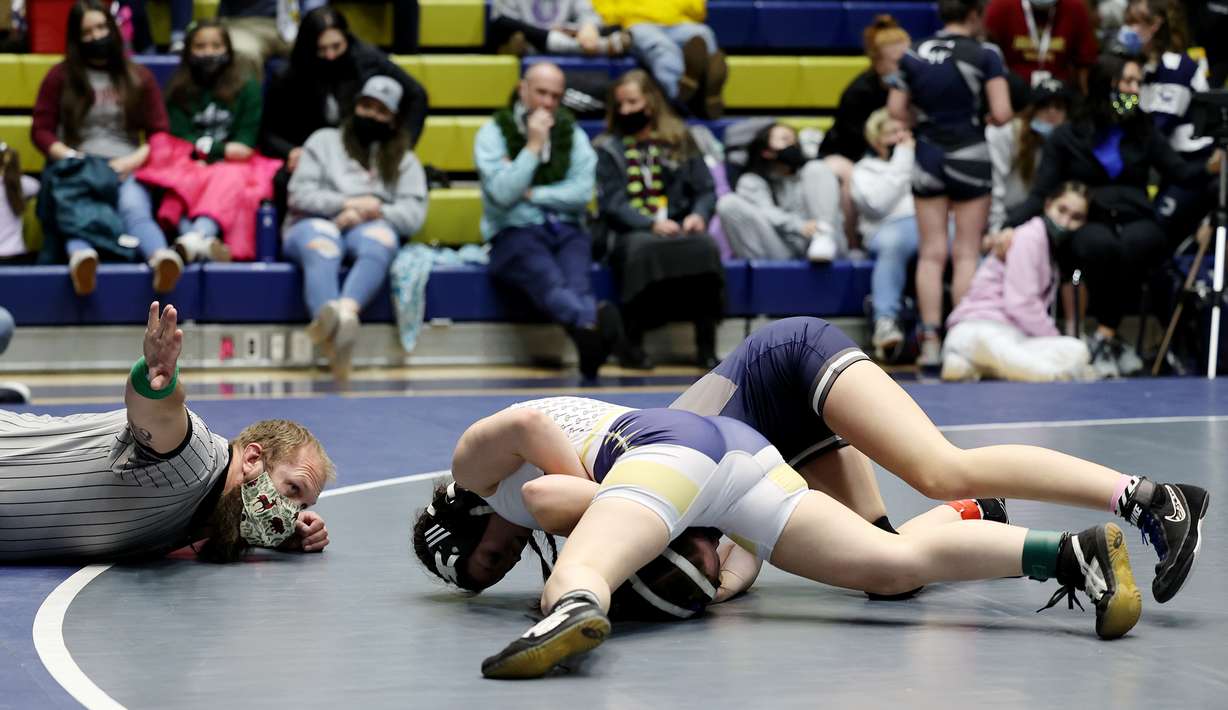 The elation of her championship victory, though, was easily matched moments later when Shunn doubled the Thunder's individual title count. The two close friends embraced behind the coaching bench, and quickly found a phone so Shunn could call her mother with the news as the two broke down in tears.
"She was crying and screaming," Shunn said. "So was I, but she was really happy."
After clinching the club-level title a year ago, the Thunder returned most of their squad — one of the deepest girls programs in the state — for 2020-21, and vowed to prove that the unsanctioned championship wasn't a fluke in the first year under the UHSAA banner.
That depth proved crucial Monday afternoon, when Westlake won its first sanctioned athletic title in school history. The Thunder placed 16 wrestlers in the inaugural UHSAA state tournament to pave the way to the 55-point win, capping the final match of the night with Barton's pin at 108 pounds.
Westlake also owns two state marching band championships and claims the Graduation Cup title from last year's pandemic-shortened season in 2019-20, in addition to the girls wrestling title last year as an unsanctioned sport.
"To get to show up to state with two people in each bracket is crazy," Finlinson said. "You get all varieties of wrestlers, too.
"We can come out so prepared for those who are in front of us. We're an alpha-female team; come at us, because we have everybody."
Shunn remembers being the only girl on the Thunder's club team several years ago. To see the growth of the sport to her sophomore year spoke beyond words, she said.
"Having this big of a team and being able to win as a team, instead of just being me at the girls tournaments … it's really cool," she said.
Copper Hills finished second with 233 points, anchored by individual champions Brooklyn Pace (115), Meridien Grandpre (124), Ashley Wilcox (136) Anya Hatch (170). Fremont (160) was third, and Pleasant Grove (103) and Granger (87) rounded out the top five.
But there will only be one inaugural state champion.
"We wanted to defend it, and prove that we are the best right now in Utah," Shunn said.
Team scores
Westlake 288, Copper Hills 233, Fremont 160, Pleasant Grove 103, Granger 87, Syracuse 86, Northridge 80, Davis 70, Layton 62, Hunter 57, Bingham 54, Riverton 47, Taylorsville 39, West 39, Jordan 35, Clearfield 22, West Jordan 20, Cyprus 16, Roy 16, Herriman 15, Skyridge 6.
Individual weight classes
275 — Karla Padilla Zepeda, Northridge, p. Lusimoni, Vakalahi, Copper Hills, 3:32; 3. Jessica Grcia, Fremont; 4. Bethany Gardner, Granger; 5. Kaleinani Fitzgerald, Westlake; 6. Cori Springer, Fremont.
190 — Cheyenne Ruiz, Taylorsville, p. Emma Williams, Copper Hills, 1:32; 3. Jordyn Lindley, Fremont; 4. Audrey Gribble, Herriman; 5. Cecilia Putman, Davis; 6. Rachel Johnson, Riverton.
170 — Anya Hatch, Copper Hills, p. Brylee Bradley, Fremont, 0:30; 3. Adel Roennebeck, Syracuse; 4. Mikaylee Stitcher, Bingham; 5. Riley Winters, Northridge; 6. Haley Diaz, Layton.
160 — Uno Latu, Hunter p. Katie Navarro, West Jordan, 4:21; 3. Katherine Martin, Pleasant Grove; 4. Aubrey Morrow, Fremont; 5. Amelia Simper, Westlake; 6. Amayah Flores, Davis.
150 — Emmy Finlinson, Westlake, p. Alyx Walker, Clearfield, 3:10 ; 3. Hope Barton, Syracuse; 4. Katie Shunn, Westlake; 5. Siena Fairbanks, Jordan; 6. Kathleen Ceron, Granger.
145 — Brooklyn Hays, Pleasant Grove, p. Megan Allred, Westlake, 0:34; Megan Allred, Westlake, 0:34; 3. Ashlea Larson, Riverton; 4. Jetta Nshoa, Copper Hills; 5. Brooklyn Sawyer, Northridge; 6. Haley Ericksen, Fremont.
140 — Lizzie Shunn, Westlake, p. Alyssa Pace, Copper Hills, 2:43; 3. Angela Van Valkenburg, Bingham; 4. Marinthia Mendoza, Granger; 5. Haylee Cope, Fremont; 6. Morgan Silvernail, Layton.
136 — Ashley Wilcox, Copper Hills, p. Jessica Nowers, Davis, 1:57; 3. Hailey Pigg, Westlake; 4. Alexis Smith, Bingham; 5. Samantha Dotson, Westlake; 6. Hayley Greco, Riverton.
132 — Amber Nalder, Fremont, d. Abby Fue, West, 10-2; 3. Alexis Cornia, Syracuse; 4. Joey Smith-Knott, Westlake; 5. Nativada Unsworth, Taylorsville; 6. McKell Schramm, Westlake.
128 — Neida Valle, Hunter, d. Marquise Salguero, Copper Hills, 11-8; 3. Brinlee Gines, Fremont; 4. Jordyn Dangerfield, Jordan; 5. Kiyani Benally, Granger; 6. Taylor Martin, Westlake.
124 — Meridien Grandpre, Copper Hills, p. Lacie Toone, Fremont, 1:41; 3. Quincy Peterson, Westlake; 4. Annie Clanton, Northridge; 5. Analise Womack, Davis; 6. Cheyenne Cummings, Cyprus.
120 — Celeste Detoles, Westlake, p. Bryton Moore, Pleasant Grove, 1:49; 3. Grace Borchardt, Pleasant Grove; 4. Mollie Wyland, Westlake; 5. Mary Reid, Davis; 6. Kimberlynn Fowers, Copper Hills.
115 — Brooklyn Pace, Copper Hills, p. Arleth Antonio, Granger, 4:39; 3. Lexus Bertagnolli, Roy; 4. Saylee King, Northridge; 5. Ashley Cannon, Westlake; 6. Isabelle Fisher, Pleasant Grove.
108 — Jamie Barton, Westlake, p. Sabrina Jensen, Syracuse, 1:46; 3. Isabella Streit, Layton; 4. Sherlyn Orduno, Granger; 5. Madelyn Nielsen, West; 6. Bella Butterfield, Riverton.
×
Photos
Related stories
Most recent High School stories