Estimated read time: 5-6 minutes
This archived news story is available only for your personal, non-commercial use. Information in the story may be outdated or superseded by additional information. Reading or replaying the story in its archived form does not constitute a republication of the story.
SARATOGA SPRINGS — American Leadership Academy sophomore Olivia Carrillo has wrestled boys. She has wrestled girls. She's not afraid to measure herself against any gender of competition.
But the 158-pound grappler with a 21-2 record and 18 pins admits there are plenty of advantages to separating a sport that has long been coed into their respective gender classifications.
With girls wrestling being in its first year as a sanctioned sport by the Utah High School Activities Association, the comparisons between boys and girls wrestlers won't stop.
But for the first time in Carrillo's life, the playing field is a little more level.
"You feel like you have to measure up to the boys, kind of, with girls wrestling being so new," said Carrillo, who was one of 119 all-state wrestlers honored in 2021. "We all have to prove ourselves out there, which is kind of nerve-wracking."
While wrestlers will go for the gold in the state's top classifications this week at Corner Canyon and Wasatch high schools, for the first time in state history, the girls won't join them.
That's because Westlake High School will host the first-ever Class 6A girls wrestling state tournament Monday, a marathon day-long event with limited fans due to COVID-19 restrictions. Mountain View will host most of the remainder of the girls state tournaments Wednesday in 1A, 2A, 3A and 5A, while 4A will wrestle alongside the boys tournament Saturday in Richfield.
But building girls wrestling into the 18th fully sanctioned girls sport in UHSAA history has been a long time coming.
"It was empowering," Carrillo said. "Girls wrestling was just thrown in with the boys, and not expected to do so well. But when girls got sanctioned, it was eye-opening. It became more real.
"I've gone to tournaments, and had to wrestle boys. I didn't feel part of it, at times. But now with girls tournaments and teams, this feels like my sport."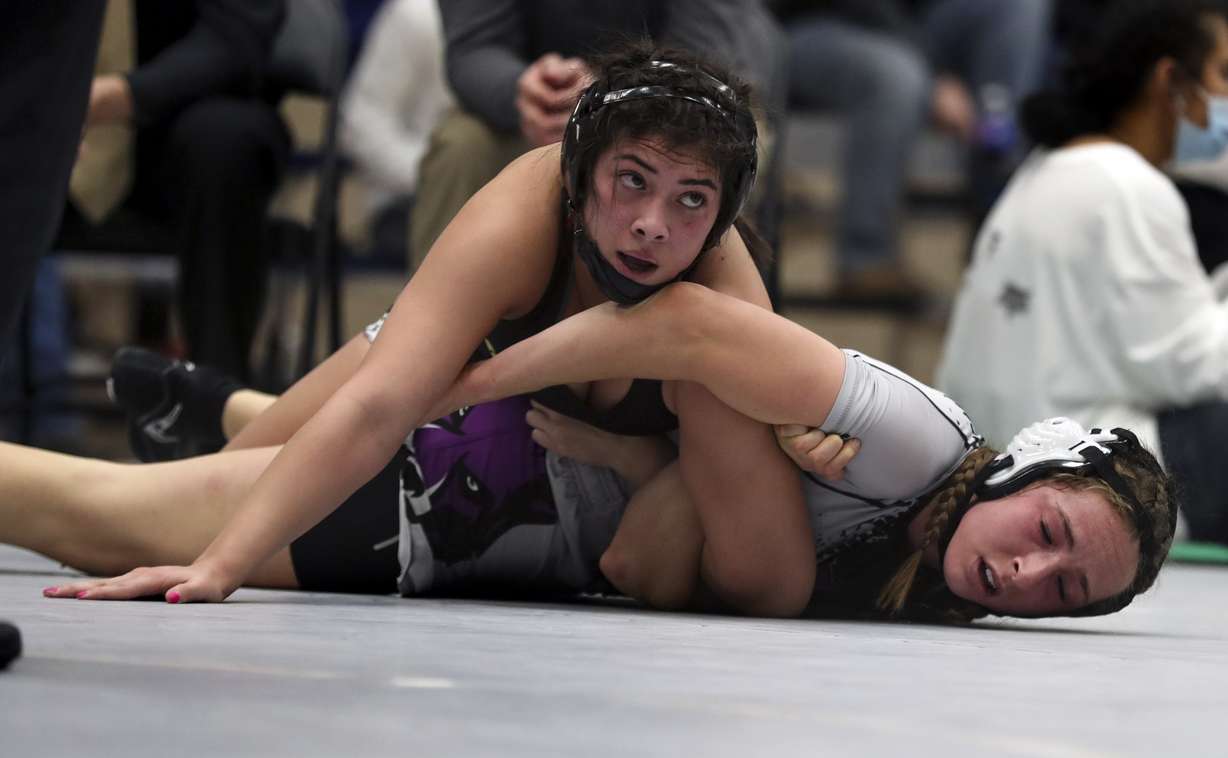 To this new generation of girls wrestlers, a group that numbers around 600, the first year of a brand-new sanctioned sport isn't about being a trailblazer or a pioneer.
It's just about being a competitor. By sanctioning the sport, the girls who chose to wrestle have great access to resources and training in a more specialized environment.
"Everyone's excited to be part of a sport, with people who are like me," Carrillo said. "There's even more support from coaches, parents and even my boys teammates. I have a coach who is invested in girls, and knows girls. We're getting more recognized and we're growing more."
Girls have wrestled for most of the history of the sport, which dates back to 1938 in the UHSAA record book. But Uintah's Candace Workman is believed to be the first female state placer in state history, when she finished second in 2008.
Several girls have gone on to win high-profile championships and titles in club, freestyle and Greco Roman events, including Sage Mortimer, the American Leadership Academy senior who is ranked No. 2 nationally at 106 pounds and has won several national tournaments against boys competitors.
Then there's the newcomers, like Springville's Hotaia Valeti. The freshman was the No. 3-rated freshman in the state by Wrestle Utah, and the four-time state youth champion and two-time Beehive Brawl title winner is expected to win the title at 138 pounds.
Even so, with girls wrestling now sanctioned, Valeti says the sport has ballooned in popularity, even at Springville, which consistently fielded one female wrestler for years but has around 10 girls competing in 2021.
"A lot more girls want to come and wrestle," Valeti said. "Some weren't able to wrestle boys, and some of them were uncomfortable wrestling boys. But now our girls program at Springville has grown to around eight girls, where we've only had one girl for years (on the boys team)."
Valeti is one of the more experienced girls wrestlers in the state, but adding numbers to the event is even good for her. Though she's grown accustomed to wrestling against boys, she admits the arrangement wasn't always perfect.
"The boys made it awkward," Valeti said. "Some boys would forfeit because they didn't want to wrestle me.
"Girls don't forfeit. They don't make it awkward. It's just better."
Among Valeti's teammates is Isabelle Clements, who is in her second season wrestling and counts Scouts BSA among her hobbies.
Clements is used to wrestling boys, but she admits the two variations can be different sports, at times. Boys tend to have more upper body strength than girls, who often use their legs and hips more when wrestling, she says.
"Girls are able to ride a lot easier," Clements said. "They're able to arch more. A lot of guys don't twist as much as the girls do. There aren't as many cradles or barbed wires as in (boys) wrestling.
"We've wrestled guys before, and you can tell the difference in girls who wrestled guys before."
Utah is one of a handful of states that have sanctioned girls wrestling, but more are adding the sport every year. By the last count, just over 600 girls were registered in the state, ranging from the smallest classification to the Class 6A.
"A lot of states still don't offer (girls wrestling), but more do now," Clements said. "It's nice to be one of those states that allows girls to wrestle for a state championship."
UHSAA State Wrestling Tournaments
Monday, Feb. 15
6A Girls @ Westlake HS
Wednesday, Feb. 17
1A, 2A, 3A, 5A Girls @ Mountain View HS
Thursday, Feb. 18
5A boys @ Wasatch HS
Friday, Feb. 19
3A boys @ Sevier Valley Center
6A boys @ Corner Canyon HS
Saturday, Feb. 20
4A boys @ Sevier Valley Center
4A girls @ Sevier Valley Center
×
Photos
Related stories
Most recent High School stories