SALT LAKE CITY — The National Weather Service issued more winter storm warnings and advisories this week as the chain of storms impacting Utah, which began at the end of last week, continues to produce snow.
The latest alerts indicate that Utah may see its largest storm of the season to date. It's expected to produce multiple feet of snow in the mountains and impact travel.
Warnings and advisories
The National Weather Service on Monday issued a winter storm warning for the Wasatch Mountains south of I-80, which states the mountains could receive as much as 2 to 4 feet of snow Monday through Wednesday. Wind gusts could reach as much as 35 mph. The alert is currently set to expire at 5 a.m. Wednesday.
Periods of snowfall in excess of 1 to 2 inches per hour can be expected intermittently throughout the warning period," the alert stated. "The heaviest snowfall is expected in the upper Cottonwood Canyon areas.
The agency also issued a slew of winter weather advisories that run throughout the state between Monday and Wednesday.
Updated summary on our winter storm, including total snow accumulations, is below.#utwxpic.twitter.com/4ZmzUvnSsK

— NWS Salt Lake City (@NWSSaltLakeCity) February 15, 2021
Wasatch Front/Box Elder/Tooele
The National Weather Service issued an advisory for the Wasatch Front that remains into effect through late Wednesday morning. It includes cities and communities like Brigham City, Bountiful, Nephi Ogden, Provo, Salt Lake City and Tooele. Anywhere from 2 to 5 inches of snow is expected along and west of the I-15 corridor and 5 to 10 inches by eastern benches.
"Snow will likely persist along the east benches (Monday night) through Tuesday morning, before snow becomes more widespread across the Salt Lake Valley Tuesday afternoon through Wednesday morning," it stated. "Lake enhanced snow is possible Wednesday morning in the Salt Lake and Tooele Valleys."
Northern/Eastern Utah
More snow is expected in northern and eastern Utah. A winter weather advisory was issued for a swath of land from the Wasatch Mountains north of I-80 through the northern and western parts of the Uinta Mountains to the Wasatch Plateau/Book Cliffs region, where 1 to 2 feet of snow is forecast between Monday morning and Wednesday morning. The alert includes communities like Randolph, Scofield and Woodruff, as well as travel on the Mirror Lake Highway.
Wasatch Mountain Valleys
One of the advisories is for communities east of where the warning was issued. Heber City, Huntsville and Park City are communities that could receive anywhere from 5 to 10 inches of snow between Monday morning and Wednesday morning.
Central and Southern Mountains
Another advisory was issued for the mountains in central and southern Utah, where snow accumulations could reach 1 to 2 feet between Monday afternoon and Wednesday morning, with northwest-facing slopes receiving totals that could be higher in some areas. Communities like Bryce Canyon, Cove Fort, Fish Lake, Koosharem, Loa and Panguitch are included in the alert, which also expires 5 a.m. Wednesday.
UDOT: Expect hazardous driving conditions
The winter storm is expected to adversely affect travel conditions in northern and central Utah throughout Monday, the Utah Department of Transportation reports.
As of 9 p.m. MT, UDOT said troopers responded to 307 crashes as a result of adverse weather conditions since Saturday morning.
"Please continue to practice safe driving habits such as slowing down," the agency said in a tweet. "Allow yourself extra time to get to your destination, increase your following distance.
"However, the best way to avoid a weather related crash is to stay home and stay warm."
All mountain routes north of I-70 will experience periods of road snow leading to hazardous travel, with concerns concentrated north of Layton and on bench routes north of Spanish Fork, UDOT says. Snow showers are also expected from morning throughout the day in northern valleys, and brief slush-ups are possible along the urban corridor. Roads will remain mostly wet until 6 p.m. on Monday, UDOT added.
Temperatures are expected to drop on Monday night, and widespread road snow concerns are expected for most northern Utah and the Wasatch Front. Further updates are expected from Monday night to Tuesday, UDOT said.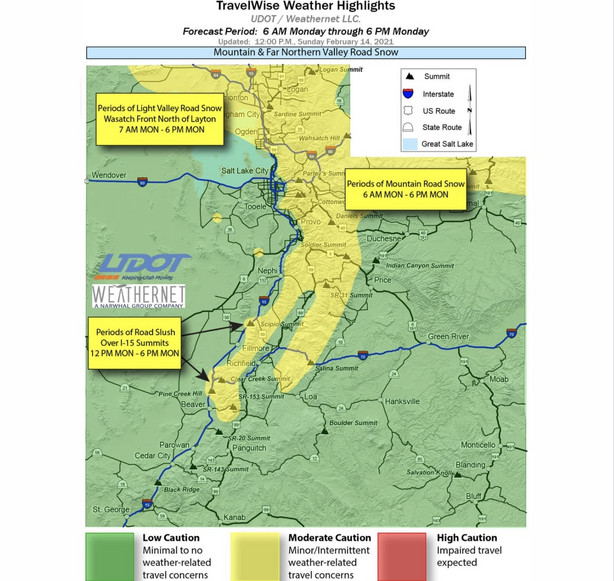 Central Utah summits along I-15 will also experience road slush in the afternoon and evening as the storm system brings snow into the central and southern portions of the state, UDOT said.
UDOT stressed that canyon and mountain roads may implement chain requirements at any time. The following roads will experience weather-related travel concerns Monday:
I-15 from the Idaho border to Layton; including Scipio Summit and Cove Fort (I-70 junction)
I-80 from the mouth of Parleys Canyon over Parleys Summit to the Wyoming border
The entire route of I-84
I-70 and I-15 junction over Clear Creek Summit and over Salina Summit
U.S. 191 from the Wyoming border over Uinta Pass
U.S. 40 and I-80 junction over Daniels Summit to Strawberry
U.S. 89 from the Idaho border over Logan Summit through Sardine Canyon to Bountiful; U.S. 6 junction to Fairview
U.S. 6 near Eureka; mouth of Spanish Fork Canyon over Soldiers Summit to Colton
The entire route of state Route 31
State Route 24 over Wayne Summit
The entire route of state Route 153
U.S. 189 at Provo Canyon
State Route190 at Big Cottonwood Canyon
State Route 210 at Little Cottonwood Canyon
Poor road conditions are expected again Tuesday in the areas listed within the National Weather Service warnings and advisories.
"Slow down and use caution while traveling," the agency advised motorists.
Avalanche conditions high throughout most of Utah
Anyone using the holiday Monday to recreate in the mountains is urged to use caution.
An avalanche warning for all of Utah's mountain backcountries, which was issued Sunday, will remain in effect Monday and expires Tuesday evening. The Utah Avalanche Center reports that avalanche conditions remain high from Cache County through southern Utah. It's listed as considerable in the southeastern Utah mountains, as well.
The agency reported Monday that the conditions are likely to rise to "extreme" in some areas of the state over the next few days. Experts advise that people should avoid all avalanche terrain during that time.
The avalanche danger could move from "high" to "extreme" as early as Tuesday, one forecaster told KSL TV while urging those interested in experiencing the new powder — skiiers, snowboarders, snowshoers and more — to take extra precautions.
"That means that deep, dangerous, tree-snapping avalanches are certain," said Craig Gordon, a forecaster with the Utah Avalanche Center. "We want to stay out from underneath any large avalanche pass — no matter what we're doing."
Snowpack update
The plus side of the recent storms is the positive impact on the state's snowpack. Most of Utah's water supply comes from its runoff in the spring.
Many snowpack regions in the state entered this week with 70% or more of the average for mid-February, which is an improvement from a statewide average of 62% prior to storms that arrived Thursday. The snow accumulation forecast through Wednesday morning is also expected to help Utah inch closer to the average after a dry start to the snow season.
Salt Lake City is also receiving precipitation closer to normal for this time of the year. National Weather Service weather station at the Salt Lake City International Airport shows the city was 0.08 inches below the normal for the calendar through Sunday. The figure was as bad as 0.82 inches below normal on Jan. 23.
Snow and rain since then has helped narrow the gap; however, it still hasn't erased poor precipitation totals during fall. The 2021 water year began on Oct. 1, 2020, and remained 3.15 inches below normal for this point in the year, according to weather service data.
More snow beyond Wednesday
Another storm is now expected to arrive in Utah between Friday and Saturday. It's unclear how much that will produce in terms of rain and snow; those projections are expected in the coming days.
Full forecasts for areas across Utah can be found at the KSL Weather Center.
Contributing: Dan Rascon, KSL TV
×
Photos