PROVO — When Mark Few speaks, the West Coast Conference listens.
So when the legendary Gonzaga coach of the past 21 years started speaking up about the possibility of modifying — or even canceling altogether — the league's annual postseason men's basketball tournament, you can be sure the WCC listened.
Because it's not a matter of if something could go wrong by the conference's 10 teams getting together in Las Vegas, but what will the league do when it does?
So Few began banging the drum several weeks ago, even openly and with the media, about the annual tournament. Maybe, he hypothesized, the best thing they could do in a year when the COVID-19 pandemic that canceled the NCAA Tournament a year ago is not get together as a conference, to reduce the spread of any potential virus issues.
Bringing each team's roster, plus coaches and traveling personnel, administrators, fans, media and others to one location isn't the best idea as the pandemic continues to surge across the country, and with full vaccination efforts not available until mid-summer in most states.
"I think there's probably a way to do it, and it probably isn't gathering 10 teams together in Vegas," Few said on ESPN's SportsCenter. "Whether it's taking the top three up to Spokane and playing off up there, or something along those lines. Everybody's putting some good thought into it, and I think we'll come to a good conclusion when it's time."
Dozens of games have already been canceled; many of them won't be able to be made up. San Diego has already canceled five games it was scheduled to play when the program was put on pause due to COVID-19 issues, including a pair of games against BYU. The Cougars officially consider the games "postponed," at the urging of the conference.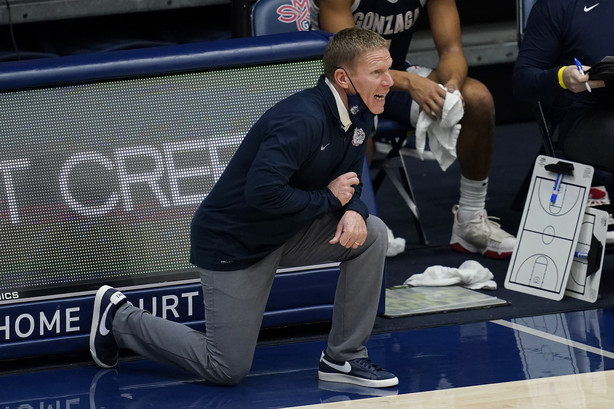 But it's highly unlikely — at best — the league will be able to make up the amount of games being pushed to later dates. Cancellations are coming; it's just a matter of how many.
Every team will finish the season with a different number of games played. Conference coaches are already sure of that, BYU's Mark Pope said during his weekly coach's show on BYUtv.
"We've passed the threshold a week or so ago where there is no way we are going to play an equal number of games. It just became impossible," Pope said. "At that point, they looked at other metrics (for seeding the tournament): win percentage, NET rankings, other nontraditional metrics.
"It's just not possible. For seeding in the tournament, you just can't use a straight-up record."
So there will be changes. But how far will those changes go?
Pope doesn't know; neither does Few, nor any of the other coaches.
Around the country, conferences are wrestling with the same challenges. A survey by CBS Sports revealed that as many as 27% of college coaches are opposed to holding a conference tournament this year.
But in a year where regular-season schedules vary as much as they do, an all-comers tournament might be even more important for teams hoping to catch fire at the right time and earn a tournament bid.
That includes several blue bloods, from John Calipari's Kentucky to Roy Williams' North Carolina to Duke's Mike Krzyzewski, who all find themselves with more average — or less — teams than they are otherwise accustomed.
Canceling a tournament, or allowing teams to opt out could have permanent consequences for teams, leagues and the NCAA selection committee.
"If the best teams in conferences opt out, the NCAA would probably come back and say your winner is not going to be an automatic bid. And so, why wouldn't we do it every year, the top four or five teams in our league just say we're opting out of the tournament so that we get one more team in," Kentucky's Calipari told the Associated Press. "So, I don't think that will be the case. I think that either we'll all play or there will be a reason — and the reason would be the safety of the players and the coaches — that we wouldn't play."
While the West Coast Conference still has Orleans Arena in Las Vegas booked from March 4-9, the likelihood of playing each day grows more scarce by the week.
As a television property, only the final two rounds — the semifinals March 8 and finals March 9 — are broadcast by ESPN. And while the Las Vegas Convention and Visitors Authority has contracts with five conferences to host the league tournament, it's obvious that the Pac-12, Mountain West, Western Athletic and Big West conferences, along with the WCC, will host an extremely limited number of fans — if any, at all.
WCC Question Marks
No fans means no full hotel rooms, no offsite trips to fill casinos and other activities in Sin City, and no influx in the local economy.
So why bring every team and its traveling party to play in an empty arena? Not when every campus has courts, facilities and plenty of space to hold the tournament — especially if it were to be reduced in size and scope by limiting the number of participating teams, based on the regular season.
For Gonzaga — and BYU, to a lesser extent — greater concern is also given to the next step: the NCAA Tournament. With millions of dollars for the schools and conference at stake, it doesn't make sense for teams to jeopardize their NCAA Tournament chances for a league title.
Gonzaga has consistently been the No. 2-rated team in the NET for most of the season. BYU rose to No. 27 Thursday after falling as many as three spots following an 82-71 loss Monday night to the Zags.
If the teams feel safe with their tournament bid, it could make more sense to quarantine and test ready to travel to Indianapolis instead of risking potential exposure in Southern Nevada. Players and coaches will be required to test negative for a full week to be eligible for tournament games, or risk a mandatory quarantine.
"There are some really stringent and strict protocols that we are going to really hit here to get ourselves ready," Few told the Associated Press. "We kind of discovered with our own little COVID-19 experience with all our guys, seven, nine days is kind of that window that if you're around somebody that is exposed and you can make it past that, you should be good. That's going to be really tight with the conference tournament."
In that regard, the WCC has an advantage. With the tournament final scheduled for March 9, the league's teams finish 10 days before Selection Sunday.
What was once a scheduling agreement that allowed ESPN and others to broadcast every league in Las Vegas (as well as Orleans Arena to host two events in back-to-back weeks) may give the conference more flexibility ahead of the Big Dance.
At the very least, coaches are confident in one thing.
"That's all going to work itself out," said Pope, who stressed the financial importance of the billion-dollar NCAA Tournament. "But you know what I like? I like that we're having every possible conversation in real time, so that nothing is going to take us by surprise.
"We're coming down to the end here and we're going to have to make some decisions. Hopefully everyone is churning through the ideas and the thought process to figure something out."
Contributing: Joe Reedy, Associated Press
×
Related Stories