PROVO — A new bakery is serving up loads of charm, delicious smells, and a recipe that aims to help people with food-related health issues enjoy bread again.
The Time Traveler's Bakery at 42 W. Center Street in Provo isn't your average baked goods shop.
Owner Nathan Hessing never set out to be a professional baker. In fact, numerous health issues over the past 15 years — including chronic pain, headaches and fatigue — forced him to cut wheat out of his diet completely.
Hessing, a cross-country runner, went on an elimination diet and learned that gluten and dairy were deeply contributing to his chronic pain. But after cutting them out, along with a long list of other foods, he said he was malnourished and struggling to function.
"I got desperate and I thought, 'It doesn't make sense that everyone is having problems with wheat. I feel that this is a staple of the human diet,'" he said. "And that's when I started heavily researching ways for people to get wheat back in their diet."
Hessing's digging led him to a process called fermentation, commonly used to make sourdough.
Research suggests that fermentation, which omits commercial yeast in the method of raising bread, can break down the gluten content in the wheat and make it easier on the stomachs of some who struggle to digest gluten. The technique was developed by the ancient Egyptians and was widely used before the advent of commercial yeast a few hundred years ago, according to NPR.
"People don't realize that using yeast to rise your bread is a modern thing," Hessing said. "We go back in time and make everything the old way. That's why we're called Time Traveler's Bakery — 'back in time, back in health' is our slogan."
Hessing said he and his wife, Cristin, who also struggled with gluten sensitivity, tested their product on themselves and found so much success that they started sharing their bread with friends who suffered from similar diagnoses.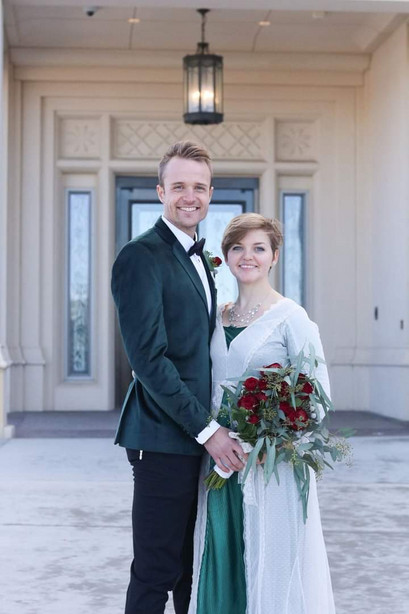 "I would bake bread for people, and then I started getting all these requests," he said. "People were really wanting to buy it, and I found that it was helping a lot of other people."
That's when the Hessings realized they had a business idea. They decided to use their own wedding as their "grand opening."
"We catered our wedding with all this bread and even made our cake out of a fermented base," Hessing said. "Then we started selling at farmers markets all across the valley."
That's where customer Ginger Parkinson first met Hessing. She struggled with gluten intolerance for about seven years and opted to cut it out altogether.
"It got better, but I really like wheat, I really like flour," she said. "I love the food."
After chatting with Hessing about his bread, she cautiously and "skeptically" decided to give it a try. She was surprised to find she could eat the bread without the reaction she'd come to dread.
"There was a mental shift for me where I realized I didn't have to feel deprived all the time," she said.
The Hessings opened the storefront on Center Street in November of last year. "We're expanding our menu into things like cakes, noodles, cookies, pies," he said. "We also teach people how to do this themselves."
Parkinson jumped at the chance to take one of the Hessings' classes and said she regularly shares the bread with her family and friends.
"It's something that I give to people now, and it is a treat and a half!" she said. "I'm so grateful that he figured this out and that it worked for my body."
Hessing said that while opening a business during the COVID-19 pandemic has had its challenges, they've been grateful for the support they've received from repeat customers — many of whom suffer from a broad range of issues, including general immune disorders, gluten sensitivity, diabetes, Crohn's disease and Hashimoto's.
"We have found that it works for hundreds of people," he said.
KSL.com's attempts to contact several medical professionals for this story were unsuccessful. A media relations coordinator for University of Utah Health said doctors often won't comment on methods that are still somewhat inconclusive. Hessing himself said his products may not work for everyone and is particularly cautious when dealing with customers diagnosed with celiac disease.
"We never want to guarantee anything to a celiac customer as celiac is an autoimmune disorder that is extremely interwoven with gluten consumption," the bakery website reads. "In the end, we always say feel free to try it and make an educated decision for yourself, and please involve your doctor and/or research in your decision."
If you can't make it into the bakery, the Hessings offer many of their products on their website, including bread, chemical-free wheat flour, and sourdough starter. Those interested in learning the ins and outs of the fermentation process can sign up for both in-person and digital classes.
×
Photos
Related Stories