Estimated read time: 7-8 minutes
This archived news story is available only for your personal, non-commercial use. Information in the story may be outdated or superseded by additional information. Reading or replaying the story in its archived form does not constitute a republication of the story.
STREAMTOWN — We are officially into 2021 — 2020 is in the rearview mirror and it's blue skies ahead.
Well, kind of. The virus is still hanging around, we're still not supposed to be going out and about, the stock market's been weird and political strife is still... strifing?
Regardless, it's the second month of 2021 and while things aren't quite where we'd like them to be, at least there are some new streaming titles to keep us busy indoors for a little while longer. Here are the 13 best new titles hitting Netflix, Hulu, Amazon Prime, Disney+ and HBO Max this February:
Netflix
For anyone who knows me, they know "Inception" is probably my favorite movie of all time. This movie is incredible. It's smart, stylish, entertaining, surprising, gorgeous and original.
I saw this movie in the theater three times in a four-day period. I then bought it the day it came out and have watched it time and again. I believe this is one of the most brilliant movies ever made and if you haven't seen it, do yourself a favor and watch it tonight on Netflix. If you have seen it, then do yourself a favor and watch it again tonight on Netflix.
I am a champion for this movie and have converted many over to the truth. If you have questions or hesitation about "Inception," I invite you to email me and let's see if we can't change that mind or just chat about its brilliance.
Christmas may be over, but it's never too late to watch Clark Griswold hang Christmas lights, terrorize his neighbors and get stuck in the attic.
"Christmas Vacation" is a classic and while it wasn't streaming during the holidays, you can now watch it on Netflix.
Brian Regan is a clean stand-up comic who is high energy, a little quirky and all funny.
Regan muses about life as a parent, what it's like being a kid and everything else in between. Regan is hilarious and this new special headed to Netflix will likely have some new jokes and old classics.
Hulu
'Arctic' (Available Feb. 12 with Starz add-on)
This film may be better to watch in the summertime when it's hot outside, but "Arctic" is on Hulu this month and while it may make you cold to watch, it's worth it.
"Arctic" is an under-the-radar movie starring Mads Mikkelsen as a man stranded in the Arctic trying to survive. When a rescue chopper spots him, he thinks he's saved. But when the helicopter crashes with an injured survivor he faces all new challenges.
The movie is slow and deliberate, but it's also engaging and tense. There is little to no talking in the film, but that adds to the tension.
"Arctic" is not for everyone, but it's a great piece of survivalist cinema if that's your cup of tea.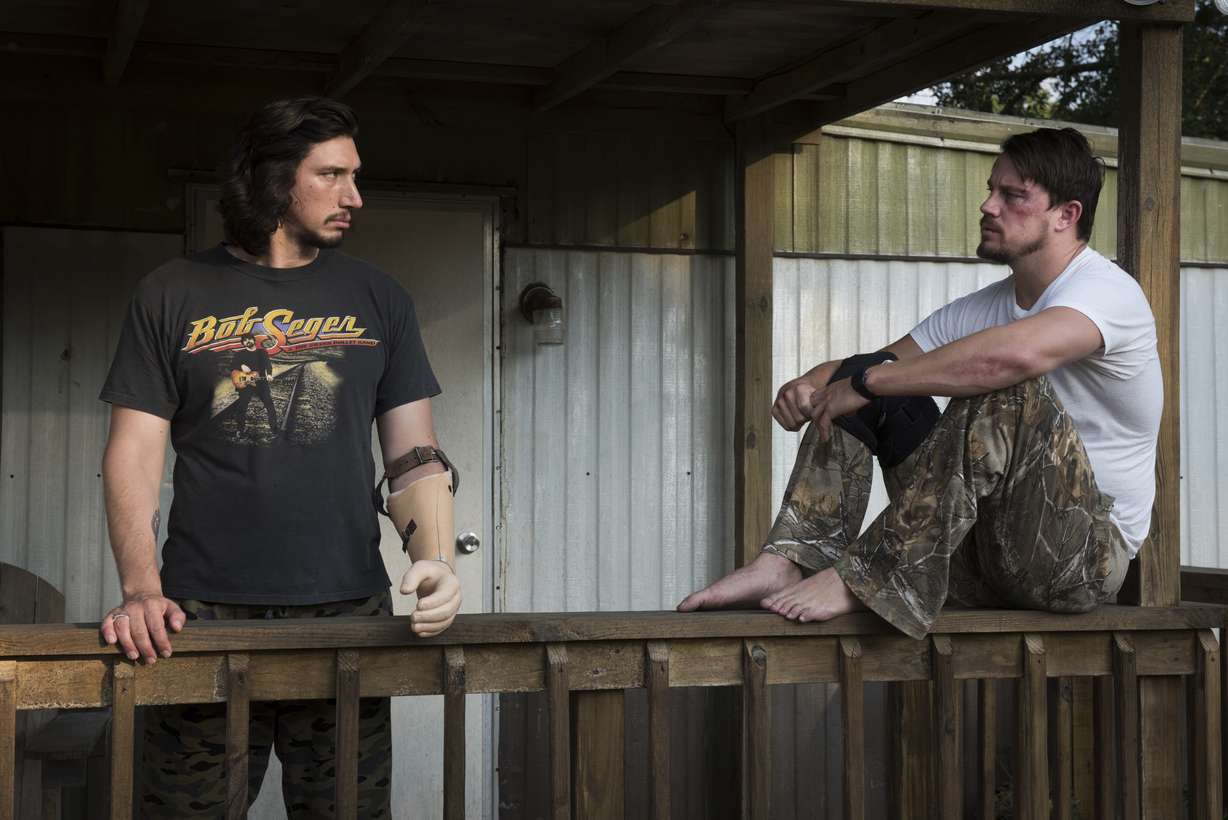 This movie has popped up and then disappeared from streaming services lately, but "Logan Lucky" is headed to Hulu in February. It's is an odd and offbeat heist film with a great cast including Adam Driver, Daniel Craig, Channing Tatum and Hillary Swank.
Imagine if the director of "Ocean's Eleven" said, "What if we did a movie like 'Ocean's,' but instead of suave, smooth talking thieves, we use down-on-their-luck rednecks?"
That's kind of what happened considering this film was directed by Steven Soderbergh, who also made the "Ocean's" movies.
Amazon Prime
"Shanghai Noon" may be a bit of a guilty pleasure for me, but I think this movie is a blast and I quote a line from it at least once a week: "C'mon Roy, you can do this. Ah, no you can't, he's gonna kill you."
You're going to start noticing a theme on this list and that theme is Christopher Nolan. Maybe it's not as much of a theme as it is an obsession of mine.
Regardless, in addition to "Inception," another Nolan flick is streaming this month and that's "The Prestige."
I don't really know how to explain this film and I don't want to, just in case some have yet to see it. Just know it's an encapsulating mystery about two dueling magicians set against the backdrop of Victorian London. The movie has an enthralling style and edge-of-your-seat story.
This is one of Nolan's better films, but people seem to forget about it too often.
Disney+
Disney+ is a treasure trove of family entertainment and a film is headed to the streaming service this month that may be new to some.
"The Book of Life" tells the story of a man who will cross into the after life to follow his heart. Some may feel it echoes "Coco," but keep in mind this movie was released three years earlier. It's not quite as good as its Disney-Pixar counterpart, but this is a great movie for family movie night.
'WandaVision' (Episodes 4-7 available Feb. 5-26)
All you Marvel junkies out there are likely already watching "WandaVision."
The trippy show is the most out-of-left-field outing for Marvel to date, but it's oddly entertaining and something new for the Marvel Cinematic Universe. Episodes four through seven will premiere this month on Disney+.
HBO Max
Goonies never die and neither does this movie. The classic so many of us grew up with is on HBO Max this month and I'm probably going to watch it. Something about friends and treasure that make for a great adventure and "The Goonies" did it to perfection.
Before you sit down with the whole family, parents may want to take a look at the content guide of the film one more time. If it's been awhile there is probably some language you forgot about.
'Aquaman' (Available now)
I wasn't a big fan of the DC Comics film "Aquaman," but it made a killing at the box office and people seem to think I'm wrong. Who am I to fight them?
If "Aquaman" was your speed then I have some good news, because it is now on HBO Max. If you were more like me, then you can just jump to the next title.
'Dunkirk' (Available Feb. 12)
Remember when I told you this list had a Nolan theme? Well, here is one more of his films.
On Netflix, you have Nolan's brilliant sci-fi action flick "Inception." On Amazon Prime, you have his moody and mysterious period piece "The Prestige." And on HBO Max, we're getting his World War II epic "Dunkirk."
"Dunkirk" is unlike any other war film out there and many likely don't appreciate its value. The movie tells the story of what happened during the Dunkirk evacuation from three different perspectives. The unique narrative is mesmerizing and the film was clearly a labor of love and respect from Nolan to those who fought and sacrificed everything.
The film moves at a slower pace than most war films, but that's one of the things that makes it so impressive. For me, this is a movie that will be watched and enjoyed once again in the Clyde home thanks to HBO Max.
---
×
Related stories
Most recent Entertainment stories