Estimated read time: 3-4 minutes
This archived news story is available only for your personal, non-commercial use. Information in the story may be outdated or superseded by additional information. Reading or replaying the story in its archived form does not constitute a republication of the story.
OREM — Six people were arrested Thursday following an investigation into massage parlors in Utah County that police say were fronts for human trafficking and prostitution.
The investigation started in September based on an anonymous tip from a citizen, said American Fork Police Lt. Josh Christensen.
Over the next several months, undercover officers went to at least four massage parlors in American Fork and Orem and reported that they were offered sex acts in exchange for money. The investigation culminated on Thursday when search warrants were served at the four businesses and a home in Lindon, he said.
Women working at some massage parlors are often required to live there and rarely leave, Christensen said. At least one woman who police say is a victim of human trafficking was rescued Thursday, he said.
"These Asian females fall into a world of human trafficking and become victims in their own right. In the Asian culture, family honor is among the highest level of priority to these Asian female victims," investigators wrote in police booking statements.
"The criminal organizations often threaten to contact their families and provide them with information of voluntary prostitution occurring in the United States, which is unwanted by the female victims. These Asian female victims fall deeper into the human trafficking organization living with the fear of what may happen if they deviate from the criminal organization's wishes. Some of the Asian females are forced to live in small closets or rooms within the massage business premise and given only minimal means for survival," according to the affidavits.
That woman was receiving help Friday from the Trafficking In Persons program at Asian Association of Utah.
Christensen called the operation a "big group effort" that was headed by American Fork police, but also included the Utah County Major Crimes Task Force, Orem police, Unified police and federal partners.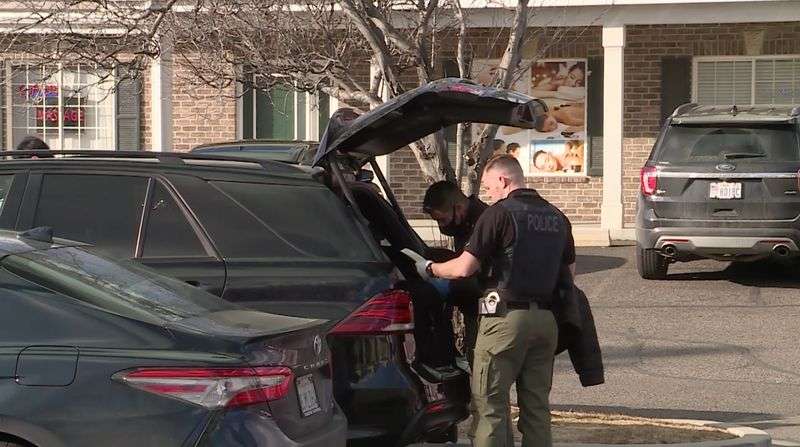 Yan Tomney, 44, of American Fork; Jun Yan Li, 36, of Orem; Xiao Ling Wang, 42, of American Fork; Ju Ying Wang, 56, of American Fork; Yue Ming, 39, of Orem; and Joseph Edward Ferreri, 54, of Salina, were each booked into the Utah County Jail for investigation of a number of potential charges, including engaging in a pattern of unlawful activity, aiding prostitution, money laundering, prostitution and human trafficking.
The group could face federal charges, according to Christensen.
At one massage parlor on Thursday, officers found a customer who admitted he had learned about the business on the dark web, according to an affidavit.
At another business, police interviewed a worker who "explained how she was from China and had traveled to the United States to practice the religion of her choice. The victim explained how she had traveled through California, Louisiana, Illinois, Nevada and Utah," police wrote.
"The victim described how she was not allowed to leave the parlor or go anywhere without being instructed to by the unknown boss. The victim lived and cooked her food in the massage parlor," the affidavits state. "The victim became emotional describing her husband and son in China and how she had to flee for religious purposes."
Large amounts of cash were also seized by police serving search warrants on Thursday, the affidavit says.
Police said the businesses they are investigating include the Sunflower Massage, 376 E. 60 South in American Fork; Relax Wood LLC, 204 E. 860 South in Orem; Small Rainbow, 250 N. Orem Blvd. in Orem; and Magic Massage, 483 W. 30 North in American Fork.
Christensen encouraged local residents to continue assisting police by reporting anything that doesn't look or feel right in their communities. He said it may lead to the rescue of additional human trafficking victims.
"I have no doubt that there are others out there," he said.
Contributing: Paul Nelson, KSL Newsradio
Correction: An earlier version incorrectly said the victim received help from the Asian Aid Society. The group is called the Asian Association of Utah.
×
Most recent Utah stories