Estimated read time: 4-5 minutes
SALT LAKE CITY — A winter storm that passed through Utah over the weekend dumped as much as 1 ½ feet of snow near Brighton and produced over 50 avalanches, including a fatal one in Summit County.
Avalanche forecasters warn that if current condition trends continue, the risk for avalanches will remain high for some time.
In all, over 50 avalanches were reported across all regions the Utah Avalanche Center oversees from Friday through Sunday. About 25 avalanches were reported in the Central Wasatch area alone during that time, said Nikki Champion, an avalanche forecaster for the Utah Avalanche Center's Salt Lake-Provo-Ogden region.
Summit County sheriff's authorities said one avalanche Saturday in the Square Top area just outside of Park City Mountain Resort killed a 57-year-old Park City man. He was the second Utahn buried and killed by an avalanche in the backcountry areas near Park City in January. Another avalanche in the Dutch Draw area killed a 31-year-old Clinton man on Jan. 8.
The avalanches over the weekend were triggered by all sorts of things. Many were classified as naturally-caused, while skiing and snowmobiling were reason for most human-caused avalanches, according to Utah Avalanche Center data.
Champion said additional avalanches were intentionally triggered by the snow safety teams to remove threats at ski resorts.
The avalanche center issued a bulletin ahead of the most recent snow, warning of people heading into Utah's mountain backcountry regions about the high possibility of avalanches. Following the busy weekend, the avalanche center maintains there is still "considerable" risk for avalanches across Utah's mountain backcountry.
Why the avalanche threat remains 'considerable'
Utah's mountains first received snow at the end of November and into early December; however, there weren't many storms for weeks after that. The snow sat there and became "really weak and sugary" but it didn't melt, Champion explained. This is especially true for slopes facing away from sunlight.
Then, over the past few weeks, storms producing heavier snow piled atop the weaker snow.
"Basically, what makes it dangerous is that we have that weak snow on the ground and we put strong, stiff snow on top of it," she said. "So we kind of have this upside-down pyramid, where the base is weak and the top is strong."
It raises the likelihood of avalanches, especially at steep-angle slopes. Champion added that Utah's backcountry will likely remain at high risk with every passing storm for some time, at least until there is enough of the stronger snow to insulate the current weak base.
"Right now it's still at a point that as we continue to add more load, we're just going to increase the avalanche danger again," she said.
How to recreate in the backcountry safely
Fresh snow, especially on a weekend, often draws people to mountains and backcountries for activities like skiing, snowboarding, snowmobiling and snowshoeing. Avalanche experts said that the "considerable" avalanche risks don't mean people need to avoid the backcountry altogether.
The most important thing, Champion said Monday, is that those planning to recreate in the backcountry avoid terrain slopes with angles topping 30 degrees or areas where they are close enough to steep terrain.
The Utah Avalanche Center posts topography maps to help anyone heading out to the backcountry know which areas are below the recommended 30 degrees during times where avalanche risk is high. The feature is included in their app.
The center rates terrains on a four-color scale. Green means the risk is light, while red signals "radical" with significant risks. Yellow and orange indicate risks between low and extreme. The center also list avalanche forecasts on a similar scale: low (green), moderate (yellow), considerable (orange), high (red) and extreme (black).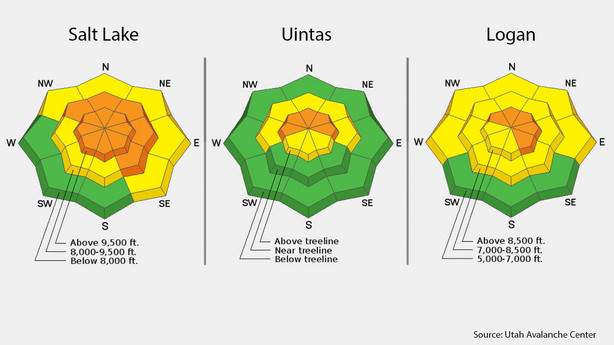 Champion added that people can also use leveling tools on their phones to measure if the location they are in is above or below 30 degrees in steepness.
Individuals heading out to Utah's backcountry regions are also encouraged to bring tools with them to the outdoors that can help in an emergency. These include:
First aid kit
Phone
Shovel
Headlamp with spare batteries
Extra layers
Bivy sack or e-blanket
Whistle
Some companies also make backpacks with airbags that can inflate in case of an avalanche emergency. Beacons that share someone's location in an emergency are also recommended.
×
Related Stories