Estimated read time: 9-10 minutes
This archived news story is available only for your personal, non-commercial use. Information in the story may be outdated or superseded by additional information. Reading or replaying the story in its archived form does not constitute a republication of the story.
SALT LAKE CITY — The rate of COVID-19 spread appears to be on the decline, which is a welcome sight for a pandemic that's dragged on in Utah for nearly 11 months now.
There were a few updates this week to the coronavirus situation that caught attention. First, Utah's continued deceleration in COVID-19 cases. Then there was an update to mask-wearing in relation to a growing demand for better-quality masks. Finally, the Utah Department of Health reported Thursday that they found no connection between the COVID-19 pandemic and increases in suicide or drug overdoses.
Here's the latest news on COVID-19 topics in Utah.
The cautiously optimistic good news about COVID-19 cases in Utah
Utah's seven-day running average of new COVID-19 cases fell to 1,710 new cases per day, which is the lowest it has been since the beginning of November, according to health department data updated Thursday.
The current peak for the average was 3,393 on Nov. 22. It was 3,529 on Jan. 9 and has since dropped nearly 52% over the course of three weeks. The state's COVID-19 epidemiological curve has reported a deceleration in new cases since Jan. 11.
The seven-day running average test positivity rate is also on the decline, which KSL.com detailed in a report last week. It's now 18.26% through Jan. 22, as compared to 33% to begin 2021. Much like case count averages, it's currently the lowest its been since late October.

Another positive sign is the seven-day running average of new hospitalizations. That's now about an average of 64 hospitalizations per day through Jan. 21. The number has fallen in the past week, but the health department points out that it may not have received a report of a new hospitalization yet from that time frame.
Those numbers are still higher than what public health experts would like to see, but it is a step in the right direction. During a press briefing on Thursday, Utah Department of Health epidemiologist Dr. Angela Dunn credited the recent success to public health measures like mask-wearing, physical distancing, and individuals staying home when they are sick.
"Basically, keep doing what we're doing because it's working," she said. "We are slowing the spread of COVID. We're protecting our hospitals and we're preventing deaths."
Still, Dr. Todd Vento, an infectious disease physician at Intermountain Healthcare pointed out last week there was a recent rise in antigen testing — specifically for students returning to school being tested. He said antigen tests, which search for protein fragments tied to the coronavirus, are more prone to false-negative results than PCR tests that look for RNA strands tied to the coronavirus.
A spike in antigen testing could cause the total new cases and positivity rate to decline even if the virus hasn't really left. Dr. Russell Vinik, chief medical officer at University of Utah Health Plans, said it's true that antigen testing is less effective.
"We know that the antigen testing in asymptomatic patients is about 30% to 50% sensitive; so that means for every case it picks up, it's missing one or two positives," he said during a briefing with members of the media on Thursday.
That said, many antigen tests are performed solely on asymptomatic individuals, whereas those experiencing symptoms are still given the more-accurate PCR tests. Both Vento and Vinik said it's important to look at the rates from both antigen and PCR tests, which aren't as available as a statistic.
Even with a rise in antigen testing, Vinik said he still believes the spread of the virus is slowing down a bit in Utah.
"We think these positivity rates are kind of false. Going down incorrectly? No," he said. "All the other data is suggesting improvement recently. For example, we're seeing a significant reduction of hospitalizations; we're seeing a significant improvement in the hospital census statewide, so we feel very confident that disease is diminishing within the state."
That's not to say that the pandemic is over in any way, or that its strain on health care systems has lessened. For instance, Dunn said there haven't been enough vaccines administered to rely solely on a vaccine to curb COVID-19 cases.
There were still 452 Utahns hospitalized due to COVID-19 as of Thursday's update. Intensive care units at referral centers remain at 89% full — four percentage points above the utilization threshold. The overall ICU utilization is now 84%.
There's a concern about a new variant of the coronavirus that was recently detected in Utah. The strain is believed to be more contagious, which could lead to an uptick in new cases in a short amount of time if Utahns aren't careful. An uptick in cases could lead to a rise in new hospitalizations and deaths.
Public health experts are also quick to point out that an 18% positivity rate — a good measure for community transmission rates — is still extremely high; it's just not as bad as the 33% mark it was at. The goal is to get it under 5%, which Utah last achieved in May 2020.
The ideal rate would be below 3% because that means the spread of the coronavirus could be better managed, said Dr. Sankar Swaminathan, chief of the infectious disease division at University of Utah Health.
"A positivity rate of 20% is outrageously high," he explained. "What that means is that there's a lot of people out there at the grocery store who have COVID. … (We) all need to continue to be extremely careful with all the measures we're talking about because that's one of the reasons the rates we're talking about are going down.
"I think all our mitigation factors — masking and so forth — are paying off," he added.
Take the latest update on the COVID-19 spread as a sign that there's been significant improvement in recent weeks, but don't take it as an end of the pandemic.
Should we be double-masking?
Speaking of COVID-19 mitigation, the demand for better quality masks has emerged as a priority while the vaccination process continues. Gov. Spencer Cox has talked about the subject during his past two COVID-19 briefings.
"We encourage people, if you can, to upgrade the quality of your masks," he said Thursday. "We're also working with the new (presidential) administration on getting more and better masks out to people because we know that is incredibly effective. The right quality of mask protects the user as well as those around them."
At beginning of the pandemic, public health experts encouraged people to wear any sort of face-covering — such as homemade cloth masks — because the number of N95 masks was in short supply. Studies conducted well before COVID-19 found that non-medical types of masks weren't as helpful in containing or preventing virus particles but were essentially better than nothing.
To that point, wearing two lower-quality masks has been on the rise. Dr. Anthony Fauci, the chief medical adviser to President Joe Biden, told NBC News earlier this week that double-masking has benefits.
"(I)f you have a physical covering with one layer, you put another layer on, it just makes common sense that it likely would be more effective," he said. "That's the reason why you see people either double masking or doing a version of an N95."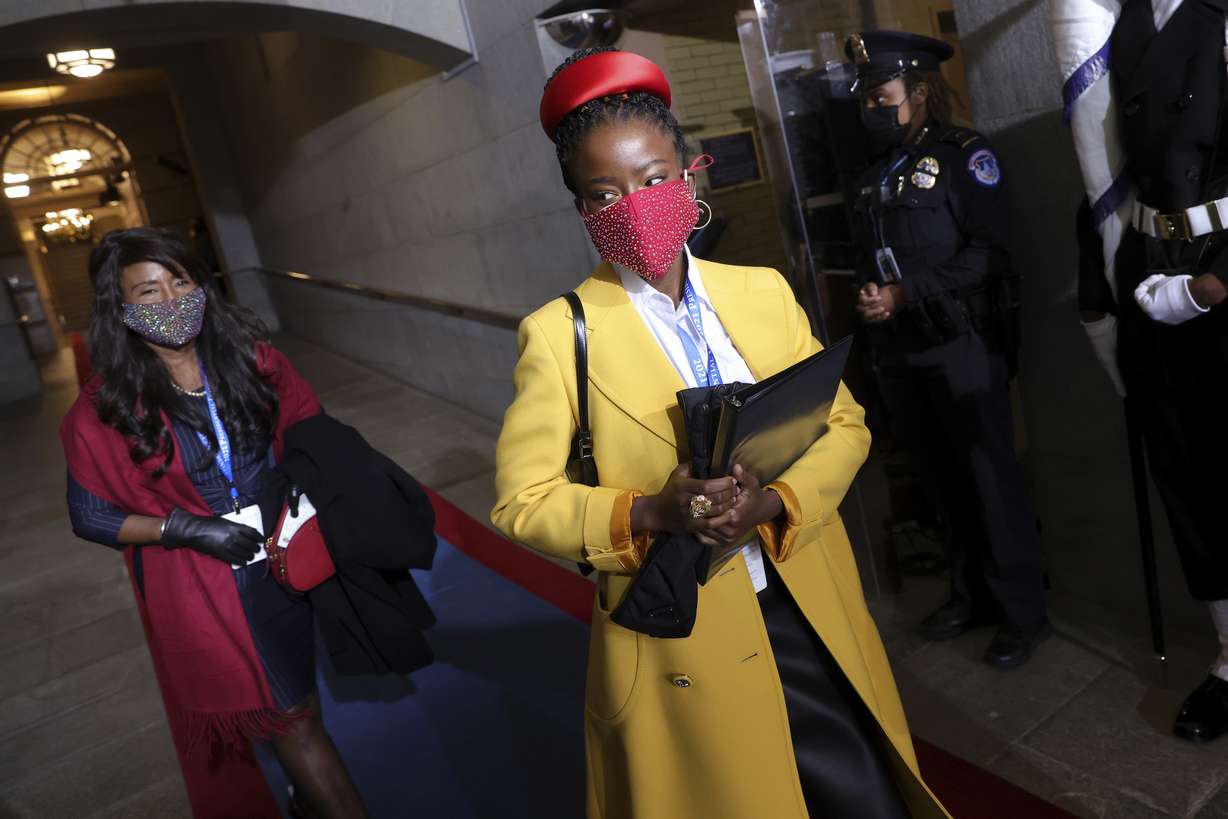 Vinik agreed with what Fauci had to say, adding that double-masking does have "some potential benefits." Both explained that the more material or filters, the more the virus would be trapped by the materials or filters.
"It creates more barriers between the virus and those droplets that are coming out of your mouth and the rest of the world," Vinik said. "In addition, double-masking does create a better fit. Any of us who've worn a surgical mask, we know that a lot of air goes out the top and into your glasses or around the sides and down the bottom as compared to an N95 mask, which maintains a tight fit around your face and requires all the droplets to go through that tightly-woven material."
But Vinik stopped short of demanding it completely. He said the biggest thing people can do is simply just wear a mask that covers the nose and mouth. If people want to double-mask — say in situations where they are at higher risk of spread — it might be helpful.
"Certainly more than anything, just wear a mask," he said. "And wear it properly."
Health department report: Suicides, overdoses didn't rise during the pandemic
The number of suicides and drug overdoses in Utah didn't increase as a result of the pandemic shutdowns, the state health department found in a report released Thursday morning.
The report analyzed the first 39 weeks of 2020 for suicides and 50 weeks for overdoses, which were the latest data available for both causes. It found that both suicide and drug overdose deaths were consistent with 2018 and 2019 data from the same time periods of the year.
"There was no significant difference in the rate of Utah adults reporting frequent mental distress from March through August of 2019 compared with the same time period in 2020 (13.5% and 13.4%, respectively)," the health department stated.
It added that increases in calls to the Suicide Prevention CrisisLine increased during the first 10 months of 2020 but that the growth was similar to increases documented in previous years.
The health department also acknowledged there were no data on domestic violence-related calls on a statewide level but that some anecdotal evidence from various local agencies indicated an "escalation of family violence."
The findings on suicide and overdoses were important for many reasons, including that they dispelled narratives about the pandemic safety measures and suicide increases, Cox said after the report was issued. He credited the suicide intervention hotlines and Utahns who checked in on one another for the stable findings.
"It shows, again, how resilient the response of Utahns has been to this. It shows that people really are reaching out to their neighbors, people are reaching out to their friends, people are reaching out to strangers and finding ways to connect to help people throughout this difficult time," he said, adding that the number of suicides was still "too high."
"The other thing I want to be very clear on is that there are people who, unfortunately, have died by suicide or by overdose death because of the pressures that they have faced economically or health-wise during this pandemic," the governor added. "And that does not lessen in any way the tragedy that has occurred there. It is also not to say that we should relent in any way in working on suicide and opioid prevention."
Suicide prevention resources
If you or someone you know is experiencing suicidal thoughts or exhibiting warning signs, call the National Suicide Prevention Lifeline: 1-800-273-TALK (8255).
Additional crisis hotlines
Utah County Crisis Line: 801-226-4433
Salt Lake County/UNI Crisis Line: 801-587-3000
Wasatch Mental Health Crisis Line: 801-373-7393
National Suicide Prevention Crisis Text Line: Text "HOME" to 741-741
Trevor Project Hotline for LGBTQ teens: 1-866-488-7386
Online resources
In an emergency
Call the police
Go to the emergency room
×
Related stories
Most recent Coronavirus stories