LOGAN — Just a year after losing generational scorer and assist man Sam Merrill, a generational talent from Bountiful who was drafted No. 60 in the NBA Draft by the Milwaukee Bucks, Utah State is doing just fine.
Reports of the Aggies' demise have been greatly exaggerated.
The team from Logan always knew what it had in 7-foot Portuguese center Neemias Queta, the school's all-time leader in blocked shots and two-time all-Mountain West defensive selection.
But the offensive output of Merrill — not to mention point guard Abel Porter, who transferred to Ohio State before being forced to medically retire — was never going to be easy to replace.
Until now — at Miller time.
Brock Miller has the Aggies' offense back on track, a 42% 3-point shooter from Brighton High whose 9.5 points per game are giving third-year coach Craig Smith and his club a shot at a third-straight Mountain West title.
"Brock's a good player, and he's improved," Smith said. "He worked hard this summer on his game, with his shot, with some tweaks, and he put a lot of time in the gym. He's a better athlete, he's bigger and stronger, and it's showing in how he's playing.
"He's been a very consistent player for us all year, and he's a weapon out there. He's doing a heck of a job on the defensive end; and when you have the ability to shoot, you can stretch the defense out."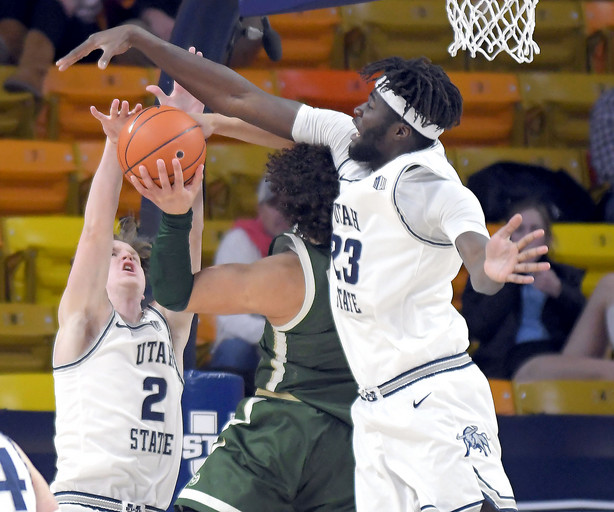 If Queta is the star of the Aggies' show, Miller is the far-flung asteroid that hangs out around the perimeter and fires streaks to break opposing teams' perimeter.
The 6-foot-5 returned missionary junior is forming quite the duo with Queta.
"Brock is a really good pressure reliever," said Queta, moments after posting 18 points, 12 rebounds and three blocks in an 83-64 win over Colorado State. "Other teams cannot lose him, because if they do, he hits a pretty easy shot. Having him as a floor spacer helps me the most because they can't double team me, and he's such a good weapon for us."
It's not just Queta and Miller.
The Aggies (12-3) are on an 11-game winning streak, and their 9-0 start to Mountain West play is the best since joining the conference in 2013. In fact, it's the best since an 11-0 run in the Western Athletic Conference in 2010-11.
And with respect to Queta and Miller, it's taken an entire team to get there.
Beyond the dynamic inside-out duo, Utah State has poured in an offensive tour de force that includes breakout freshmen Rollie Worster and Steven Ashworth, Virginia transfer Marco Anthony, and Alphonso — the leader of the Aggie bench that averages 5.9 points and 2.5 rebounds per game playing mostly as a reserve.
It's also keyed by defense.
The Aggies rank 22nd nationally with 4.9 blocks per game, led by Queta, the school's all-time leader in blocks with 165 blocks in three years.
Defensively, Utah State has outscored its opponents 710-474 in Mountain West play, an average of 53.7 points per game, a top-10 mark nationally. The Aggies are holding opponents to around 37% per game, which ranks 13th in Division I.
That kind of defensive dominance took a while to set up. Just 10 days into the coronavirus-delayed 2020-21 season, Utah State was staring up at a 1-3 record following a 67-64 home loss to in-state rival BYU.
"We felt like we could be good, but we also knew it could take some time," Smith said. "We knew we had a chance. But when you have as many newcomers as we had, you never know how it's going to all come together — and more so when it's going to all come together."
The Aggies haven't lost since that early winter night Dec. 5.
"I feel like (defense) was one of our main focuses," Queta said. "In the first games, it didn't quite show, but I feel like we stuck together and didn't let those losses take our eyes off the prize. We just wanted to stay focused on what we were doing; no matter the score, we knew how good we could be. We were still climbing the ladder."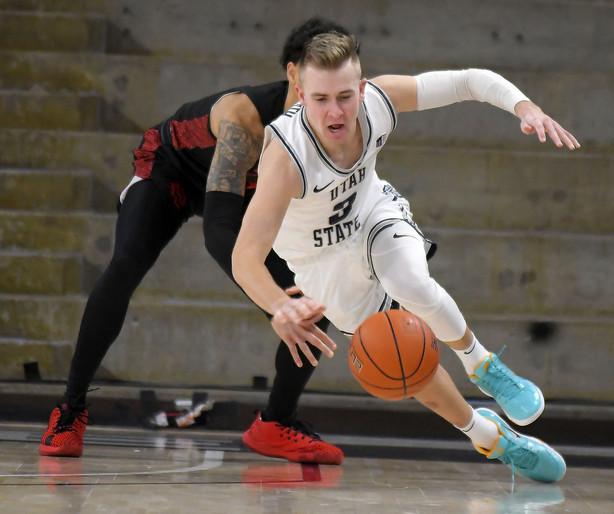 Utah State will face the Rams (10-3, 7-2 MW) on Thursday night, the Aggies' fourth game in eight nights that marks a key stretch of the season alongside last weekend's home sweep of San Diego State. After Thursday, they'll likely be favored in every remaining game of the regular season save a road trip Feb. 17-19 to league leader Boise State.
A win this week, plus subsequent wins up to that showdown with the Broncos, could keep Utah State on track for its ultimate goal: qualifying for a third-straight NCAA Tournament. ESPN's Joe Lunardi currently projects Utah State as a No. 12 seed and a spot in the First Four.
(The Aggies won back-to-back Mountain West Tournament titles in Smith's first two seasons, though the 2020 event was canceled due to the COVID-19 pandemic).
They're eager to get back to what they missed — by focusing on the future, not what they've accomplished in the past.
"We don't think about what we've done in the past," Queta said. "Every day, we just try to be the best version of ourselves. I don't think anybody on the team is satisfied with what we did because we know where we can be and what we want to work for."
×
Related Stories