LOGAN — Just three days after sweeping perennial Mountain West power San Diego State, Utah State men's basketball shows no sign of letting up.
Neither on the inside or out.
Neemias Queta had 18 points, 12 rebounds, two assists and three blocked shots, and Brock Miller added 20 points on six 3-pointers to help the Aggies to their 11th consecutive victory, 83-64, over Colorado State in the Dee Glen Smith Spectrum in Logan.
The game marked Queta's 21st career double-double, and also extended the Aggies' winning streak to the best in the Mountain West era with nine in a row. Utah State (12-3, 9-0 Mountain West) is off to its best start in league play since going 11-0 as members of the Western Athletic Conference in 2010-11.
Rollie Worster supplied 8 points and nine assists, and Justin Bean supplied 8 points and seven rebounds for the Aggies, who outrebounded the Rams 44-25, including 13-4 on the offensive glass. Marco Anthony supplied 8 points, three rebounds and three assists for Utah State, which hasn't lost since a 67-64 setback to in-state rival BYU on Dec. 5.
That was 45 days ago. And if the Aggies will likely be favorite in every game until a Feb. 17-19 road trip to Boise State.
"I thought we did a really good job on the defensive end; that's just our identity," said Queta, a 7-foot junior who already owns the school record in blocked shots. "It was just a battle. We wanted to be the ones to play the whole team. They're a good team, and we have to take any type of lead against them."
Alphonso Anderson had 12 points, two rebounds and two steals off the bench for Utah State, leading a second unit that out-paced Colorado State 21-12.
Isaiah Stevens had 16 points, five rebounds and four assists for Colorado State (10-3, 7-2 MW), which had won eight of its previous nine games prior to Tuesday night.
Adam Thistlewood supplied 14 points for the Rams, who shot just 9-of-27 (33.3%) from 3-point range and led for just 38 seconds of game time.
"It's a great win for the Aggies. I thought we played really well from start to finish, in a lot of phases," Utah State coach Craig Smith said. "Colorado State puts a lot of pressure on you, and you have to be on point with how you're guarding them. Fortunately for us, they missed some clean looks that did not go in, and that was fortunate.
"I was really impressed with how we played defensively in the first half. To be able to get 20 assists against these guys is a great compliment to the guys on our team. I thought we had great balance, from the middle game to the outside game."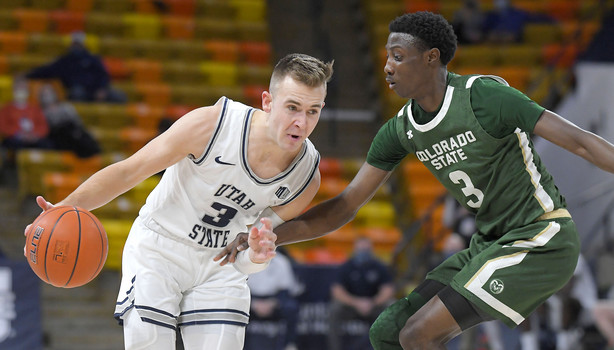 Neither team led by more than two possessions until Queta capped a 9-0 run with 8:57 to go up 24-15 on a left-handed hook shot off an in-bounds play from Steven Ashworth. The Portuguese big man had nine points and seven rebounds in the first 11 minutes of the game, proving he came to play just three days removed from completing a sweep of San Diego State.
Miller added his second 3-pointer of the first half to push the run to 10-0 a few moments later, and the Aggies were off and running with a 15-3 spurt midway through the first half.
Queta finished the half with a stat-stuffing 10 points, seven rebounds, two assists and two blocks for the Aggies, who got four of their six 3-pointers from Miller's game-high 12 points before the break.
Utah State shot 42.4% from the field in the first half, including 6-of-13 from deep and assisted 10 of 14 made field goals, while outrebounding the Rams 27-14 en route to a 44-29 halftime advantage.
"We knew we had to rebound and I think they had four offensive rebounds at the first media timeout," Colorado State coach Niko Medved said. "Some of that was blocking out, some of that was poor ball screen coverage.
"If Neemias Queta is right there in the paint and you don't have a body on him early, unless you have a chainsaw, he's going to get the offensive rebound."
The Aggies led by as many as 18 points in the second half, shooting up to 55% from the field while executing whatever they wanted.
Utah State limited the Rams to five second-chance points on four offensive rebounds, and got scoring from all nine players who played in the first 35 minutes, before Smith began to unload his bench.
Picked as a No. 12 seed in the First Four by ESPN bracketologist Joe Lunardi in his latest projection, Utah State continued its hottest start to conference play since joining the Mountain West in 2013.
They'll try to build on their resume Thursday with another matchup against the Rams, the Aggies' fourth game in eight days.
So far, they've passed what most consider to be the biggest test of the year.
"Each game is its own entity," Smith said. "We enjoy this one until midnight, and we're back at it tomorrow. You have to have a workman's mentality; just because you play well in one game, doesn't mean you get the (automatic) win in the next game. We know we have to keep sharpening our saw, keep chopping wood, and keep getting better."
×
Related Links
Related Stories