Estimated read time: 3-4 minutes
This archived news story is available only for your personal, non-commercial use. Information in the story may be outdated or superseded by additional information. Reading or replaying the story in its archived form does not constitute a republication of the story.
SALT LAKE CITY — The Beehive State's judicial system is working to root out bias in its judges and to resume in-person jury trials after a turbulent year of civil unrest and pandemic, Utah Supreme Court Chief Justice Matthew Durrant said Tuesday.
Despite a set of "daunting and difficult decisions" brought on by COVID-19, Durrant said court staff and judges have "risen to the challenge and more."
The court system moved almost completely online with virtual hearings and trials by mid-April as the disease spread across the state. Through a "herculean" effort from the court system's information technology department, trials throughout 2020 involved over 400,000 virtual participants, Durrant said during his State of the Judiciary address to the House and Senate, which was broadcast to legislators over videoconferencing.
Technology enabled the system to largely keep pace with its pre-pandemic case load, according to the chief justice. But some cases are taking longer to resolve, creating "a considerable backlog."
"This is a source of great concern to me and to our judges. We have held trials to the bench throughout the pandemic," he said, referring to judges acting as judge and jury. Holding jury trials virtually poses technical and constitutional problems for those facing charges, he added.
The judicial system has been working with the University of Utah Health chief medical officer and chief epidemiologist to find ways to safely resume in-person jury trials, according to Durrant.
Related:
"We are committed to resuming jury trials in a way that takes every precaution to protect the lives of jurors and all other participants," he said.
Durrant laid out the judiciary's request this year for additional funding, including about $1.94 million in ongoing funds and $10,000 in one-time funds, to hire additional IT developers to enhance online systems, strengthen cybersecurity infrastructure and increase network bandwidth in rural courthouses, among other resources.
Durrant also praised state leaders for signing a Utah compact late last year committing to anti-racist action.
"I commend those responsible for preparing and supporting the Utah Compact on Racial Equity, Diversity and Inclusion, which has been endorsed by many government and community leaders," Durrant said.
He said those in the judiciary system share the same commitment and want to ensure all who are going through the judicial process in Utah get treated with fairness and impartiality.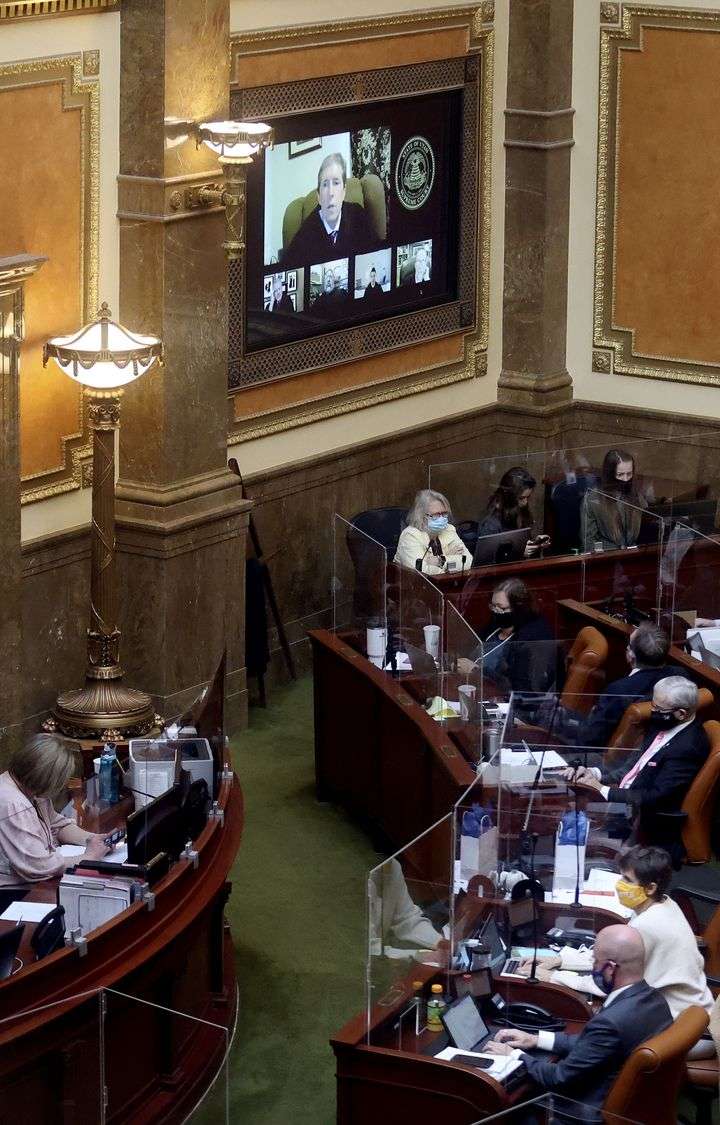 Many in that situation feel they've been treated unfairly and lack faith in government, Durrant said. He said he wants people to know that courts are "a sanctuary" where everyone is on "equal footing."
"I believe that all of our judges are committed to discharging their duties in a fair and impartial way devoid of bias," he said.
But we all can hold biases unconsciously, he added, and judges need to have the humility to identify and acknowledge their biases "so we may root them out from our judicial process."
The newly created Utah Judiciary Office of Fairness and Accountability will promote equality in the system with the help of an outreach coordinator to be hired through the funding request, Durrant said.
×
Photos
Most recent Politics stories