Editor's note: This is part of a series at KSL.com featuring some of Utah's coolest cars. If you own a customized vehicle — from sports cars to semitrucks — email jormond@deseretdigital.com with a photo of the vehicle and a brief description for consideration.
AMERICAN FORK — What does a guy do who restores old Chevys for a living do on his time off? Restores one for himself, of course.
Andy Kawahara grew up liking 1967-1972 Chevrolet trucks, Blazers and Suburbans (they really need a nickname like "squarebody" used to describe 1973-1987 models). As an adult, he works at a custom autobody shop that specializes in those models. Kawahara specializes in the paintwork.
In 2014, a scrap metal collector stopped at the American Fork shop looking for discarded metal to buy. On his trailer, on its way to the scrapyard, was a 1972 Blazer that "was pretty beat up" as Kawahara described it. It was missing lots of parts, the engine was gone, and the body was rusted out. Andy gave the scrapper $500 and they unloaded it in the parking lot.
Kawahara's boss allows side projects so, over the course of the next six years, staffers tore it down to the frame, and then tore the frame down from there, powder coating as they rebuilt. The staff mechanic installed a crate Chevy 350 engine that is period-correct with added aluminum heads and custom exhaust. Power goes through a 4L60E transmission. The fiberglass top took the most time, Kawahara added, as it needed structural work.
The suspension is stock, with a 4-inch lift making room for 20-inch chrome Fuel rims and Toyo tires. The dashboard stayed original, though they rebuilt and resurfaced it. The upholstery was done by a shop in Sandy.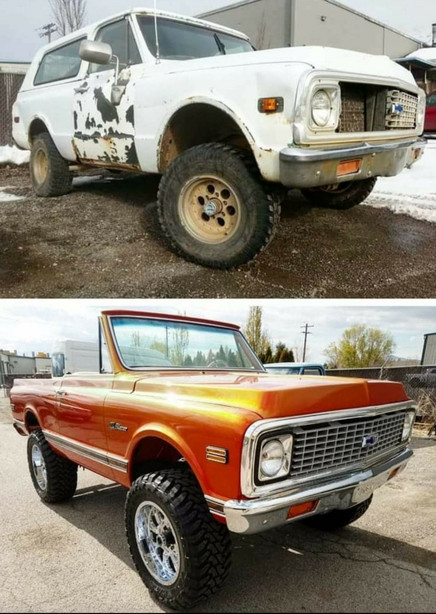 The best part of the Blazer had better be the paint since that's Kawahara's specialty. One of the shop owners created the color, and Kawahara applied it in a three-step process. It goes from orange to lime-green depending on your angle. The color has no name, but the Blazer does: It's called "Scully," after the redhead from X-Files.
Kawahara drives it often when the weather's good, and sometimes when it's not. He said he's been caught in a downpour or two, adding that if you're moving fast, the rain doesn't hit behind the windshield; and the seats are made of marine-grade vinyl, so he doesn't cry when the sky does. Kawahara mused that during the summer when he and his co-workers drive their three '67-'72's to work, it looks like a truck show out front.
He's never taken Scully serious off-roading, calling it a "mall-crawler," but he doesn't sweat the dings and scratches of everyday life. He takes it to car shows, often running into the guy who keeps offering him $50,000 for it.
When he's not working full-time painting cars, Kawahara is painting and striping side projects at home. When he's not painting and striping, he's promoting it: Kawahara is an organizer of Kulture Krash, a show for automotive art and culture scheduled for Oct. 2, 2021.
More Cool Cars:
---
×
Photos
Related Stories