ST. GEORGE — The pandemic prompted a lot of people to get a new pet, and that has criminals bilking animal lovers out of hundreds of dollars. When a St. George couple learned a crook was using photos of the dogs they raise and sell to dupe people over Facebook, they reported it to the social media giant. But when they got nowhere, they contacted the KSL Investigators.
Carly and Brandon Comstock breed and sell Goldendoodles, one litter at a time.
"Goldendoodles are kind of a newer breed that is kind evolving into a designer breed," said Carly Comstock. "We really love them because they have the intelligence of a poodle, but they've got the sweet, playful side of a golden retriever."
The Comstocks post information and adorable photos of their pups on a Facebook page and their website. They didn't realize a crook was using that same content to trick people out of money, until they got an out-of-the-blue notification from a victim from Dallas.
"She said, 'Could you give me a call? All your pics and info off of your website are being used to scam people,'" said Brandon Comstock.
Soon, the couple heard from more victims in Kansas, California, Tennessee — all over the place and all with the same story.
"'I believe we just got scammed on a puppy by someone posing as you, Lucy Britton,'" read Brandon Comstock from one of the messages. "They got us for a $600 deposit."
Indeed, someone used images and information stolen from the Comstocks to set up their own website and Facebook profile. It was all to persuade people that Lucy Britton is real and they could trust Britton to reserve them a "doodle" for a $600 deposit. Britton didn't deliver.
"We think she's taken a lot of people for a lot of money," said Brandon Comstock. For some families with hearts set on a new puppy, there's a steeper cost.
"Not only are they out $600 bucks, they just lost this new member of their family," he added.
The Comstocks got Lucy's fake website taken down, but Facebook refused to nix her fake profile. In a message to Carly Comstock, Facebook said that it found "It isn't pretending to be you and it doesn't go against our Community Standards."
"We were expecting Facebook to kind of have our back and take down her page and to stop the scam because that's where she's basing — everything is on Facebook," she said. "And we've been telling them she had our pictures; she's stealing things and they just say, 'It's not our problem.'"
We reached out to Facebook and asked why isn't stealing the Comstocks' photos and content to create a profile to swindle people a violation? This time, Facebook took down the Lucy Britton profile.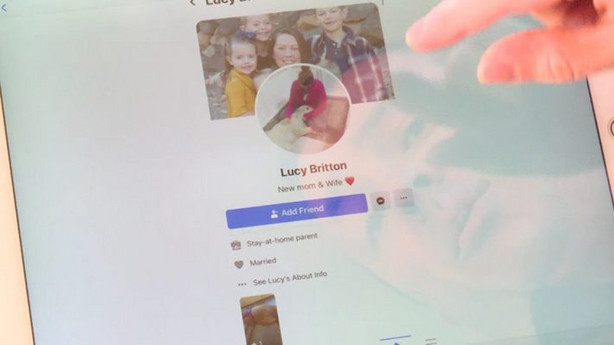 In a statement, Facebook told KSL: "Imposter accounts affect real people, and we remove these accounts when we discover them."
Carly and Brandon Comstock didn't lose a dime, but they fear more families that are looking for a new puppy will get ripped off.
"Whoever she is, she's smart," said Carly Comstock. "She knows what she's doing. She knows the loopholes."
The Better Business Bureau said online pet scams have skyrocketed in 2020, more than doubling last year's complaints. It said you should always see a pet in person before handing over any money. The Comstocks agree.
"There are two things that you absolutely have to do. It has to be non-negotiable," said Brandon Comstock. "You've got to get a video chat, live video with them (and see the pet). And the second thing is anytime there are images posted online, you need to reverse image search those images to see if they are stolen from somebody else."
Facebook's statement regarding impostor accounts:
"We require people to use their real identities on Facebook and pretending to be someone else is an explicit violation of our policies. Imposter accounts affect real people, and we remove these accounts when we discover them. We've invested heavily in strengthening our technology to keep them off Facebook and we work with law enforcement to prosecute scammers. That job is not finished and we are committed to sharing our progress.
"Claiming to be another person on Facebook violates our Community Standards, and we have a dedicated team that's tasked with helping to detect and block these kinds of scams. We have made several recent improvements to combat impersonation, including image recognition technology, automation to detect scams, and improved reporting abilities.
"We encourage people to let us know about impersonating accounts using the reporting tools available here: https://www.facebook.com/help/fakeaccount. Our teams review each one and take the appropriate action—including setting checkpoints (which require you to provide additional information in order to proceed) or shutting down profiles if necessary.
"We also encourage people to use our Privacy Checkup feature to review their privacy choices to help make sure that their content and information is being shared with who they want.
"On our technology and policies against imposter accounts:
"We routinely remove impersonating accounts through a combination of technology and reporting tools.
"Our detection technology helps us block millions of attempts to create fake accounts every day and detect millions more often within minutes after creation. Our systems examine thousands of account attributes and focus on detecting behaviors that are very difficult for bad actors to fake, including their connections to others on our platform.
"In our latest Community Standards Enforcement Report, we reported that we removed 1.3 billion fake accounts in Q3 2020.
"In 2020, we removed more than 4.5 billion fake accounts — almost all identified before anyone flagged them to us.
"We are currently exploring ways to educate people within Messenger about how to stay safe from harmful behavior like scams and impersonation, and how to spot fake accounts. We hope to roll this out more broadly in the future.
"We've made several improvements to our technology help combat impersonation:
"Machine learning:
"In March 2018 we introduced new machine learning techniques that helped us take action on more than a half-million accounts tied to financial scams on Facebook. These machine learning techniques get more effective over time as they process additional cases. When our systems assess that an account is likely associated with scam behavior, the account owner must complete a few actions to demonstrate that they are not operating a fake account or misrepresenting themselves. Until they do this, the account can't be used to reach others. If the owner fails the verification, or if our Community Operations team determines that there is a violation of our policies, the account will be removed. See: https://www.facebook.com/notes/facebook-security/introducing-new-machine-learning-techniques-to-help-stop-scams/10155213964780766/
"Impostor reporting: You can report an impostor account on Facebook whether or not you have an account. We created a dedicated Help Center link to report imposters on Facebook, Instagram, and Messenger at: facebook.com/help/fakeaccount."
×