DRAPER — As he sat in the gym at Corner Canyon High School where he's spent the past four years, Jackson Light just smiled as technical difficulties interrupted his National Signing Day moment.
Originally scheduled to formalize his earlier commitment at 10 a.m. MT, the Chargers' schoolwide signing ceremony was delayed as star quarterback Jaxson Dart had his mother hold his iPhone and livestream his decision to an ESPN2 broadcast. The four-star quarterback was choosing between Arizona State, BYU, UCLA and USC on Wednesday.
But Light didn't say anything. Not only is Dart a close friend and the signal-caller he defended en route to the Chargers' third-straight state title this year, but the day was also about Dart. He hadn't announced his decision before sliding off his jacket and revealing a USC sweatshirt underneath.
Wednesday was Dart's turn in the spotlight. Light, who committed earlier in the year, already had his opportunity when he committed on Oct. 17, 2019, to the Ducks over offers from BYU, Liberty, Missouri and Nebraska. And he was more than content with his choice, too, before he put pen to paper Wednesday morning on the first day of the NCAA early signing period.
"It's humbling," Light told KSL.com. "I'm so excited, blessed and just grateful to be able to get out there."
FIVE-STAR 🌟🌟🌟🌟🌟 COUNTDOWN

Coming in at No. 23 is new five-star and Oregon (@dsarivals) OT commit Kingsley Suamataia @baby76kings

"He could easily be a first rounder down the line."

See the full list of updating five-stars: https://t.co/dkluuMR7qlpic.twitter.com/7ZZUiXUuJi

— Rivals (@Rivals) November 30, 2020
In addition to Light, the top-rated center in Utah and No. 3-overall recruit, two other top local prospects joined Mario Cristobal's squad in Eugene, Oregon. Top-rated tackle Kingsley Suamataia formalized his commitment to the Ducks by signing at a ceremony held in Orem, and Kearns star safety Jeffrey Bassa added his own signature to cap a 20-player class in the Pacific Northwest.
Immediately following the event, Suamataia was awarded with his jersey for the upcoming All-American Bowl, which will air Jan. 2 on NBC.
The trio will join former Orem linebacker Noah Sewell, Jordan High grad Spencer Curtis and former Skyridge lineman Logan Sagapolo as Utahns in Eugene — and immediately follow Penei Sewell, the Desert Hills graduate who became the first Utahn to win the Outland Trophy, given to the best interior lineman in college football, since 1989 before declaring for the NFL draft this fall.
The Ducks have built a power in recruiting from far outside its Pacific Northwest footprint, a national brand that has attracted from all over. But the impact on the Beehive State has been striking. The Utah trio heading to Oregon is as many as many schools around the country, and even fellow Pac-12 rival Utah (five Utahns signed in 2020), and BYU (six Utahns).
There's something appealing about Oregon to Utah high school football players.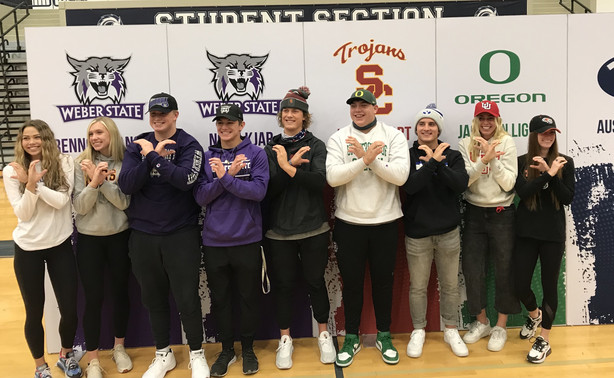 "I think it's appealing to everybody in the nation, honestly," Light said. "Oregon recruits just like family. We've had the best recruiting class in the Pac-12 the past 3-4 years, and we're going to keep that up. I think they're great people, great fans, and a great culture."
Success also keeps the pipeline running. The older Sewell is projected to be a top-10 pick, and who wouldn't want to follow in those footsteps? Naturally, Light would, and it definitely played into his decision-making as he committed to the Ducks after consulting with both Sewell brothers.
"I saw the pipeline of great linemen going to Oregon, and it's great," Light said.
Here's a list of other top Utah high school football players that delivered their formal pledge on Wednesday. KSL.com will update this list through the coming days with any additions, corrections or photos sent to onlinesports@ksl.com.
Alta
Lawrence Falatea, OLB, Washington State
Beaver
Jake Eichorn, OL, Weber State
Bingham
Viliami Po'uha, DL, Utah
Isaiah Glasker, DB, BYU
Corner Canyon
Austin Bell, RB, BYU (PWO)
Jaxson Dart, QB, USC
Noah Kjar, WR, Weber State
Jackson Light, OL, Oregon
Brennon Mangum, OL, Weber State (PWO)
Davis
David Spjut, WR, Southern Utah
Grantsville
Branson Yager, OT, Nebraska
East
Voi Tunuufi, DL, Washington
Ricky Wolfgramm, DL, BYU
Highland
Christian Hilborn, OT, Washington State
Marion Lotulelei, DT, Air Force
Hunter
Nathan Suaste, TE, Southern Utah
Kearns
Isaiah Afatasi, RB, Dixie State
Jeffrey Bassa, ATH, Oregon
Lehi
Trey Andersen, TE, Pitt
Logan
Jaylen Sargent, WR, Wyoming
Maple Mountain
Kyson Hall, WR, BYU
Aedan Seiuli, DB, Nevada
Morgan
Ryker Keele, OL, BYU (PWO)
Mountain Crest
Emilio Veater, ATH, Eastern Washington
Orem
Kingsley Suamatai'a, OL, Oregon
Devon Sa-Chisolm, WR, Southern Utah
Park City
Coco Lukrich, OG, Stanford
Seth Warner, CB, Davidson
Kirby Baynes, S, Claremonte McKenna (Calif.)
Troy Dela Vega, TE, Air Force
Pleasant Grove
Rex Connors, S, UC Davis
Porter Connors, OLB, UC Davis
Provo
Dallin Havea, LB, BYU
Ridgeline
Jovesa Damuni, RB, BYU
Sky View
Isaac Larsen, DB, Utah State
Bracken Schumann, ATH, Southern Utah (PWO)
Snow Canyon
Isaac Lees, DL, Dixie State
Timpview
Raider Damuni, DB, BYU
Logan Fano, OLB, BYU
Cael Richardson, LB, BYU (PWO)
Wasatch
Braxton Turner, DL, Georgetown
West
Omarion Fa'amoe, DE, Oregon State
Westlake
Brayden Perry, OL, Weber State
Daniel Taumoepeau, OLB, Eastern Washington
×
Related Links
Related Stories