Estimated read time: 5-6 minutes
This archived news story is available only for your personal, non-commercial use. Information in the story may be outdated or superseded by additional information. Reading or replaying the story in its archived form does not constitute a republication of the story.
PROVO — If one thing stood out from BYU's early signing day for the Class of 2021, it's length.
Size. Mobility. A sheer ability to rush the quarterback.
That was one purpose.
The Cougars added 16 players on the first day of the early signing period, highlighted by a surge of players in the trenches and on the defensive edge.
There was 6-foot-4, 225-pound outside linebacker Logan Fano from Timpview, arguably the best pass rusher in the state — were it not for fellow signee John Henry Daley, a 6-5, 225-pound senior from Lone Peak.
The Cougars also added East defensive lineman Ricky Wolfgramm, a 6-2, 258-pounder who committed to BYU when he was in eighth grade, and Enoka Migao, a 6-5, 240-pound defensive lineman from Temecula, California who signed alongside his twin brother — 6-4, 320-pound offensive lineman Elia Migao.
Either way you line it up, it amounts to a lot of size and speed on the edge.
"These guys, the numbers show in sacks they've made already," BYU coach Kalani Sitake said. "You look at the D-ends and D-linemen, their numbers show they can get to the quarterback and stop the run.
"Having those individuals is huge, but I also see how much they can do in growth. They have great frames to start with. We're excited about getting those guys and that talent here to be able to rush the quarterback."
For most of them, signing with BYU fulfills a lifelong dream. Take Fano, for example, who committed to the Cougars earlier this month and signed Wednesday alongside best friend Raider Damuni and Timpview teammate Cael Richardson, an all-state wrestler who will accept a preferred walk-on role with the Cougar linebackers.
Fano grew up in a heavily pro-BYU neighborhood in Spanish Fork, and dreamed about it since he was a toddler. Playing with Damuni and Daley, among others, is icing on the cake.
"Everyone from where I'm from are big BYU fans," Fano said. "My family is a BYU family. Ever since I was a little kid, I always dreamed of playing at LaVell Edwards Stadium."
Fano, a four-star prospect by 247 Sports and the No. 4 overall recruit in the state of Utah, totaled 115 tackles, 28 tackles for loss and 20.5 sacks as a senior for the Thunderbirds. Those numbers were exceeded by few — except perhaps Daley, who posted 82 tackles, 38 tackles for loss and 22 sacks for the 12-2 Knights.
"I feel like John Henry didn't get as much recognition as he should have," Fano said. "He is a steal for this class; Raider's a steal for this class. I think for them, they just watched the film and got the ballers that were here in the state."
Damuni first committed to BYU when he was in eighth grade, but began to look around as he received more interest from the likes of Oregon, Stanford and Nebraska, among others.
But being able to play alongside his brothers — teammates Fano and Richardson, as well as long-time associates like Daley — helped seal his commitment to BYU as much as his father Jack, who works in the BYU athletic department.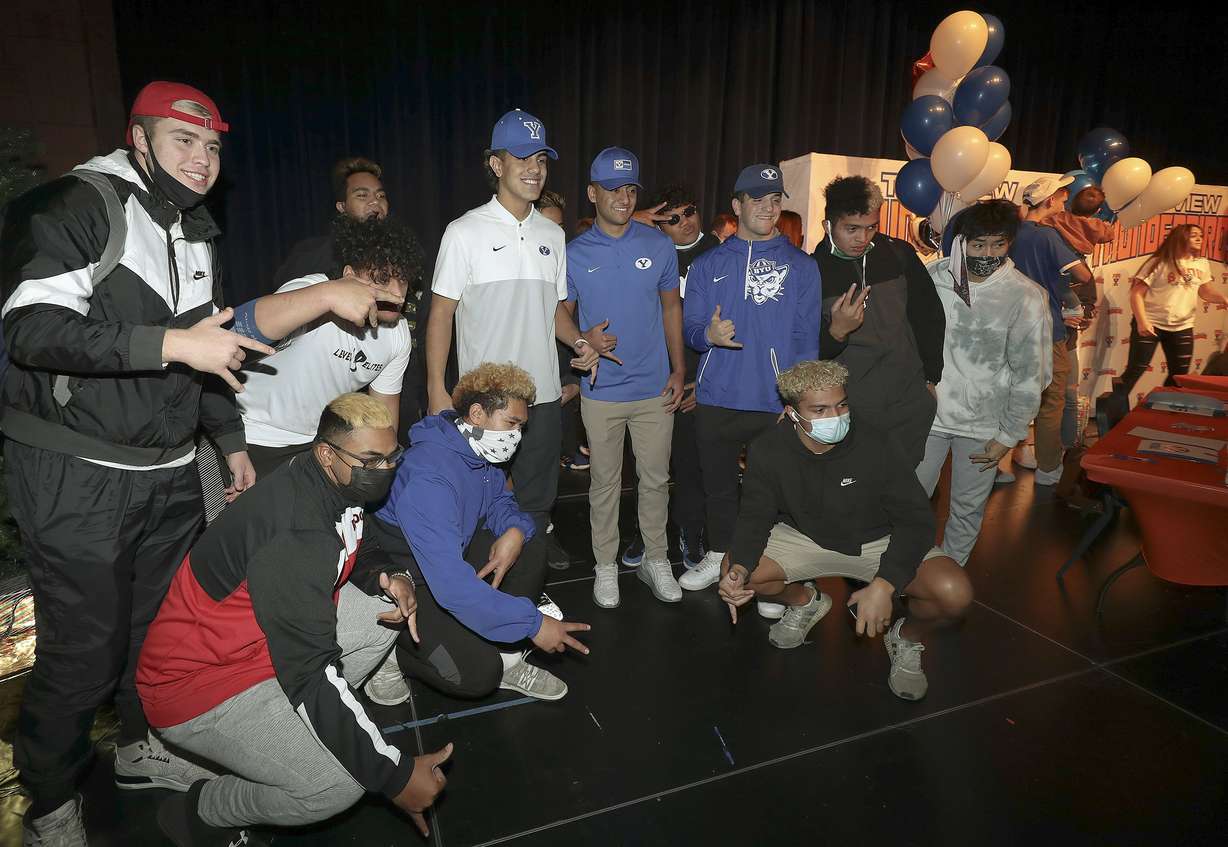 "I wanted to play with all my friends, especially towards the end of my senior season," Damuni said. "I didn't want it to be the last time I played with them. The opportunity to go to BYU and continue playing with them is a blessing.
"This is the pipeline. We're trying to start it up again, Timpview to BYU … It's great to see all this in-state talent staying home. There's nothing better than to see them go to BYU."
Eight of the Cougars' 16 early signees hail from the state of Utah, and another — offensive lineman Dylan Rollins — hails from Big Sky country, where he was the best prospect from Montana in six years, according to most major recruiting services.
"Coach Kalani keeping all these in-state players at home is great," said Damuni, who will graduate early and prepare to serve a two-year church mission. "I want it to be normal for in-state kids to stay home and to put on for their home college."
Sitake said he's happy to accept commitments from young players — the eighth or ninth graders, as was the case in a few from the Class of 2021. But he also understands when an early commitment to the university owned and operated by The Church of Jesus Christ of Latter-day Saints doesn't work out.
"If it's meant to be that they want to be at BYU, they'll wind up here," Sitake said. "We have a standard here, and we'll hang our hat on that. But we'll keep doing what we can to get players who can elevate themselves, both as a player and a student-athlete, to represent BYU and the church, living the honor code and things like that."
One thing BYU did not get with the 2021 class is a quarterback. Like most schools, the Cougars prefer to add a signal-caller in every class — something that becomes more valuable when juggling the number of scholarships and pre- and post-missionary service that is common in Provo.
The Cougars chased Corner Canyon star Jaxson Dart, but the four-star prospect and top-10 quarterback recruit nationally selected USC over offers from Arizona State, BYU and UCLA on Wednesday morning.
BYU has a fully stocked quarterback room. Even if starter Zach Wilson declares for the draft after a 10-1 season and next week's Boca Raton Bowl, the Cougars will still have backups Baylor Romney and Jaren Hall, as well as highly coveted freshmen Sol-Jay Maiava-Peters and Jacob Conover, the four-star quarterback who had offers from Alabama, Arizona State and others before serving a church mission in Paraguay, among others.
If the numbers will allow it — and they should, given the low quantity of the early signing period, where 80% of recruits nationally tend to sign each year, the head coach would also like to put walk-ons like Masen Wake and Gabe Summers on scholarship, as well.
But he won't stop looking for more talent, either — even at quarterback. That's part of the deal.
"Whatever position it is, they're going to join a room that brings them in like family," Sitake said. "So we'll keep recruiting. It's a daily thing, all the time."
×
Photos
Related links
Related stories
Most recent BYU Cougars stories