SALT LAKE CITY — Thousands of doses of the Pfizer COVID-19 vaccine arrived at Utah hospitals on Monday after the FDA gave its stamp of approval last week. Front-line health care workers at Intermountain Healthcare and other Utah hospitals started receiving vaccinations Tuesday. Utah officials anticipate a total of 154,000 total vaccine doses will arrive by the end of the month.
One Utah teacher and mom shares how she's approached her decision about getting the vaccine when the time comes.
"I got the flu shot. I get it every year. I teach. I don't want the flu! It's awful! I don't want this either," Jana White said.
White is a teacher at Corner Canyon High School. Her husband is an eye doctor and together they have three kids. They interact with a lot of people every day.
"All these classes have 25 to 40 kids in a class, the number of patients that go through my husband's office — you see a lot of people," she described. "As a teacher, I don't want to give it to my students or my fellow coworkers."
White says when it's her turn, she will get the COVID-19 vaccine. "We just looked at it from the facts, straightforward," she explained.
"My husband and I just paid attention because it affected us both at work, affects our kids at school," she said.
As a psychology teacher, White said, research and statistics matter. She says the vaccine trial size and efficacy has made her feel more comfortable. The Pfizer vaccine was tested in 44,000, half of which got a placebo.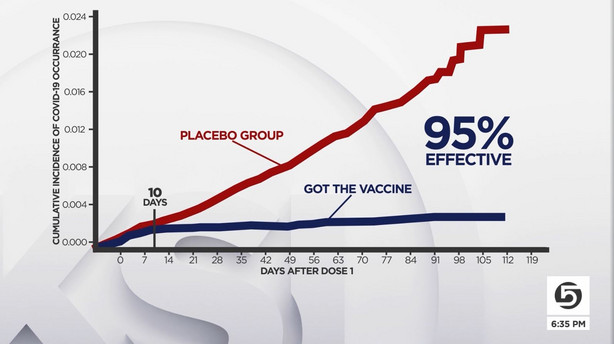 About 10 days after the first dose, there is a sharp divide between the number of people in the vaccine group and the placebo group who test positive for COVID-19. The red line in the graph below is the placebo group and the blue line is people who got the vaccine, illustrating 95 percent effectiveness across all ages, weights, and races.
The Pfizer vaccine comes in two doses. Dr. Tamara Sheffield is the medical director of community health and prevention at Intermountain Healthcare. She says it's vital that people follow up and get the second dose.
"You get a high level of antibody that they believe is protective," she explained.
Sheffield says research from the SARS outbreak in the 2000s helped pave the way to get a vaccine produced so quickly. "I have a lot of confidence in the process that has happened with this vaccine, even though it appears to be very fast. There's some great reasons for that," she said.
Sheffield says she trusts the FDA's process when it comes to making a decision because it's exactly the same as other approvals. "They're using that same process with that, those same third-party advisors. We have a lot of comfort that whatever decision they make is going to be as good as they've been in the past," she said.
Sheffield says some people who got the vaccine during the trials experienced an immune response. "Some people will … get a fever, they can get achy, they may even feel like going to bed for a day," she explained. But Sheffield says that's normal and for those in the trial, it resolved after 24 hours.
More Your Life Your Health:
"You don't have the infection, you don't have the disease, you just have exactly the same kind of immune response," she explained.
Intermountain Healthcare infectious disease expert Dr. Todd Vento says about 70-80% of people will need to get vaccinated for us to reach herd immunity and even encouraged people who have already had the coronavirus to still get vaccinated.
Until then, Sheffield says it will still be very important to wear masks, social distance and stay home if you're sick.
Like everyone else, White is anxious for the day when things will get back to normal and hopes the vaccine will play an important role in making that happen.
"I think we're all anxious to get back to not having to wear these (masks) and not looking at people weird walking by," she said.
×
Photos
Related Links
Related Stories