SALT LAKE CITY — Two Utah hospitals received the first round of COVID-19 vaccine doses and will begin to administer the vaccine Tuesday, Intermountain Healthcare officials said Monday.
The vaccine has already arrived at Intermountain's LDS Hospital in Salt Lake City and Utah Valley Hospital in Provo, said Dr. Kristin Dascomb, Intermountain Healthcare medical director of infection prevention for employee health.
Intermountain Healthcare officials originally said Monday morning that they believed the vaccine would be administered to health care workers Wednesday afternoon but adjusted that timetable Monday evening to Tuesday afternoon as a result of "progress in scheduling caregivers." The first vaccinations will take place at LDS Hospital.
"Today signals the beginning of the end of this pandemic here in Utah," said Dr. Eddie Stenehjem, an infectious disease physician for Intermountain Healthcare.
"This is a proud day for science and this is a proud day for medicine," he continued. "In 11 months, scientists have had a singular focus around the globe. We've all been focusing on SARS-CoV-2 and how to maintain the health of our communities."
Intermountain Healthcare experts spoke Monday just hours after an intensive care unit nurse in New York City became the first American to receive a vaccine outside of clinical trials. More than 23,000 vaccines are expected to arrive at five hospitals in the state this week after the Food and Drug Administration approved the emergency use of the vaccine last week.
Intermountain Medical Center in Murray and Dixie Regional Medical Center in St. George are the two other Intermountain-owned hospitals in the state that will receive doses from Utah's first round of vaccines. Dascomb said those hospitals are expected to receive vaccine doses Tuesday or by the end of the week.
University Hospital in Salt Lake City, which is overseen by University of Utah Health, is the other hospital in Utah that will receive vaccine doses from the state's first round of doses. Utah officials say they expect about 154,000 total vaccine doses to arrive by the end of the month.
How the vaccine will be administered
There is an extensive process to handle the COVID-19 vaccine safely. Dascomb explained vaccine doses that have already arrived were taken to the hospitals' pharmacies after material management teams received the shipment.
"This is to ensure both temperature stability and security of the vaccine," she said.
Before it can be administered, the vaccine will be thawed either at room temperature or in refrigeration. That process can take anywhere from 30 minutes to three hours, Dascomb said. After it is thawed, it will be placed in premeasured syringes to be administered within six hours of thawing "to ensure stability."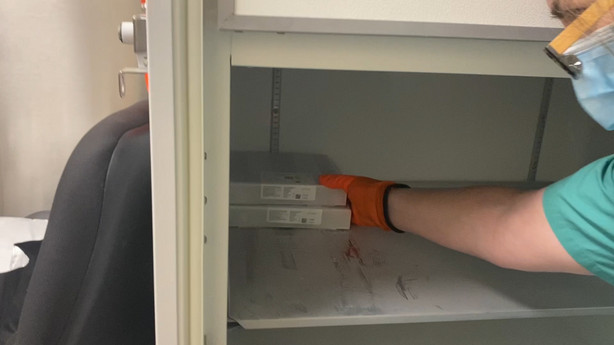 Once ready, it will be administered to health care professionals who are most at risk of COVID-19 exposure. They include doctors, nurses, technicians and anyone else who works closely with COVID-19 patients. A schedule will be put together to make sure there isn't any overcrowding at any facility where the vaccine will be administered, and that all hospitals will be appropriately staffed as vaccinations take place.
Intermountain plans to have a "robust tracking system" in place for health care workers with side effects to stay at home if they need to and report any adverse events to the Centers for Disease Control and Prevention, Dascomb added. Since the vaccine is administered in two rounds weeks apart, those who receive the vaccine will need to schedule a time to receive the second dose.
More on the way
Based on the first shipment and first month estimates provided by the state, it's expected that another 131,000 doses will arrive in Utah in the next two weeks.
There is a process as to how the vaccines end up in the arms of a hospital staff. For example, the vaccine doses Utah hospitals will get this week are to be divided up proportionately based on the hospital staff and COVID-19 risk.
"In the short term, it is based upon the number of workers and the number of patients that the hospital is taking care of with COVID-19," Dascomb explained. "In the initial, initial phases, it was allocated based on where those COVID-19 patients were and where our workers were most exposed."
This is also why different states will end up with different amounts of doses in the first wave. The New York Times compiled a list of vaccine amount estimates reported by all 50 states and other U.S. entities, such as territories, the Indian Health Service, Department of Defense and the Bureau of Prisons.
Not all states or entities have said how many doses they would initially receive. Utah expects 154,400 doses by the end of December, which is a little more than 65,000 Idaho is expected to receive and nearly 95,000 more than Montana. Utah's total is also well below the 2 million anticipated in California and 1.4 million in Texas — the country's two most-populated states; however, the Times noted, "because of the differences in reporting practices between states, and because all the numbers given were tentative, they should not be used to draw comparisons."
The five Utah hospitals that will receive the first wave of doses were selected before more hospitals began to accept COVID-19 patients. Work is underway to ensure other hospitals in the state receive the vaccine "immediately" as soon as more doses become available.
Utah Department of Health officials said last month that they anticipated another 30 medical facilities in the state would receive vaccines in the weeks after the first five hospitals received doses. That includes more Intermountain facilities, although Dascomb said not all of those facilities are equipped to handle the delicate vaccine. She didn't know when other Intermountain facilities would receive the vaccine doses.
"We are hoping by next week that we will have several more, but we don't have dates for any of the other (facilities) as of yet," she said.
Confidence in the vaccine
The COVID-19 vaccine broke all sorts of records to become available much earlier than vaccines are normally produced. This race to find a vaccine led to questions if shortcuts were taken that would result in safety concerns. Studies from the Pfizer/BioNTech vaccine showed there were side effects but the majority were mild in nature.
Intermountain's infectious disease experts "looked under the hood" and reviewed data by Pfizer, as well as a study in the New England Journal of Medicine, Stenehjem said. After reviewing the information, they all agreed that the vaccine should be administered.
"We all feel that this vaccine is safe and effective," he said. "We feel that this vaccine needs to be deployed in our health care settings and in our communities as soon as possible. And just to reassure everybody, we also will be getting this vaccine as soon as it is available to us. We have absolutely no hesitation to be personally vaccinated with this vaccine."
Three other vaccines are in the works beginning with the Moderna vaccine, which could be approved this week.
Regardless, all COVID-19 vaccines leave important questions. Scientists still don't know how long protection as a result of the vaccine will last or if it will prevent SARS-CoV-2 infection or just avoid sickness from it. Stenehjem said those are questions that likely won't be answered for "quite some time" and added just because a vaccine is now available does not mean scientists are finished studying COVID-19.
"The light at the end of the tunnel"
Not long after Intermountain's press briefing, Utahns were reminded that the vaccine breakthrough isn't the end of the COVID-19 pandemic. Nearly 2,000 new cases were identified Monday with seven new deaths reported. Since March, 235,872 cases of the coronavirus have been reported with 1,062 cases ending in death.
An estimated 56,415 cases are currently active, which represents more than one-fifth of all cases to date. Utah health leaders said they were relieved to not see post-Thanksgiving spikes to the level they had feared.
---
Think of this vaccine as the light at the end of the tunnel; however, that tunnel we're in is still quite long.
–Dr. Eddie Stenehjem
---
Stenehjem credited Utahns with following the advice of health care professionals to help lessen the impact of COVID-19 cases from holiday gatherings. He urged Utahns to do the same for the December holidays.
Even with the positive news Monday, hospital workers are still left with a grim reality. Stenehjem said community transmission is still "very, very high" and ICU utilization at the state's 16 referral hospitals was 101% Monday morning. It remains high at all hospitals in the state, as well. It's added to an already exhausted health care system.
It's why health care experts celebrated the arrival of the vaccine but reminded Utahns that it only signals the end — and isn't the end. They urge Utahns to keep wearing masks, washing their hands frequently and socially distancing from others. They also urge Utahns to avoid gatherings with outside households.
"Think of this vaccine as the light at the end of the tunnel; however, that tunnel we're in is still quite long," Stenehjem said. "We're still months away from widespread vaccination in our communities."
×
Related Stories