Estimated read time: 5-6 minutes
This archived news story is available only for your personal, non-commercial use. Information in the story may be outdated or superseded by additional information. Reading or replaying the story in its archived form does not constitute a republication of the story.
This story is sponsored by Robert J. DeBry—more than 200 years of combined experience practicing personal injury law.
It's not just a license plate slogan; Utah really may have the greatest snow on earth. According to The Leonardo Museum in Salt Lake City, there's actually a science to the snow. The climate conditions specific to the Wasatch Front produce a snow that's perfect for skiing and snowboarding.
But those delicately balanced climate conditions aren't immune to change, and you might be noticing a difference in temperatures, precipitation and seasonal patterns in general. If so, it's not in your head—Utah's winters really are getting warmer.
It's getting hot(ter) in here
Utah isn't the only place in the world experiencing warmer temperatures—far from it. Climate.gov reports the combined global land and ocean temperature has increased at an average rate of 0.07 degrees Celsius per decade since 1880. That said, temperatures have risen at twice that rate (0.18 degrees Celsius) since 1981, with the 10 warmest years on record occurring since 1998—and nine of the 10 occurring since 2005.
Across Utah, if 2020 has felt hotter, that's because it was. This year's August was the warmest on record in Utah in 146 years of reporting, with daily highs averaging 96.5 degrees Fahrenheit, reports KSL.com.
Baby, it's (not as) cold outside
With yearly average temperatures rising, the chilliest months of the year are getting warmer too—particularly in the coolest regions. New York Times reports that, while winters in the United States have gotten warmer over the last 30 years, the coldest parts of the country have warmed the most. While Utah has not warmed at the rate of some areas of the country—like the Northern Great Plains— it's seen its share of rising temps.
This phenomenon is consistent with global trends, particularly because, as National Oceanic and Atmospheric Administration (NOAA) scientist Jake Crouch told the New York Times, "In general, northern latitudes are warming faster than southern latitudes. Interior locations are warming faster than coastal locations."
Watch for La Niña
The NOAA states that La Niña – conditions characterized by unusually cold ocean temperatures in the Equatorial Pacific – will likely be in effect during the 2020-2021 winter. What that means for Utah winter is, well, no one really knows.
Theoretically, La Niña produces cold, snowy weather in some regions, with warmer, drier conditions in others. Historically, Utah is a wildcard when it comes to La Niña. During the La Niña winter of 2010 – 2011, Snowbird received a record 783 inches of snow, according to Reuters. The same resort reported one of its worst snow years of just 390 inches in 2017 – 2018, according to On The Snow, a skiing blog. That season just so happened to be a La Niña year too. So, if you're looking for a solid 2020 forecast, you're probably not going to find one. But hey, in a year of continual uncertainty, why wouldn't the weather get in on the action?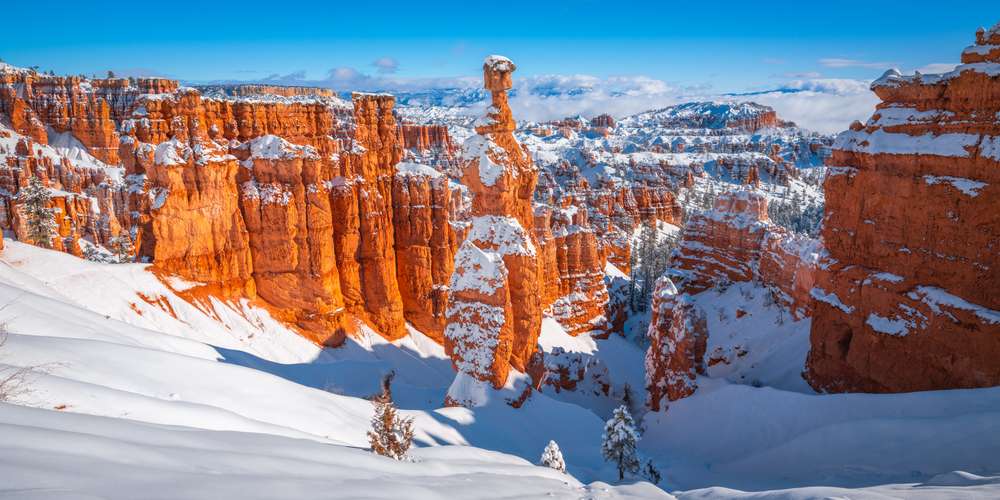 Let it snow...please?
It's not easy to plan around the concept of "anything could happen," particularly for the winter sports industry. But warming temperatures and less-predictable weather patterns certainly affect the ski and winter sports industry in Utah – one that contributed over $1.3 billion in total visitor spending in the 2017 – 2018 season, according to Ski Utah.
The snow sports industry hinges on the greatest snow on earth, produced right here on the Wasatch Front. But as Utah Public Radio reports, winters are starting later, and the ski season is shrinking here in Utah.
Brian McInerney, a hydrologist with the National Weather Service Forecast Office in Salt Lake City, told Climate.gov that Utah's not changing much in terms of how much precipitation falls—just the form it's falling in.
He predicts, by the year 2100, that snow will no longer fall along the Wasatch Front—just rain. The elevation line for snow will be much higher by the end of the century. In short, the mountains will still get snow, but the valley will not.
Settling in for the season
Of course, even if Utah's winters are slightly warmer and shorter these days, don't plan on tossing your down coats and sheepskin boots any time soon. While National Oceanic and Atmospheric Administration predicted a drier winter for Southern Utah this year, the rest of the state has a 50/50 shot at wetter or drier conditions during the 2020 – 2021 season. With Utah's snowpack levels getting a "C grade" at the end of last winter, a wetter winter would certainly be welcome in the Beehive State, according to a Deseret News article.
How this year will shake (or rain or snow) out is anyone's guess. Utah has already experienced some dramatic climate swings in 2020 – like the arctic winds that toppled trees and caused widespread power outages in early September.
The bottom line? When it comes to Utah's warming, shortening seasons, a looming La Niña and 2020's signature craziness, this winter, the only thing you can count on is unpredictability.
×
Most recent News stories
More stories you may be interested in