Estimated read time: 5-6 minutes
This archived news story is available only for your personal, non-commercial use. Information in the story may be outdated or superseded by additional information. Reading or replaying the story in its archived form does not constitute a republication of the story.
SALT LAKE CITY — Baking cookies during the Christmas season is a tradition for many, but have you ever wondered how this tradition started?
According to History.com, baking cookies during the winter season began before the Middle Ages when people would gather to celebrate the winter solstice. Along with the celebration came a feast, of course, and with the feast came plenty of delicious baked goods. As the years went on, the desserts evolved into including delicious little pastries, or cookies, which were easily shared with friends and neighbors.
In the U.S. and around the world, many people join in the tradition of getting in the kitchen for some holiday baking, spreading cheer (and plenty of flour) along the way.
If you don't already have a favorite family cookie recipe, here are 15 registered dietitian-recommend Christmas cookie recipes to make this holiday season. So get your aprons on and your mixing bowls out, and get baking.
1. Classic Sugar Cookies via registered dietitian Sarah Pflugradt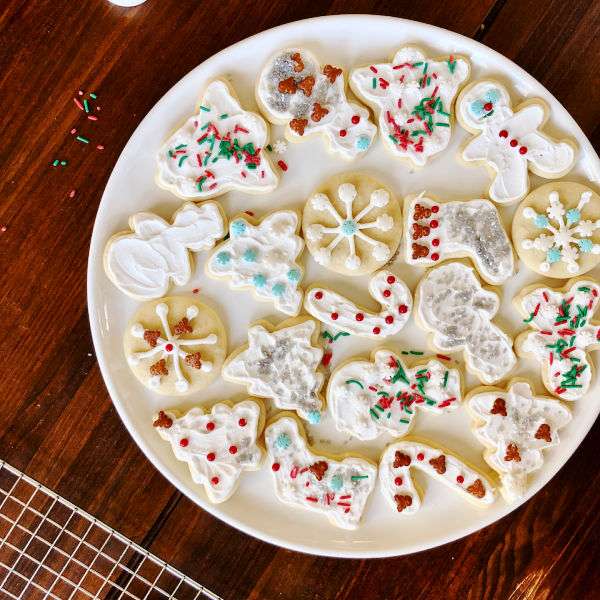 These classic sugar cookies make for a perfect family activity. You can gather the kids in the kitchen to help add the ingredients to the bowl, then let them help roll out the dough. They'll love cutting out the different shapes and decorating them after they're baked, too.
2. Maamoul Cookies (Date Filled Cookies) via registered dietitian Roxana Begum of The Delicious Crescent
Maamoul are traditional middle eastern shortbread pastries usually filled with dates or nuts. Begum's recipe yields soft, buttery cookies with a sweet date filling when you bite inside. Sprinkle some powdered sugar on top and they're ready.
3. Cranberry White Chocolate Walnut Cookies via registered dietitian Jenny Shea Rawn of My Cape Cod Kitchen
White chocolate and cranberry belong together like peanut butter and jelly. Add in some crunch with walnuts, and you've got a scrumptious Christmas cookie. You can bake them all at once or freeze some of the dough in balls for later.
4. Chewy Chocolate Cherry Cookies via registered dietitian Anne Mauney of FANNEtastic Food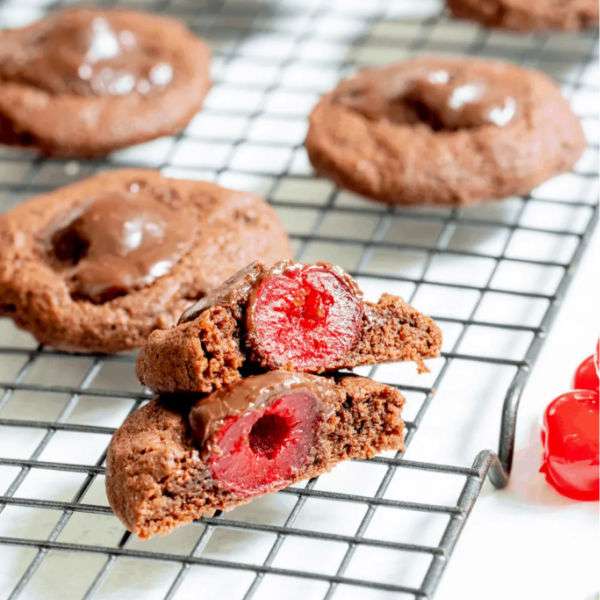 If you are a cherry lover, then this is the Christmas cookie recipe for you. Plump, juicy cherries are surrounded by decadent chocolate in this recipe, making them perfect for holiday baking.
5. Chocolate Almond Cookies via registered dietitian Liz Weiss of Liz's Healthy Table
These cookies are not only delicious, but they're also made with simple, wholesome ingredients. Bake them for yourself at home, or you can do as Liz suggests and layer the dry ingredients in a mason jar and give them as a gift this holiday season.
6. Mom's Nut Cups via registered dietitian Peggy Korody of RD 4 Health
These cute little nut cups are made using a mini muffin tin and make for a special treat during the holiday season. Pick whichever nuts you prefer to make the filling with, but Peggy suggests walnuts or pecans.
7. Holiday Sprinkle Cookies via registered dietitian Maggie Farley of Meals with Maggie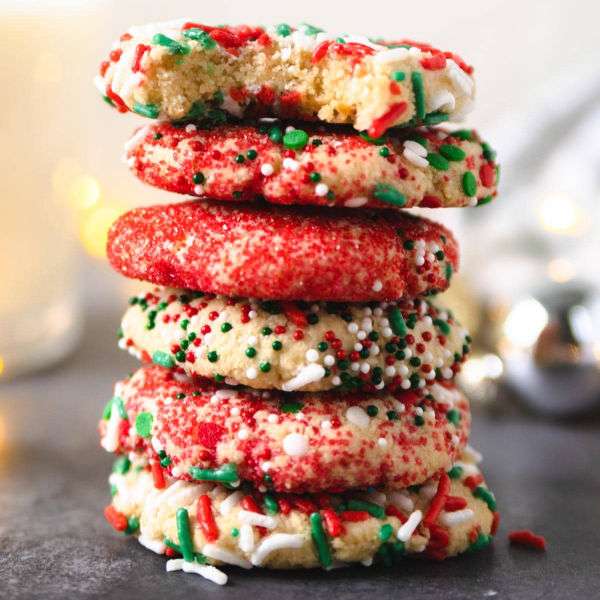 Kids (and adults) will love these fun and festive sprinkle cookies. With a sugar cookie base, these cookies are wrapped in red and green sprinkles to get everyone in the holiday mood.
8. Chocolate Dipped Oreos via registered dietitian Rebecca Clyde of Nourish Nutrition Co.
Okay, so you're not really baking cookies with this recipe, but these fun cookie treats make for super easy and delicious holiday gifts.
9. Chocolate Cherry Almond Biscotti via registered dietitian Judy Barbe of LiveBest
What better type of cookie to dunk into some milk than a crispy biscotti? This twice-baked cookie hits all the right notes of sweet and crunchy, and it will have your kitchen smelling like a Christmas bakery.
10. Sugar Crunch Cookies via registered dietitian Nina Mills of Feel Good Eating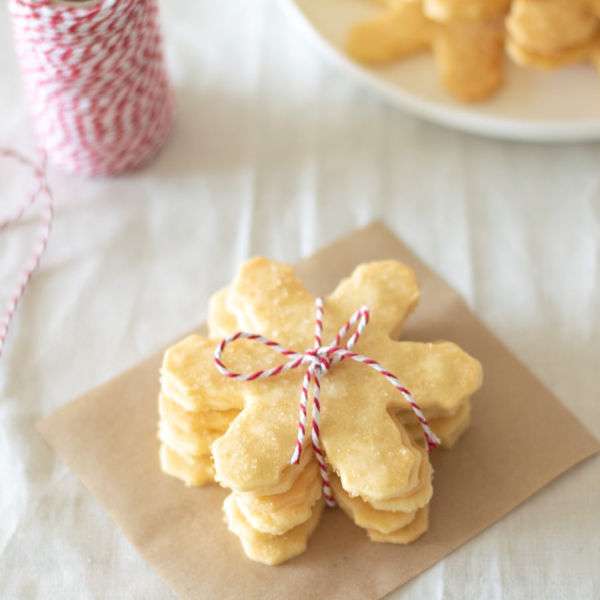 If you aren't into the traditional Christmas sugar cookies, give these sugar crunch cookies a try. All the same great flavor of the classic — but crispy and light. There's no need to decorate these, either. They're ready to go after they're baked and cooled.
11. Oatmeal Cookie Cups with Chocolate Mousse Filling via registered dietitian Abbey Sharp of Abbey's Kitchen
Take your oatmeal cookies to the next level with chocolate mousse-filled cookies. If you don't have a piping bag at home, you can use Abbey's tip of using a plastic sandwich bag and cutting off the tip of the corner. Just like that, you've got a DIY piping bag ready to fill your cookies.
12. Oatmeal Raisin Peppermint Cookies via registered dietitian Sarah Schlichter of Bucket List Tummy
This recipe takes traditional oatmeal raisin cookies and gives them a Christmas twist with a dose of peppermint. Along with some peppermint extract, Schlichter sneaks in some chopped chocolate mints to the dough.
13. Irresistible Chewy Gingerbread Cookies via registered dietitian Andrea Mathis of Beautiful Eats & Things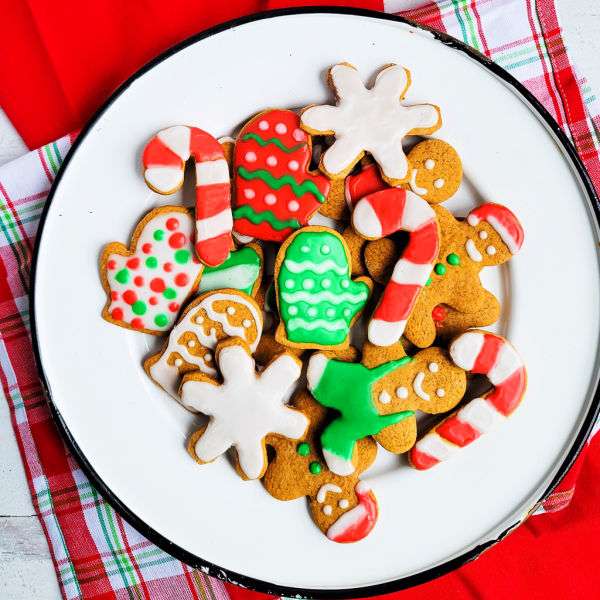 ---
Gingerbread cookies are a must on every holiday baking list. Mathis says the trick to making these cookies perfectly chewy is the baking time, which depends on how thin the cookies are. Be sure to keep an eye on them in the oven so they won't turn out too crunchy.
14. Brown Butter Cardamom Cookies via registered dietitian Dixya Bhattarai of Food, Pleasure and Health
With only six ingredients, these perfectly spiced cookies are simple to make, and they taste delicious. The browned butter takes the flavor of these cookies to the next level, leaving them melting in your mouth and asking for more.
15. 5 Ingredient M&M Christmas Cookies via Mary Ellen Phipps of Milk & Honey Nutrition
The kids would love to leave Santa a plate of these fun peanut butter cookies. Make sure to use red and green M&Ms for extra festive cheer.
---
---
Editor's Note: Anything in this article is for informational purposes only. The content is not intended, nor should it be interpreted, to be a substitute for professional medical advice, diagnosis, or treatment. Always seek the advice of your physician or other qualified health provider with any questions you may have regarding a medical condition; Any opinions, statements, services, offers, or other information or content expressed or made available are those of the respective author(s) or distributor(s) and not of KSL. KSL does not endorse nor is it responsible for the accuracy or reliability of any opinion, information, or statement made in this article. KSL expressly disclaims all liability in respect to actions taken or not taken based on the content of this article.
×
Photos
Related stories
Most recent Lifestyle stories