SALT LAKE CITY — Another conference is opening up its scheduling flexibility to try to schedule more football games during the pandemic.
The Pac-12 is going to allow nonconference games, which could lead to football contests between BYU and Utah, or Oregon, or USC, if all teams meet several parameters for testing and attempting to schedule other conference opponents.
The plan, which was given the blessing by the league's athletic directors and finalized Thursday, would allow league schools to reschedule canceled contests, including against nonconference opponents, in the event of a cancellation.
But before scheduling Utah to play at BYU or Oregon to play at Boise State, know that won't happen. Among other parameters, the Pac-12 school must be the host of these contests, as addressed in the following criteria from Pac-12 headquarters:
All Pac-12 testing and related protocols must be adhered to by the non-conference opponent;
The nonconference game will in all cases be a home game for the Pac-12 team, broadcast by a Pac-12 television partner; and
If a Pac-12 opponent becomes available by the end of day Thursday in any given week, the conference game must be played in lieu of any nonconference game.
"The Pac-12 is committed to maintaining maximum flexibility to provide our football student-athletes with an opportunity to compete, while continuing to ensure that health and safety remains our number one priority," Pac-12 commissioner Larry Scott said in a prepared statement.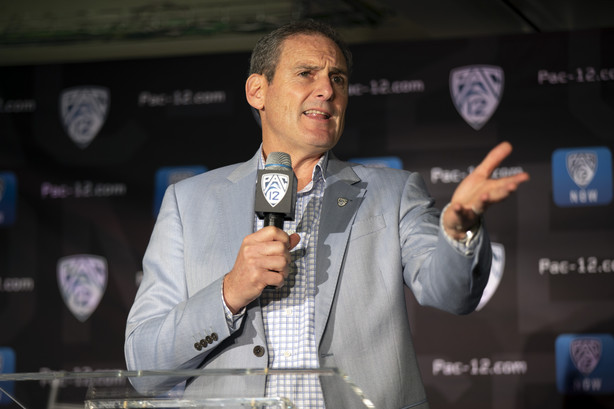 The last one, perhaps, is the most interesting item: if a game is canceled and rescheduled with a nonconference opponent — but a second conference opponent becomes available by Thursday (or about 48 hours before kickoff, in most cases), that school must play the conference opponent instead of the nonconference game.
As an example, Utah — which has had its first two games canceled against Arizona and UCLA — could replace a Pac-12 game with BYU. But if a second Pac-12 school becomes available by or before Thursday, the Utes must play that game in lieu of the annual rivalry game.
Still, the door has been opened for more Pac-12 games, which could become a necessity for the conference to vault back into the College Football Playoff discussion. Currently, only No. 11 Oregon is considered in any sort of contention for such a berth — but a win over, say, No. 7 Cincinnati or No. 8 BYU could catapult other teams (including the Ducks) further up the rankings, to contend with the likes of No. 1 Alabama, No. 2 Notre Dame, No. 3 Ohio State or No. 4 Clemson, for such a berth.
With such challenges and criteria, then, the rescheduled game would need to be mutually beneficial to both parties.
"Right now, would we play Bemidji State just to play a game? There's all kinds of things you've got to factor," BYU athletic director Tom Holmoe told CBS Sports' Dennis Dodd less than an hour before the Pac-12's announcement. "For the right team at the right place at the right time? That's just our attitude. It's not anywhere anytime."
BYU, which is scheduled to host FCS North Alabama on Saturday, has openings the weekend of Nov. 28 and Dec. 5, as well as Dec. 19, which is currently the scheduled date of the Pac-12 championship game.
"BYU remains open to exploring options to add football games this season with schools from any conference playing non-league games, including the PAC-12, and will evaluate week-to-week," a BYU spokesperson said in a statement.
A BYU school spokesman told me today, "BYU remains open to exploring options to add football games this season with schools from any conference playing non-league games, including the PAC-12, and will evaluate week-to-week."

— Heather Dinich (@CFBHeather) November 19, 2020
×
Related Links