PROVO — For the past 28 years, Trent Ladle has spent every Saturday in the fall rounding up various friends and family members and driving to LaVell Edwards Stadium as a BYU football season ticket holder.
For much of that time in recent years, he's started at his home in Stansbury Park and picked up his son, a nephew and close friend Brad Warner in Magna, and the group has made the hour-long trip to Provo.
So when BYU announced before their sixth game of the 2020 season that the Cougars would finally allow a limited number of spectators for Saturday's late-night kickoff against Texas State, they knew they had to be there.
It didn't matter that the weather would be cold. It didn't matter that the 8:15 p.m. kickoff meant they wouldn't get home until well after midnight. It didn't even matter that Texas State was 1-5 and in the bottom half of the Sun Belt Conference, or that BYU was projected to win by nearly 30 points before the Cougars cruised to a 52-14 win over the Bobcats. They just knew they had to be there.
"We just wanted to be here," said Ladle, one of the limited-capacity crowd of 6,570 who attended Saturday's game. "When Tom Holmoe sent out a survey telling us what we needed to do to get here, I was willing to do anything to watch the Cougars.
"Some people spend their extra money on hunting or golfing. But I literally save my money to support BYU sports. When it all got shut down, I didn't know what I was going to do. My whole year is scheduled around BYU football."
Warner and Ladle pulled into the stadium parking lot about two hours before kickoff, with plenty of time to peer over the fences from a responsible social distance at the Cougars and coaches during the pregame (virtual) Cougar Walk. And they were among the first fans to enter the stadium around 7 p.m. when ushers began scanning tickets.
Even if seats were assigned and strictly enforced in a contact traceable, near-empty stadium, Warner wanted to feel the electricity of BYU's best start in over a decade, matching the 6-0 start of the 2008 team that finished ranked in the AP Top 25.
The spartan crowd was noticed, too, as BYU head coach Kalani Sitake beamed when thinking about the crowd following his celebration in a victorious locker room.
"It was awesome," Sitake said. "It was so good to see our fans — just like in Houston, but good to see them here. They made a lot of noise … That 6,000 that came made a lot of noise, and I'm happy they were able to enjoy the game.
"We've had a lot of games without fans, and I'm grateful they came and stayed late. I appreciate all the fans; it means a lot to us."
Neither quarterback Zach Wilson, who threw for 287 yards and four touchdowns on a 19-of-25 clip, nor the BYU offense that piled up 579 yards, left anyone disappointed.
"I think what they've done this year so far has been tremendous," Warner said. "We always go into it thinking that this is the year — and then something happens. But this is the year; we're seeing it."
The duo bought $20 tickets when Ty Detmer led the Cougars over then-No. 1 Miami in 1990, through the highs of subsequent seasons — like Steve Sarkisian and the 1996 Cotton Bowl squad — and even through the lows of more recent seasons.
Fair or not, blue-goggled or not, watching Wilson and that offense has rekindled some of those memories.
"I hate to put so much pressure on the offense, but it's bringing me back to Ty Detmer — it really does," Ladle said. "For me to look and see it, I think Zach and the offense is going to move the ball down the field."
Warner and Ladle have a hotel room booked in Boise, Idaho, for the weekend of Nov. 7 — if the Broncos and the Mountain West will allow spectators at that game.
"We've got our bags, and we're ready to go," Warner said. "That's us."
If not, they'll have a party again — much like the party the 6,000 spectators threw Saturday night as the Cougars romped past the Bobcats (1-6).
For many of the fans, the return of spectators — even at roughly 10% of the stadium's capacity — was a welcome return to some sense of normalcy that has been missing during the novel coronavirus pandemic. While masks were required and social distancing was strictly enforced, the basics were there: from the band to the cheerleaders on the upper concourse to a smaller-but-lively student section, including three freshmen who made their first foray into BYU football of their college careers.
"It's been tough to have some of those iconic freshmen things taken away from us," said Livia Hamilton, a freshman from Louisiana. "To be able to be at a game as a BYU student is super fun — even if we have to socially distance. It's still one of those things that we can knock off our bucket list.
"It's definitely more normal to be in a stadium and back with people."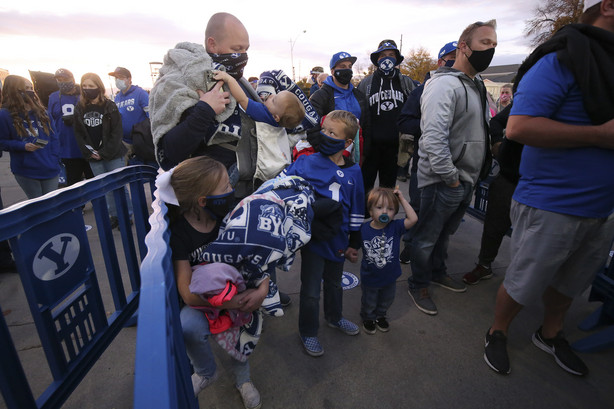 Like the long-time season-ticket holders, the Utah newcomer received tickets with two of her close friends this semester, and the trio found their seats over an hour before kickoff to make sure they experienced every moment of their first live college football game of the year.
"I didn't grow up as a BYU fan, and I'm super new to BYU and BYU football," said Kimberly Aliaga, a freshman from Virginia. "It's amazing how well they are playing this season, and to be at the stadium is really cool."
Their friend Lucy Morse had other reasons to join them, too: She grew up in Austin, Texas, and many of her friends matriculated to Texas State in San Marcos when she graduated high school and departed for Provo.
"It's like we get a taste of freshman year," Morse added. "I have a ton of friends who were at the Houston game, and I was just jealous they got to go to a BYU game before I did."
There's only so much fun one can have over the television. Being in the stadium Saturday night — even with early-morning church meetings the next day — was worth the (extended) wait.
"I'm excited to see what this team can do, in-person," Warner said. "To actually see them in person, socially distanced, is obviously better than to see it on Memorex.
"I'm just so excited."
Next up: Oct. 31
No. 12 BYU (6-0) vs. Western Kentucky (2-4)
Kickoff: 8:15 p.m. MDT
TV: ESPN
Streaming: WatchESPN
Radio: BYU Radio, KSL Radio
×
Photos
Related Links