PROVO — For five weeks, BYU football players have wanted just one thing.
They've pleaded with coaches, media, school and athletic department administrators — even the governor of the state of Utah.
They want to play in front of spectators — at the very least, their family and close friends. And for five weeks, they've been denied.
Until this upcoming weekend.
BYU will play host to about 6,000 fans — roughly 10% capacity of LaVell Edwards Stadium — thanks to modifications made to Utah Gov. Gary Herbert's coronavirus response plan known as the COVID-19 transmission index.
"I, too, wish that your moms, dads, family and friends could be there to see you play in LaVell Edwards Stadium," Herbert said recently in a video posted on Twitter. "I, too, am a season-ticket holder — and I will miss being able to cheer you on in person.
"This national pandemic has brought challenges to everyone. It's been disruptive and discouraging, and it certainly takes a lot of the fun out of our normal routines — including football games."
I appreciate it @GovHerbert 🤙🏽 #GoCougshttps://t.co/klKRhT517m

— Lorenzo Fauatea (@ZFauatea) September 26, 2020
It will be the first time BYU allows any fans into the stadium during the novel coronavirus pandemic. But it may not be the last, depending largely on COVID-19 infection rates and suggestions from state and local health departments.
"BYU will consider increasing attendance at future home games as the season progresses," BYU spokesperson Duff Tittle said in a statement, "based on the new state COVID-19 transmission index metrics and the guidance of state and county public health officials."
The announcement of spectators, which was made Saturday, won't be enough to welcome a sold-out crowd to rock LaVell Edwards Stadium on a mid-October night. But it will at least allow players to bring their families to the nationally televised 8:15 p.m. MT kickoff on ESPN, as well as those who previously purchased tickets for BYU's home opener against Troy.
The Cougars' first game in front of spectators came Friday night in Houston, which just over 10,000 fans were welcomed to the stadium.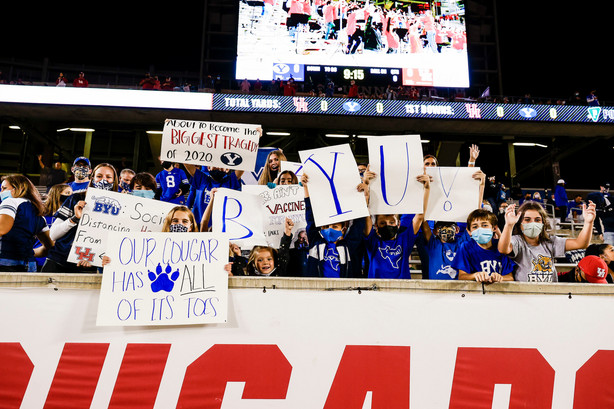 In that game, a 43-26 win that inched BYU up to No. 12 in the AP top 25, the blue-clad Cougars rallied for 29-unanswered points to hand the red Cougars their first loss of the season. After facing their first double-digit deficit in the first five games of the year, it was the energy of the crowd — which was visually split between the red and royal of the two Cougar fanbases — that helped spark the comeback, according to wide receiver Dax Milne, who caught a career-high nine passes for 184 yards and three touchdowns.
"It for sure helped us dig deeper, and helps us compete when you hear a bunch of people who have the same love for BYU football as you do," said Milne, who became the first BYU receiver with three receiving scores in a game since Mitch Mathews in 2013. "It creates an exciting atmosphere and it helps our play."
Saturday night in Houston was the first time the Cougars played in front of any spectators, and the close to 10,000 fans at TDECU Stadium were split between blue and red Cougars. At one point, BYU fans even took over the stadium with an a capella singing of the Cougar fight song after a touchdown — a moment that was caught through the crowd microphones for TV and radio.
It was noticed by the BYU players — and so, too, will be the 6,000 fans at home this weekend.
"It's a lot better than the white noise that they play in the stadium," BYU defensive lineman Zac Dawe joked before turning serious. "The fans were awesome, to see people there from all over, representing BYU and coming out. We can hear their voices, we can feel the energy.
"The stadium was loud. That's a huge shout out to the BYU fans."
On the air
No. 12 BYU (5-0) vs. Texas State (1-5)
Kickoff: Saturday, Oct. 24 at 8:15 p.m. MT
TV: ESPN
Radio: BYU Radio, KSL Radio
Series: First meeting
×
Photos
Related Links