PROVO — To start with the honest truth, BYU's home game this weekend isn't the biggest one on the schedule.
It's not — or at least, it shouldn't be — the toughest game on the Cougars' schedule, which currently stands at 10 games, plus a potentially rescheduled matchup with Army. While the Texas State Bobcats offer their own offensive system, their own quirks, and their own game plan, they won't — or shouldn't, according to most outsiders — rise to the level of Houston or Boise State, or even Navy.
That could make it really easy to look ahead on the schedule, say, to a Nov. 12 road trip to the blue turf in Boise. But in many ways, that's what makes Texas State, which is just 1-5 after a 30-20 loss to South Alabama a week ago, that much more dangerous.
"This is a really good Texas State team," BYU safety Zayne Anderson said of the Bobcats, who average 28.0 points and allow 31.7 per game. "We're not worried about the future. We've seen it in the past, where we win big games and then lose games we shouldn't lose.
"I think it just comes down to focusing on each game and taking each team seriously."
The biggest danger the Cougars face this weekend is a letdown — and that affliction has struck them in recent years.
Toledo. South Florida. UMass. The schools that dot that portion of BYU's record under head coach Kalani Sitake are numerous.
It wasn't long ago that BYU was one of those "lower-tier schools," with a program that is just three years removed from a 4-9 season that caused a staff shakeup on the offensive side of the ball and eventually led to a team that has been hurdling up the national polls.
Now, they'll be hunted by the Bobcats, looking for their first win over an Associated Press Top 25 opponent in nine tries. The No. 12-ranked Cougars will be the favored team — by as much as 30 points, in some corners of Southern Nevada — when the one-time Division II power under the late coach Jim Wacker visits Provo for the first time ever, aided by the return of 6,000 spectators at the limited-capacity LaVell Edwards Stadium.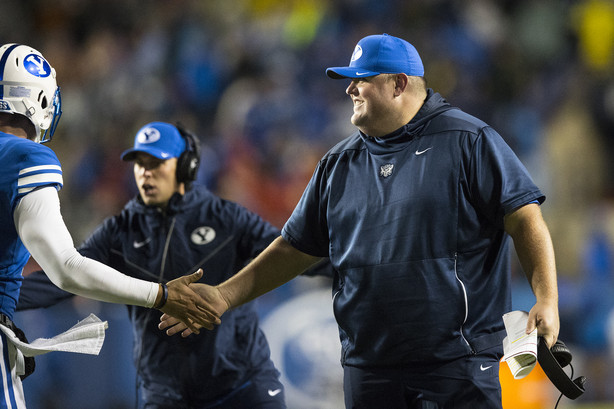 "There's a lot of tradition in that program," said BYU offensive line coach Eric Mateos, who recruited many of the Bobcats' juniors and seniors to San Marcos prior to landing in Provo. "They won a D-II national championship, and that banner is still on the wall. A lot of NFL guys went there.
"It's a place with a lot of history and a lot of talent, and they're starting to put it together. I root for those kids every week but this week. And a lot of people there love it. … It's a lovely place to live, and I enjoyed my time there. It's not just a place with a lot of nobodies. There are a lot of good players there."
Still, Texas State will be the underdog for a reason. The Bobcats play a lot of young players under second-year head coach Jake Spavital, who previously worked as Dana Holgorsen's offensive coordinator at West Virginia, as well as leading high-flying offenses at Houston and Oklahoma State.
Due to several reasons — injuries and COVID-19 among them — Texas State may be forced to dress as few as six defensive backs, Spavital said, for a game where they will arrive in Provo later Friday and attend late-night team meetings to adjust to the 8:15 p.m. scheduled kickoff.
Spavital knows what he's getting into.
"They're fun to watch," the second-year Bobcats coach said of the Cougars. "This is the lesson I've been telling our kids, too: Look at all the experience that this team has. There are a lot of players with over 40 games of experience.
"Their offense is very explosive. Their quarterback Zach Wilson is going to be in the Heisman conversation. He's fun to watch; I'm a big fan of quarterback play, and he's one of the better ones out there. He's comparable to Trevor Lawrence and Justin Field — he's getting into that category by the numbers that he's putting up. But what makes him really special in my mind is that they can do anything with him. They can spread it out, he can get 11 personnel, and he can do all the play action or boot legs, and then do everything under center."
After averaging 43.6 points per game and allowing just 14.0 on the other side of the field, the Cougars have their highest ranking in the AP Top 25 since 2008 — when they finished 11-2 in a loaded Mountain West Conference.
But after enduring back-to-back 7-6 seasons following that 4-9 performance, BYU is trusting in Mateos' personal philosophy: don't drink the poison. Just focus on the next game.
For now, that means Texas State.
"I don't see anyone drinking the poison," offensive lineman Chandon Herring said. "Nobody cares what you've done; they only care what you are going to do. We only focus on who our next opponent is and what we can get better at."
HOW TO WATCH, LISTEN, STREAM
No. 12 BYU (5-0) vs. Texas State (1-5)
Saturday, Oct. 24
Kickoff: 8:15 p.m. MT
TV: ESPN (Dave Flemming, Rod Gilmore, Stormy Buonantony)
Streaming: WatchESPN
Radio: BYU Radio, KSL Radio (Greg Wrubell, Riley Nelson, Mitchell Juergens)
Live stats: Game Center
Series history: First meeting
Weather: Partly cloudy, high of 65 degrees, 20% chance of showers
×
Related Links