PROVO — One of the hardest things a football coach has to do is make in-game adjustments.
Think about it: After planning and scheming for an entire week about attacking an opponent's defense, or defending an opponent's offense, sometimes it becomes pretty evident that the plan just isn't working.
Sometimes, even the base formation is part of the problem.
Such was the case in BYU's 43-26 win at Houston on Friday night. The Cougars entered their most difficult game to date with a three-man defensive front, relying on a "drop-eight" mentality to help slow or limit Houston quarterback Clayton Tune and a bevy of pass catchers like Christian Trahan and Nathaniel Dell.
But after Tune capped a 23-0 run to go up 26-14 late in the third quarter, it was evident something wasn't working.
So, the coaches made some adjustments. One of those adjustments involved moving the defensive backfield from zone coverage to man-to-man defense. Essentially, that leaves each cornerback on an island and limits the safety's ability to cover and assist.
And it worked like a charm.
"It was a coverage we planned on running a lot. We strayed away from it, and then came back to it, and it worked really well," said safety Zayne Anderson, the former Stansbury High standout who moved back from linebacker to free safety this season. "It was my first time running that coverage in my time at BYU, and I think it was really fun.
"We have capable guys out there who can play man. I've got all the faith in the corners and nickels … as a free safety, I can trust those guys. I think the coaches see that, too."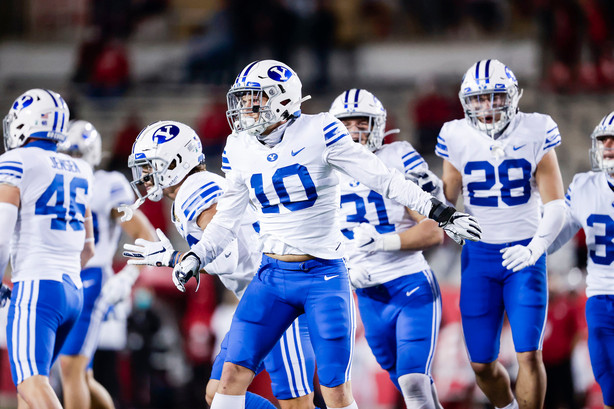 BYU coaches didn't move to the new coverage without any preparation, of course. But after playing mostly zone defense in the first four games of the season, the shift to man-coverage was just that — a change.
Fortunately, they also had the personnel for it — like Chris Wilcox, the 6-foot-2, 195-pound senior from Fontana, California, who redshirted the 2019 season with an injury and has played in every game as the Cougars' lockdown cornerback on the left sideline.
"They told us at the beginning of the week that we were going to do some man," Wilcox said. "I know we've been playing a lot of zone. But going into halftime, I knew we were going to play a lot of man. I guess It kind of worked out for us."
Assistant head coach Ed Lamb said Monday during his Coordinators' Corner show that those adjustments don't usually involve scrapping the previous plan, but "moving something from page 3 to page 1," or the like. Defensive coordinator Ilaisa Tuiaki added that those adjustments come in the coaching staff working collaboratively.
"It takes the entire staff," head coach Kalani Sitake said. "We wouldn't be able to do it without our graduate assistants and analysts. But more than anything, the staff just collaborates together — on offense, defense and special teams.
"As the head coach, I oversee all of it. But I trust the coaches in the decision-making process, and I'm involved in it."
Several of those adjustments came on defense, where BYU held the red Cougars to eight total yards of offense in the fourth quarter while scoring 29-unanswered points to end the game.
There was the front, which shifted to a four-man front with a rush end near the line of scrimmage — though not always a down lineman — in pressuring Tune. This led to three sacks, giving the Cougars 16 on the season — one less than BYU had in all of 2019.
Sitake said there are plenty of variables in the Cougars' increased variables in 2020: new personnel, experience, and better knowledge of the scheme, to name a few.
But it's hard to argue that BYU's shifts in defense don't play a role, either.
"I think you're looking at a team that probably plays against teams coming from behind, and throws the ball more," Sitake said. "When they do that, I think we have to capitalize and get more sacks, more disruption. With that, I think I'd like to get more turnovers.
"All the variables combined is probably a result of it."
Seeing positive results from defensive adjustments also helps the players see that those changes aren't for naught. Making adjustments isn't a sign of weakness; it's a show of respect to the other team and acknowledgment that BYU has the right personnel to counter back.
"When you're playing a really good team like Houston, you have to adjust," Anderson said. "They're going to make adjustments; and if you don't adjust, they're going to pick you apart.
"Whatever is given to you, just do it to your fullest and trust the coaches that you're going to make plays."
On the air
No. 12 BYU (5-0) vs. Texas State (1-5)
Kickoff: Saturday, Oct. 24, at 8:15 p.m. MDT
TV: ESPN
Radio: BYU Radio, KSL Radio
Series: First meeting
×