AMERICAN FORK — It wasn't the match-winner Thursday afternoon, but for American Fork senior Ruby Hladek, it may as well have been.
After trailing 1-0 since the third minute, the Cavemen spent 36-straight minutes frantically looking for an equalizer.
With 4 seconds left until halftime, Hladek gave it to them.
The rest was history.
Janessa Johnson had a brace in just her second game of the year with a goal, and Josie Shepherd added a goal as the defending Class 6A state champion Cavemen pulled away for a 4-2 win over Corner Canyon and advanced to next week's state semifinals.
"That goal by Ruby changed everything," American Fork coach Derek Dunn said. "It changed the momentum, it changed the attitude. Corner Canyon did what they needed to do, packing it in the back … and when Ruby got that goal, it opened everything back up.
"I'm really proud of Ruby today."
Hladek's goal came during a final flurry in the final 10 minutes of the half. Addi Gardner opened the play by forcing a turnover in midfield, and the senior savvily dribbled through traffic and into the Chargers' penalty box.
Then she laid off a pass for Hladek, and the first-year transfer from California in her first season of high school soccer needed just one touch on just left of the middle of the box to bury the ball inside the far post just seconds before the halftime whistle.
American Fork was still tied 1-1 at the break. But they might as well have been ahead.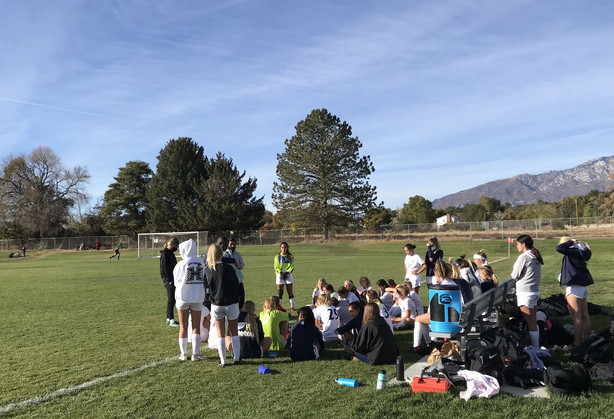 "It was crazy," Hladek said of her goal. I feel like when you play sometimes, the noise just gets canceled out. But when that happened and we were celebrating, we could hear everyone and we could feel the energy."
At one point, Hannah Holmstead turned to the players on the bench, and said, "we need you. Where's the energy?"
That, and the goal, brought that energy.
"It's kind of hard to bring that energy when you're not playing well," Dunn said. "You hate that eerie silence at home, and as a coach, I heard that and then the goal definitely changed things at home."
Point taken.
"I think we definitely controlled the second half more," Hladek said. "We were more relaxed, and I think we just needed to have the faith in each other that we did."
The Cavemen used that energy to score just six minutes into the half through Johnson's first goal. And then American Fork opened the tap with a second from Johnson in the 54th minute and a strike from Shepherd just after the hour mark.
American Fork will play Fremont in next Tuesday's semifinals at 4 p.m. MT at Rio Tinto Stadium, after the 14th-seeded Silverwolves held off Lone Peak, 2-1. No. 2 seed Davis will face sixth-seeded Pleasant Grove in the other semifinal Tuesday at 7 p.m. MT.
"Every game, we've played like it was our last," said Hladek, whose family moved to Utah from California because of the pandemic. "Because with COVID and everything, we didn't know if it would be.
"It's definitely been a journey, but we've all stuck together and we work hard for each other."
And now she'll get to cap her lone season of high school soccer with at least one match on Real Salt Lake's home pitch.
"Everyone's been telling me how cool of a field it is," she added. "I'm so excited."
Reagan Winget and Willow Collins scored a goal apiece for Corner Canyon, which split the regular-season series with American Fork in Region 4 play.
Class 6A state tournament (click for box)
American Fork 4, Corner Canyon 2
×
Photos