AMERICAN FORK — For most of the girls from American Fork and East high schools, Tuesday was like the first day of school.
Except it was, perhaps, even better.
Addie Gardner could confirm — without even saying a word, by the smile on her face as she celebrated her third goal to lift the Cavemen to a 6-1 win over the Leopards on a near-triple digit weekday.
"It's awesome," said Gardner, who also had an assist. "I love playing soccer and playing with all my best friends. It's great putting the work in to finish and to get the win."
Presley Ray, Addi Larsen and AJ Stromberg each scored a goal for American Fork, which rallied after East captain Lilly Randall gave the Leopards a 1-0 lead in the 24th minute.
But Gardner scored her first goal barely a minute later, and the defending Class 6A state champions were off on the 2020 season that is unlike anything the senior has seen previously in her high school career.
"We're all really grateful for the coaches, the refs and everyone for putting everything together to let us play," Gardner said. "If that means following a few rules, then we'll do it, because we love the sport and we just want to be out there."
The two teams weren't the only ones to open the season Tuesday. Twenty-eight girls soccer games were scattered throughout the state as the first team-based sport kicked off among Utah high schools since the COVID-19 pandemic shuttered schools back in March. Not long after, the Utah High School Activities Association canceled spring sports for the remainder of the school year and didn't reopen until the start of 2020-21 in July.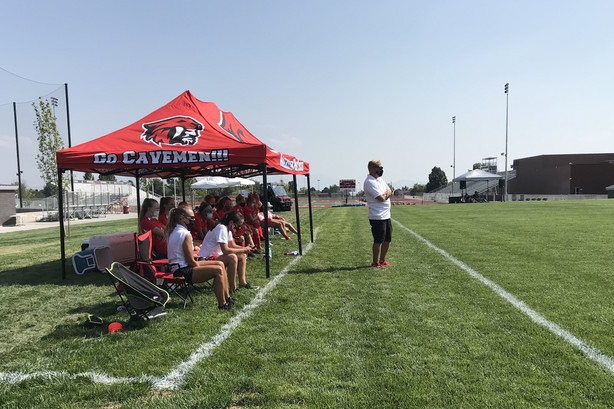 But on Tuesday, Utah became the first state to reopen the fall season. While neighboring states like Nevada and California have pushed fall competition to the spring, others like Florida and Texas will push on, albeit in a delayed fashion.
No doubt, every state will be keeping an eye on Utah's restart, at least for the first days or weeks.
"The fact that we are able to play, to have the referees, the administration and everything we've been able to go through to get this done, it makes us appreciative," American Fork coach Derek Dunn said. "I told the girls before we took the field that literally every game could be our last.
"It's crazy to think about that. … We went to school on Friday the 13th, and the next day we had nothing. I think the older girls really understand that, and I think we're going to do everything possible to play."
Tuesday's match wasn't without its differences.
Like all prep sports played during the pandemic, parents and fans will be required to wear a mask or face covering when entering and exiting the facility. Families or households must maintain 6 feet of distance from one another, or wear a mask, which are also strongly encouraged by players and coaches.
Dunn wore a mask on the bench. So, too, did East counterpart Javier Viana. Referees wore a mask when exiting and entering, and some wore one while officiating, too. Each one was checked and verified by school administration to make sure not only the game had the correct crew assigned, but also to check for symptoms of illness.
"The big things are reminding them to keep their mask on if they can't be socially distanced," American Fork athletic director Jeremy Lewis said of fans and spectators. "We all want to see these girls keep playing soccer. We've all got to make a few sacrifices, but whatever we need to do so that we get to attend games and they can be allowed to continue to continue to play."
Players wore masks while sitting on the bench, and when a substitute entered the game, they used hand sanitizer. The same was expected when players came off the field and joined their teammates on the bench.
Due to the excessive heat, a brief hydration break was in effect around the 20th minute of each half. But players were required to bring their own water bottles, and not share.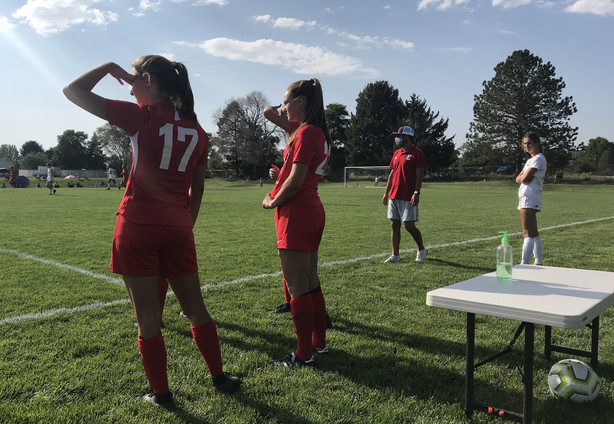 If that seems like a lot of precautions, you're not alone. There's an entire packet for return-to-play protocols that schools will be expected to follow if sports are to continue, Lewis said, admitting "a lot of extra work" will be required to continue play.
But it's worth it, if schools can stay open and players can continue their seasons without incident, he added.
"It might change tomorrow. Tomorrow's not a given to continue to play," said Lewis, whose daughter Nicole is a sophomore for the Cavemen. "The girls know that, and they're going to take advantage of every opportunity. They're grateful to play.
"Our girls are all masked up, and so are the rest of our teams. They're doing everything they can to keep playing. They definitely understand it's a privilege now."
The players are more than willing to do their part, as well. At American Fork, that willingness was set into overdrive several weeks ago when a team member tested positive for COVID-19 during summer conditioning. Due to contact tracing practices, the entire team was quarantined for two weeks.
A period of self-isolation experienced by the entire country — and most of the world — became even more isolating.
Fortunately, the player who tested positive recovered from the effects of the virus. But it was a lesson to the Cavemen that the novel coronavirus should be taken seriously.
"I think that was an awakening. We learned that all this could go away," Dunn said, pointing to the field, the players, and the fans. "Luckily for the girl, she was healthy enough to get through it. I think the best part of that whole thing was to watch the girls acknowledge that this is a real thing. They didn't put anything on that girl who tested positive.
"These girls aren't just buying in; they're all-in — from the field to what they're doing at home, what they're doing to stay safe, so we don't have that shutdown again."
×
Photos
Related Links