PROVO — BYU's experience and a lighter schedule have led it to a 3-0 start to the season, and No. 15 national ranking — the Cougars' highest spot in the AP Top 25 since 2009.
The offense is coming together under third-year offensive coordinator Jeff Grimes and passing game coordinator Aaron Roderick, to say nothing of returning starters like quarterback Zach Wilson, running backs Lopini Katoa and Tyler Allgeier, and wide receivers Gunner Romney and Dax Milne.
The Cougars rank No. 1 nationally in total offense and total defense, averaging 585.7 yards per game and holding teams to just 8.0 points behind a dominant defense that includes defensive tackle Khyiris Tonga, and defensive backs Troy Warner and Zayne Anderson.
But the difference between a team that finished 7-6 a year ago with a season-ending loss in the Hawaii Bowl and the top offense in the country can't only be explained by a schedule that nearly imploded due to the coronavirus pandemic and replaced a series of Big Ten, Pac-12 and SEC opponents with teams from the Sun Belt, Conference USA and American Athletic conferences.
Several newcomers had to quickly and firmly step into the lineup and make a difference. Here's the story of three of them.
Tyler Batty, defensive line
Take edge rusher Tyler Batty, for example.
At this time last year, the Payson High product had recently returned from a two-year mission for The Church of Jesus Christ of Latter-day Saints in Spain. And all he wanted was to be able to step on the field and help his team.
But that wasn't the right move. Instead, Batty took a grayshirt season, joining the team as a noneligible player and unenrolled student in order to preserve another year of eligibility while he returned to full fitness.
"There were some funny moments, for sure," Batty said of the 2019 season. "You're trying to explain to people, that you're on the team, but not quite.
"The moment, it was frustrating to see everybody out on the field and not be there with them, because I enjoyed it so much. But it was definitely worth the sacrifice."
Now a fully eligible freshman, the 6-foot-5, 261-pound Batty is listed as a co-starter at rush edge in Ilaisa Tuiaki's 4-3 defensive front. In his most playing time of the season, Batty recorded a team-high three sacks to go along with six tackles and a quarterback hurry in the Cougars' 45-14 win over Louisiana Tech.
Now fully eligible, Batty is already leaving his mark.
"For me, it was pretty important," Batty said of his grayshirt season. "Two years dedicating your life to something other than athletics and education takes a toll. I wasn't in the greatest shape coming home. But being able to grayshirt and get my body back played a huge role."
Tuiaki praised Batty's "high motor" in winning three sacks against the Bulldogs, calling him a defensive game-changer for BYU.
But the Utah County product's motor goes beyond the white lines of the football field.
"If you know the kid, he's one of the hardest workers on our team," linebacker Isaiah Kaufusi said. "We've known that from the beginning even before he 'was' with us.
"He would come into the weight room and stay after all the grayshirts left, just doing extra work."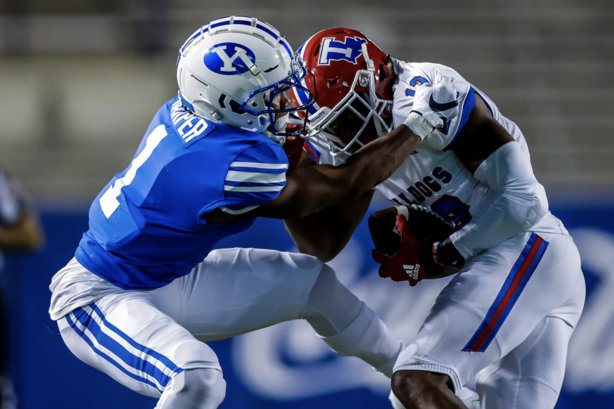 Micah Harper, cornerback
Another newcomer who has made good use of limited time on campus has been Micah Harper. The freshman cornerback has started two of the Cougars' three games to date, making the most of seven tackles in a 48-7 win over Troy two weeks ago.
It was Harper's first start at the collegiate level. But the 5-foot-10, 185-pounder from Basha High School in Chandler, Arizona, looked like anything but a newcomer.
"I was just talking to Micah at practice earlier and telling him how I impressed I was with how he handles things as a freshman," senior safety Troy Warner said of the freshman. "He's going to be a great player for BYU, so keep the head down and keep grinding every day.
"He's showing a ton of upside, and we're really excited for what he can do for us. That's really excited for young talent, and what that can do for your confidence going forward."
Harper attributed much of his success to his teammates, and those teammates are the same guys he plays for. Whether it's dropping back into coverage, stepping up to make one of his nine tackles this year, or coming off a blitz to take part in a tackle for loss, the son of former Hawaii defensive back Kenny Harper says he's willing to do whatever the team needs to play as a freshman.
"My mentality is really just to produce for the team," Harper said. "The coaching staff offered me for a reason, and I just want to come and produce for the team."
Harper's family history with BYU is complicated. His father intercepted the Cougars' Heisman Trophy winner Ty Detmer three times in 1990 in a 59-28 win in the islands. It was the only loss on an otherwise stellar year for the Cougars.
So 30 years later, why did the younger Harper sign to play in Provo, with the full blessing of his father?
"Really, it's just the rich tradition," said Harper, who plans to study business at BYU's acclaimed Marriott School. "I love the schedule, and the coaching staff had open arms. The players, everything.
"It was the best of both worlds: high academics and high football."
Joe Tukuafu, offensive line
Former East High standout Joe Tukuafu wasn't listed anywhere near the Cougars' two-deep at center when the season began.
A converted tight end and backup guard, Tukuafu found himself thrust into the starting role quickly last week, when James Empey was out with a foot injury and backup center Tristen Hoge missing time dealing with pneumonia following a bout with COVID-19.
So when offensive coordinator Jeff Grimes pulled Tukuafu aside after practice last Wednesday before facing Louisiana Tech and told him the Cougars were in a hard spot at center and needed him, the 6-foot-4, 301-pound junior took it seriously.
"I'm really, really pleased with what Joe did," Grimes said of the first-time starting center. "He's grown so much as a person and a player."
Perhaps better than simply "playing well," Tukuafu played nearly every snap in the Cougars' 45-14 win over the Bulldogs. A lack of healthy bodies necessitated such a much, and Tukuafu estimates it was the most he's played in a live football game in four years.
The former Utah State signee from Glendale served a two-year church mission in Argentina, then redshirted when he came home in 2017. That's when he moved to tight end.
He spent time on the scout team in 2018 and played in just four games as a sophomore in 2019 when he moved to the offensive line midway through the season at the request of offensive line coach Eric Mateos.
"There wasn't much that they had to sell," Tukuafu recalled. "I'm one who listens to my coaches, and I knew it was one where they all believed in that move. I saw it in their eyes, and they believed in me. It wasn't a big sale; I just trusted the coaches … I took it, and ran with it."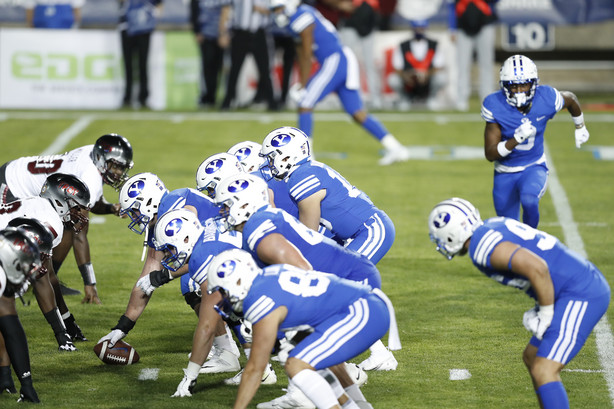 Due to academic issues, he even spent a semester at nearby Utah Valley before rejoining his teammates in Provo. In many ways, working his way back to school was as big as working his way into the starting lineup.
"I'm just grateful to BYU, the institution, and the team," Tukuafu said. "I had my ups and downs, was at UVU for a semester, but I'm grateful to the coaching staff. They've really helped me out to be here and to be where I'm at today."
Tukuafu admits there has been a small part of him that still dreams of catching a pass at LaVell Edwards Stadium, and with two seasons of eligibility remaining, maybe he'll get the chance to line up just off the line and haul one in from quarterback Zach Wilson.
But in the meantime, he's more than happy to protect Wilson's pocket and call out blitzes, coverages and audibles.
"After the move to center, I threw it away and was fully committed to the most important position on the offensive line," Tukuafu said. "So as of right now, no — I'm happy."
×
Related Links