SALT LAKE CITY — After back-to-back South Division titles, Utah is expected to fall short of a three-peat opportunity, according to the Pac-12 preseason media poll released Wednesday morning.
The Utes, who were the favorite to win the Pac-12 coming into last season, are expected to finish third in the South Division, just behind USC and Arizona State, a month before the season kicks off a delayed and shorted start on Nov. 7. Utah picked up four first-place votes to win the South, and one first-place vote out of the 38 votes cast to win the entire conference.
Oregon, the reigning Pac-12 champion, was picked to win the conference for a second consecutive year with 21 first-place votes. USC, the favorite to come out of the South Division, finished a close second with 15 votes. Arizona State also picked up one vote to win it all.
Utah enters the 2020 season with a less-experienced roster after losing nearly its entire starting defense and its starting quarterback and all-time leading rusher. A majority of those starters made an NFL team and are already having an impact in their respective locations. Although Utah enters with less fanfare going into the 2020 season, starting linebacker Devin Lloyd believes the team is "smarter and stronger" and can replicate its performance from last season.
Where will Utah finish in the South Division in 2020?

— Josh Furlong (@JFurKSL) October 7, 2020
The Utes were a preseason Associated Press Top 25 team before the season was postponed. Now five weeks into the season, Utah remains on the bubble as one of many teams "receiving votes." ESPN's SP+ rankings has Utah as the 24th-best team in the country, and ESPN's Football Power Index sees Utah as the 23rd-best team on a projected 4.7-2.3 season.
Utah will begin its seven-game, conference-only schedule on Nov. 7 at Rice-Eccles Stadium. The Utes will welcome Arizona, who was picked to finish last in the South Division.
North Division
Oregon (35) - 222 points
California (3) - 176 points
Washington - 161 points
Stanford - 105 points
Oregon State - 76 points
Washington State - 58 points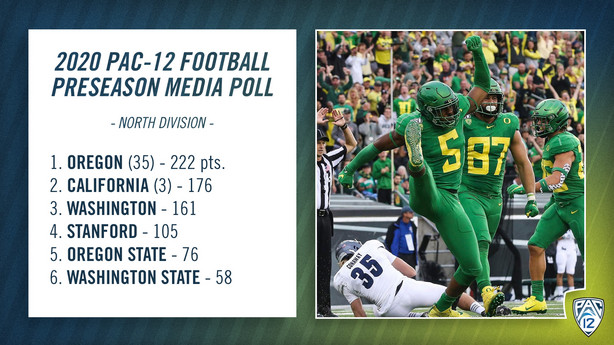 South Division
USC (32) - 220 points
Arizona State (2) - 181 points
Utah (4) - 168 points
UCLA - 109 points
Colorado - 63 points
Arizona - 57 points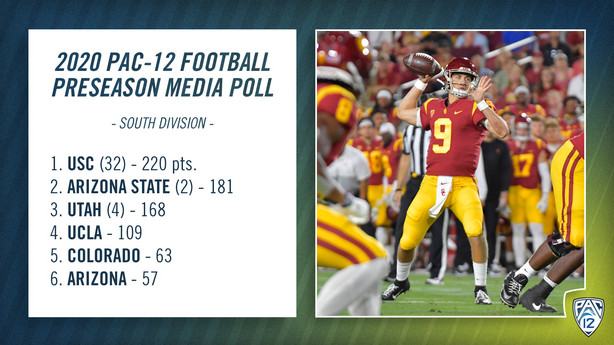 Pac-12 Championship Game Winner: Oregon (21 votes)
Others receiving votes: USC (15), Arizona State (1), Utah (1)
×