This archived news story is available only for your personal, non-commercial use. Information in the story may be outdated or superseded by additional information. Reading or replaying the story in its archived form does not constitute a republication of the story.
SALT LAKE CITY — The reigning Pac-12 South Division champs are the favorite to repeat for the 2019 season, according to the Pac-12 media preseason poll released Wednesday.
Utah, which claimed its first South Division title last season, was picked to win the division again with 206 points, beating out USC for the top spot in a chaotic division. The Utes claimed 33 first place votes in the poll to be the favorite to win the South, and 12 first place title votes to win the conference.
It's the first time since Utah joined the conference it has been the favorite to lead the division and win the conference.
The Utes are projected to meet up with Oregon in the Pac-12 Championship game, with Utah as the favorite to win the conference title game. Washington claimed the title last season in a 10-3 matchup against Utah that was decided on a fluke pick-six play.
Utah is projected to be a preseason top 25 team and a College Football Playoff contender, according to ESPN's Phil Steele and Pick Six Preview. Steele sees the Utes as a dark horse favorite to land in the playoff, while Pick Six Preview sees Utah as the last team to lock in a playoff spot.
"The Utes are my pick to win the Pac-12, and if they do run the table and make the playoff, they have the defense to win the title," Steele wrote. "And Utah has excellent odds at 75-1."
Bill Connelly, who is now with ESPN.com, has Utah favored in 11 of the program's 12-game slate, according to his preseason S&P+ ratings. And ESPN's Football Power Index has Utah projected as the favorite in 10 of its 12 games. Both models project Utah to win at least nine games this season.
The preseason poll for the Pac-12 is as follows:
North Division
Oregon (17 first place votes), 190 points
Washington (17), 189
Stanford, 129
Washington State, 108
California, 81
Oregon State, 38
South Division
Utah (33 first place votes), 206 points
USC (2), 167
Arizona State, 118
UCLA, 118
Arizona, 85
Colorado, 46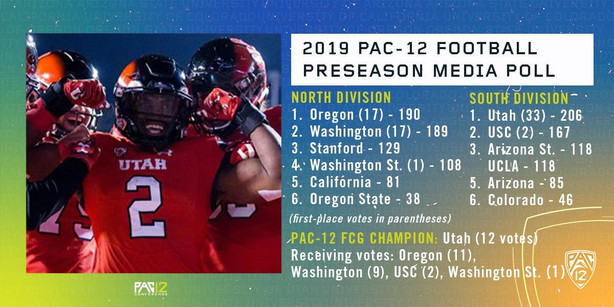 Preseason All-Pac-12 Team
For the first time in conference history, the Pac-12 released a preseason All-Pac-12 Team, which includes a handful of Utes expected to have breakout seasons.
Utah running back Zack Moss is the only player on the offense to land a spot in the preseason first team offense, while defensive line Bradlee Anae and Leki Fotu, and defensive backs Jaylon Johnson and Julian Blackmon were named to the preseason first team defense.
All five Utah athletes have been named to preseason watchlists respective to their position and are expected to lead Utah to a Pac-12 title.
The full team for both the offense and defense is as follows:
Defense
DL - Bradlee Anae, Utah
DL - Leki Fotu, Utah
DL - Mustafa Johnson, Colorado
DL - Jay Tufele, USC
LB - Troy Dye, Oregon
LB - Colin Schooler, Arizona
LB - Evan Weaver, California
DB - Paulson Adebo, Stanford
DB - Julian Blackmon, Utah
DB - Myles Bryant, Washington
DB - Jaylon Johnson, Utah
P - Oscar Draguicevich III, Washington State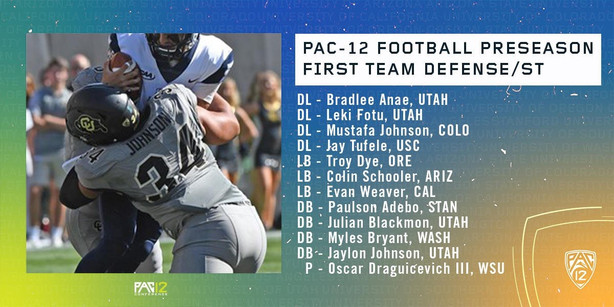 Offense
QB - Justin Herbert, Oregon
RB - Eno Benjamin, Arizona State
RB - Zack Moss, Utah
WR - Michael Pittman Jr., USC
WR - Laviska Shenault Jr., Colorado
TE - Colby Parkinson, Stanford
C - Nick Harris, Washington
OL - Trey Adams, Washington
OL - Shane Lemieux, Oregon
OL - Walker Little, Stanford
OL - Calvin Throckmonster, Oregon
PK - Jet Toner, Stanford
AP - J.J. Taylor, Arizona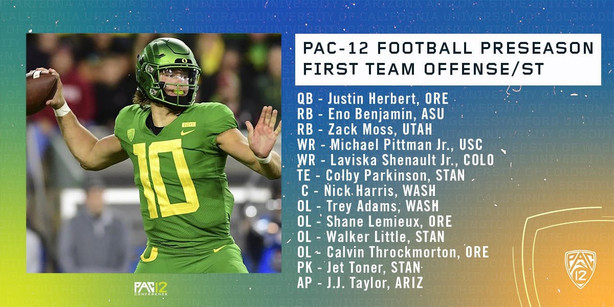 Utah opens up its season on Thursday, Aug. 29 on the road against in-state rival BYU. The game will be broadcast on ESPN at 8:15 p.m. MDT. Utah opens up its fall camp on Wednesday, July 31.
×